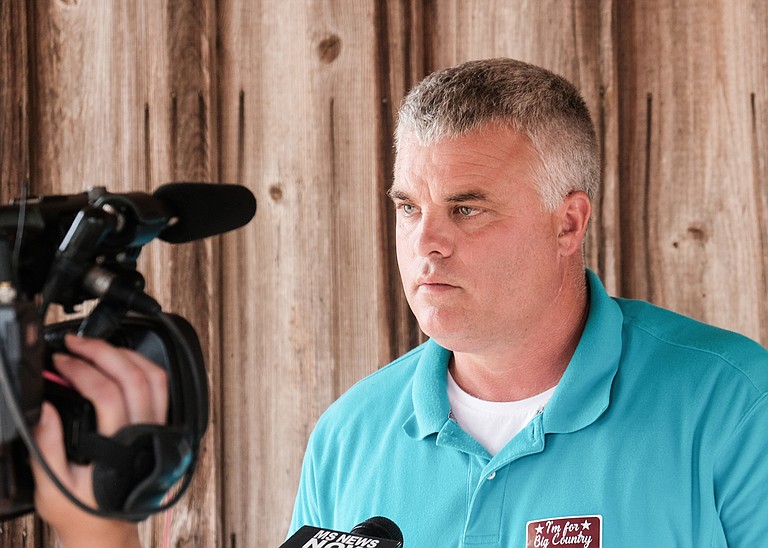 JACKSON — As a debate over the absence of debates roils Mississippi's U.S. Senate races, a candidate for the U.S. House wants to know why his Republican opponent will not debate him.
"Everyone is talking about the U.S. Senate race," State Rep. Michael Ted Evans, D-Preston, the Democratic nominee for Mississippi third congressional district, tweeted Tuesday. "I challenged my opponent over 2 months ago to a debate in the #MS03. I just don't understand why so many are scared to debate and talk about the issues with voters."
Evans' opponent, Republican nominee Michael Guest, is the district attorney for Madison and Rankin counties.
Guest also refused to debate his Republican opponent, Whit Hughes, while the runoff to decide the party's nominee for the race was still ongoing in June.
"Frankly, it is ridiculous to decline a one-on-one debate with your runoff opponent," Hughes said in a press statement at the time.
As of press time, neither Guest nor his campaign had responded to a request for comment.
A Statewide Aversion to Debate
In Mississippi's U.S. Senate special election, incumbent Republican Sen. Cindy Hyde-Smith has declined to debate her rivals, Democrat Mike Espy and Republican Chris McDaniel. A video last weekend captured Hyde-Smith in private conversation telling a woman that agreeing to a debate would be "like handing (McDaniel) a $200,000 campaign donation because he's way down in the polls, and he's wanting the TV shot."
In previous public statements, Hyde-Smith said she couldn't debate because of her schedule in Washington, D.C.,, and, after the Senate went on recess, because she feared McDaniel and his supporters would not be civil.
When McDaniel challenged then-incumbent U.S. Sen. Thad Cochran - whose seat Hyde-Smith now holds - in the 2014 GOP primary, Cochran also declined to debate him.
In Mississippi's other U.S. Senate race, incumbent Republican U.S. Sen. Roger Wicker has not responded to invites to a debate with his Democrat opponent, Mississippi House Rep. David Baria. Baria's opponent during the summer's Democratic primary, actor Howard Sherman, also declined to join him for a debate.
In an interview with the Jackson Free Press in September, the third district Democratic U.S. House nominee said incumbent Republican Rep. Steven Palazzo was refusing to join him for a debate, too. Palazzo last debated an opponent in 2010, when he successfully challenged then-incumbent Democratic Rep. Gene Taylor.
So far, no debate has been announced in Mississippi's first congressional district, either, where Democrat Randy Wadkins is challenging incumbent Republican Rep. Trent Kelly.
No debate has been scheduled in Mississippi's second congressional district, the seat of which Democratic Rep. Bennie Thompson currently holds. There is no Republican nominee in that race, though; Thompson only faces minor challenges from Reform Party candidate Irving Harris and independent Troy Ray.
Thompson did agree to debate his 2012 Republican opponent, Bill Marcy, but changed his mind.
A Conservative Democrat
In the third district, both candidates are running on conservative platforms.
Like Guest, Evans opposes abortion, but with a Democratic twist.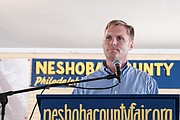 "I'm not just pro-life before they're born," Evans told a crowd at the Neshoba County Fair in Philadelphia, Miss., in August, highlighting the importance of things like education and health care. "I'm pro-life all through their life."
Evans drew criticism for comments he made at the fair while telling the story of a woman who said her sons couldn't find jobs because "Mexicans were taking them all."
"I ain't seen a Mexican cross the border yet without a college education," Evans said. "... These Mexicans coming over here, most of them want to work. I want to secure the border. I am all about putting up the wall, securing your border and keeping the Mexicans out."
Mexican immigrants are important to Mississippi farmers and the state economy, though, Evans said.
"If you want a clean motel room, you have to have immigrants to clean," Evans said. "I'm for securing the border, and legalizing and getting things right so they can become citizens."
Gov. Phil Bryant accused the media of a "double standard" for not reporting widely on Evans' comments.
Evans and Guest are running for the seat that Republican Rep. Gregg Harper, who is retiring in January, currently holds.
On Nov. 6, the same day as the national midterms, voters in all four of Mississippi's congressional districts choose representatives, and voters choose U.S. senators in the two statewide U.S. Senate races. In the U.S. Senate special election between Espy, Hyde-Smith and McDaniel, if no candidate gets more than 50 percent of the vote, the top two vote-getters head to a runoff on Nov. 27.
Voters in Mississippi must bring a valid form of voter ID such as a driver's license or student ID. Polls in the state are open from 7 a.m. to 7 p.m.
Ashton Pittman covers politics and elections for the Jackson Free Press. Follow him on Twitter @ashtonpittman. Email him at [email protected]. Read more 2018 campaign coverage at jfp.ms/2018elections.
If you experience any issues at polling places, including wait times or registration problems, the Jackson Free Press wants to hear from you. We partnered with ProPublica's Electionland to gather tips on Nov. 6. To participate, you can text the word VOTE to 81380, send a message on WhatsApp +1 (850) 909-8683, use Facebook Messenger or send a tweet to @Electionland. You can also call our newsroom directly (601) 362-6121.