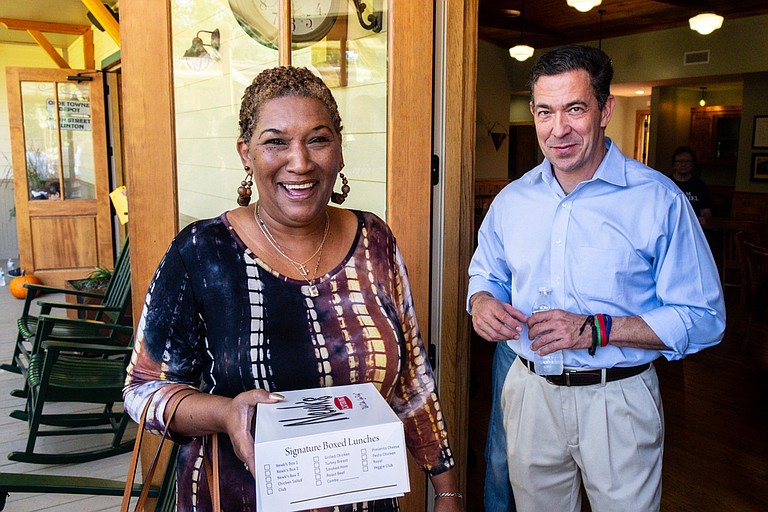 Thursday, October 18, 2018
CLINTON, Miss. — Wanda Evers, the niece of slain Mississippi civil-rights leader Medgar Evers, confronted Republican U.S. Senate candidate Chris McDaniel at an Oct. 13 campaign event in Clinton, Miss., about comments he made on MSNBC's "Morning Joe."
In a live taping of NBC's "Morning Joe" on Sept. 14, Eddie S. Glaude Jr., a Moss Point native who chairs the Center for African American Studies at Princeton University, cited McDaniel's ongoing support for the Mississippi flag and asked, "How do you convince black folks in this state that you're not a danger to them?" and "How do you speak to those 38 percent (of Mississippians who are black)?"
"I'm going to ask them, 'After 100 years of relying on big government to save you, where are you today?'" the Republican state senator said. "After 100 years of begging for federal government scraps, where are you today?'" The audience began booing and jeering before McDaniel could get his next sentence out.
McDaniel: 'What I'm Trying to Do is Empower Individuals'
Amid a mostly white crowd at the Clinton meet-and-greet on Saturday, Evers raised the moment with McDaniel during a question-and-answer session.
"My name is Wanda Evers," Evers said. "I'm the niece of Medgar Wiley Evers and daughter of Charles Evers. And while you were on national TV, you said that African Americans should stop taking scraps from the federal government. That made the black community real upset."
"Yes ma'am," McDaniel replied.
Evers said she would like to hear McDaniel's side of the story to share with the black community.
"Go back and listen to a word I used before the audience booed," McDaniel said. "I said 'We've.' Now if I'm using the word, 'we've,' I'm obviously not talking about the 38 percent. I'm talking about everybody. My intention was to talk about the state of Mississippi."
In the video, just after the "begging for scraps" comment, McDaniel did start a new sentence with "we've," before he was drowned out by the jeers.
"That showed my heart, I was talking about everybody," McDaniel said. "And it goes back to the point I was making earlier. One hundred years stuck in the same system, and where has it gotten us?"
"I'm so glad you're here," McDaniel continued. "I really believe sincerely that the higher units of our government want us fighting one another. I think they love the division. I think they love us fighting one another among genders, among races and among classes. Because when they do that, they keep us divided, and we can't keep our eyes on the corrupt government in D.C."
Then, McDaniel turned to the subject of Jim Crow laws—that southern states enacted to deprive African Americans of equal rights in voting, housing, schools and more.
"What I'm trying to do is empower individuals," McDaniel said. "Nothing about that could be considered racism. Jim Crow didn't empower you. The governments in power didn't empower you. They tried to hold you down. By definition, that cannot be racist. By definition, conservatives like me believe that you are a special and unique soul worthy of autonomy and dignity."
At another point in the conversation, Evers asked McDaniel why he did not do more to reach out to black voters.
"Why haven't you been into some of the black areas to meet and greet any of us?" Evers asked.
"I have," McDaniel said, pointing to Flag Chapel Baptist Church, a black church in Jackson where he had spoken recently. "The short answer is, I'm not being invited. But the long answer is, any time, any place, anywhere, I'll come, I'll meet, I'll greet, I'll talk. And there's no one I won't talk to."
"Well, I have a talk show," said Evers, who manages WMPR radio. "And I'd love for you to come on my talk show."
The crowd responded to Evers' invite with enthusiastic applause.
When McDaniel ran against then-Sen. Thad Cochran in the 2014 U.S. Senate Republican primary, he criticized Cochran for reaching out to black voters in the primary. Cochran narrowly won that race, and McDaniel attributed it to Cochran's courting of Democrats.
Evers: 'I Came to Give Him the Benefit of the Doubt'
After the meet-and-greet, Evers spoke privately with McDaniel for several minutes. Just before she left, she told the Jackson Free Press why she came.
"The African American community was really upset about it, so in order to get the full understanding of what Mr. McDaniel was saying, I wanted to come out and acknowledge the fact that I was here and ask him," Evers said. "And he seemed like he's a fairly well-minded person, so I didn't have a problem with him. I came to give him the benefit of the doubt."
After meeting him in person, Evers said she had a more positive view of McDaniel than before, but she didn't think his answer was substantially different from the one he gave on Morning Joe.
"What he said there was exactly what he said on national TV, so I had to give him that," Evers said. "Actually, it was OK. When a person looks me straight in the eye, it's good. And he's going to come on our talk show, and he's going to explain a lot of things. So like I say, we give people the benefit of the doubt."
Evers described herself as a political independent who has yet to make up her mind about for whom she will vote. Her decision will remain private once it is made, she said.
Medgar Evers, the field secretary for the NAACP in Mississippi, advocated for voting rights for African Americans and fought to end segregation in the state. In 1963, white supremacist Byron De La Beckwith, a member of the White Citizens' Council, shot him dead in his driveway. The slaying led to an uproar in the state.
In Fayette, Miss., in 1969, Medgar's brother and the father of Wanda Evers, Charles Evers, became the first African American mayor to win election in Mississippi since the Reconstruction era, the southern rebuilding period that followed the Civil War. Evers, who joined the Republican Party in 1978, has drawn notoriety in recent decades for taking many conservative stances. In 2016, he endorsed Donald Trump's campaign for president.
McDaniel's Democratic challenger, Mike Espy, became the first black congressman from Mississippi since the post-Civil War Reconstruction Era when voters sent him to the U.S. House in 1986. From 1993 to 1994, he served as secretary of agriculture under President Bill Clinton. This year, he could become the first black U.S. senator from the state since Reconstruction, when Sens. Hiram Revels and Blanche K. Bruce represented the state in Washington.
McDaniel and Espy are both challenging incumbent Sen. Cindy Hyde-Smith. When Gov. Phil Bryant appointed her in April after former Sen. Thad Cochran stepped down due to poor health, Hyde-Smith became the first woman from Mississippi to serve in Congress and could become the first elected come November.
On Nov. 6, the same day as the national midterms, voters choose between Espy, Hyde-Smith and McDaniel in a nonpartisan special election. If no one gets more than 50 percent of the vote, the top two vote-getters will face one another in a Nov. 27 runoff. Incumbent Republican U.S. Sen. Roger Wicker and Democratic rival David Baria also face off that day, and U.S. House seats are up in all four of Mississippi's congressional districts.
Voters must bring a valid form of photo ID such as a driver's license or a student ID to vote. Polls in Mississippi are open from 7 a.m. to 7 p.m.
Ashton Pittman covers politics and elections for the Jackson Free Press. Follow him on Twitter @ashtonpittman. Email him at [email protected]. Read more 2018 campaign coverage at jfp.ms/2018elections.