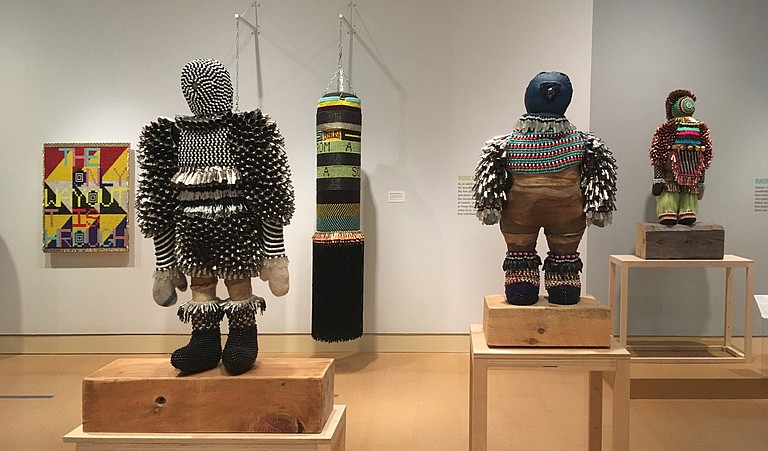 Wednesday, October 17, 2018
A small group of reporters stepped into the Mississippi Museum of Art's Barksdale Galleries for Changing Exhibitions in early September, and immediately came face to face with a colorful collection of familiar objects made unfamiliar.
There were hand-sewn quilts, paintings on mirrors, and elaborately decorated punching bags with metal trimmings and tassels, all appearing even more vibrant against blank white walls. Like the artist who created them, the pieces in the exhibit, "Jeffrey Gibson: Like a Hammer," are balanced between the contemporary art world and the traditions of Native American art.
Through the exhibition, Gibson, a Brooklynite with Mississippi Choctaw and Cherokee roots, offers a look at an ongoing career period in which his identity and artwork mirror one another. That was not always the case during his education at the Art Institute of Chicago and the Royal College of Art in London, MMA Director Betsy Bradley told a group of reporters during a media tour.
"When (Gibson) was in school at the art institute and some in graduate school, too, he was taught to paint the way people were being taught to paint in the '90s, and that was abstract expressionism," she said. "It was about kind of a formalist approach to painting when you're thinking about color and texture and line and shape and all of those things, and not as much about what you wanted to say or who you are as a person in addition to who you are as an artist."
Earlier in his career, Gibson created Jackson Pollack-esque abstract work that did not reflect his heritage, Bradley told the reporters. Then, after an art show in New York around 2011, Gibson took his paintings off their frames, took them to a laundromat and washed them clean. During that time, he was also going through therapy, and someone suggested working with a physical trainer, who persuaded him to try boxing. While boxing, the trainer encouraged Gibson to name the problems that he was grappling with.
"He really began feeling like he was a whole person again and that what he had to do was not only be an artist but also be an artist who comes from a Native American tradition," Bradley said.
"Like a Hammer" is a culmination of that effort, from its start to some of its latest installments. In the first room, visitors will see "Misfit Flag," one of the pieces that Gibson made from glass beads and canvas fragments from his previous art. The room also features some of his first works on repurposed punching bags.
Museumgoers can follow the artist's progression, in a sense, as more references to traditional Native American artwork and the modern world worked their way into his creations. These include his figures, which take inspiration from kachina dolls. Unlike kachina dolls, though, each of Gibson's figures, including the titular "Like a Hammer," is larger in scale, highly ornate and unique.
Despite tackling topics such as race relations, power dynamics, individuality and sexual identity—Gibson himself is gay—the artist told reporters in a question-and-answer segment after the media tour that he desires for his art provide a safe space for all visitors to consider heavy themes.
"I think there have been times in the past where people wanted the work to be more pointedly activist-oriented," he said. "There's a difference, I think, between being political and activism because I think I choose words and I choose formats that kind of can be nonconfrontational 
because they're beautiful.
"They can be nonconfrontational because they fall under the histories of adornment and the decorative. These are all things that we never saw as weapons. We never saw them as aggressive tactics."
While Gibson has continued to express himself through painting and through implementing new materials and techniques, he said that he still enjoys returning to one of the earliest mediums in his reinvigorated artistic period: the punching bag. As with any medium, there is no limit to what he can say with it.
"I think of most things like a painting," he said. "If you think about the fact that you're just working with paint on a canvas and stretcher bars, it's very similar. This is just the surface that I adorn things onto. It always carries with it some figurative presence, and it allows me to continue to, through adornment, shift this leverage back and forth between power. And that hasn't gotten old yet."
"Jeffrey Gibson: Like A Hammer" is on display through Jan. 27, 2019, at the 
Mississippi Museum of Art (380 S. Lamar St.). Admission is free, and the museum is open Tuesday through Saturday from 10 a.m. to 5 p.m. and Sundays from noon to 5 p.m. For more information, visit msmuseumart.org.