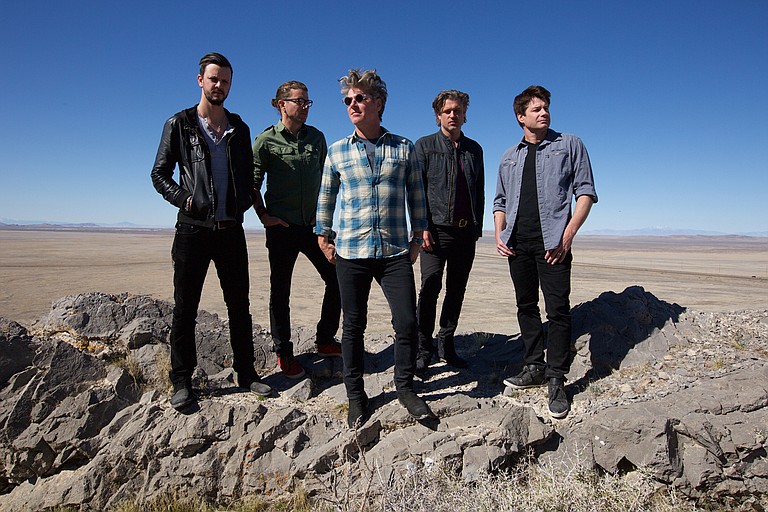 Wednesday, October 17, 2018
Bassist Will Turpin describes the 25th anniversary of Collective Soul with one word in particular: "surreal."
Turpin helped found the Georgia rock band in 1993 with vocalist and songwriter Ed Roland and guitarist Dean Roland, whom he had initially met through his father's recording studio, Real 2 Reel Studio, in Stockbridge, Ga. At the time, Ed's first demo, "Shine," was growing into a radio hit in their home state, and he needed musicians for live performances.
Since then, Collective Soul, which now also includes drummer Johnny Rabb and guitarist Jesse Triplett, has become a multi-platinum-selling band with nine studio albums, two live records and seven No. 1 singles in its repertoire.
"You never think about 25 years when you're 22 years old, and finding success or whatever, especially in the rock-and-roll industry," Turpin says. "But we're looking forward to it. We've got lots of plans."
The band will perform for City Hall Live in Brandon on Oct. 23 in between dates on the "Rock & Roll Express Tour," a co-headlining run with 3 Doors Down. Even with a major tour still underway, Turpin says Collective Soul is busy working on those anniversary plans, including a national tour and a new double album, which the musicians began recording in February.
While he says their latest recording project will be different in terms of the planning and release strategy, the process of making new music is much the same for he and his band mates.
"Man, when we step in the studio and create, it's still in our blood," Turpin says. "We have to do that, right? But it's still the same process and the same feeling. That's what's kind of surprising and good about being able to create 25 years later. A lot of bands don't even care about creating new stuff, but it's still really what makes our blood flow. We like playing live a lot, too, but creating's a big deal."
He credits Ed Roland, whom he calls the band's primary artistic force and one of the greatest lyricists of his time, for the fact that writing new music has remained such an important facet of Collective Soul.
The biggest difference in the songwriting approach these days, Turpin says, is that it relies less on jam sessions, but one consistent thing is that Collective Soul still aims to create full albums rather than singles.
"Even from the beginning, we had big singles, yet people in the industry were like, 'Dude, no matter what record, there's no filler. There's no obvious single,'" Turpin says. "Throughout the label, there are four or five songs floating around before the album's released about which one should be the first single, you know? That's just not common with a lot of bands."
Part of that comes from growing up in his father's studio, where they were able to become proficient at staying true to the songs and making each one as strong as possible, he says.
More than anything musically, though, Turpin points to the fans for the longevity of Collective Soul.
"We have a strong fan base," he says. "You've got to engage them and keep their interest, but I think it's one of those things where there's no road map to being able to still have that feeling 25 years later, as far as creating. ... You definitely take the fan base into consideration, but you're not writing songs for the fan base."
Collective Soul's success has not come from chasing trends, second-guessing the rock-music market or analyzing how they can continue doing what they have already been doing for a quarter of a century, he says.
"You just do what's natural and 
be yourself."
Collective Soul performs at 8 p.m., 
Tuesday, Oct. 23, at City Hall Live (1000 Municipal Drive, Brandon). The Stir also performs. The doors open at 7 p.m., and ticket prices range from $15 to $53. For more information, visit collectivesoul.com.
*Prices have been updated from the print version of this story to reflect the remaining ticket tiers.