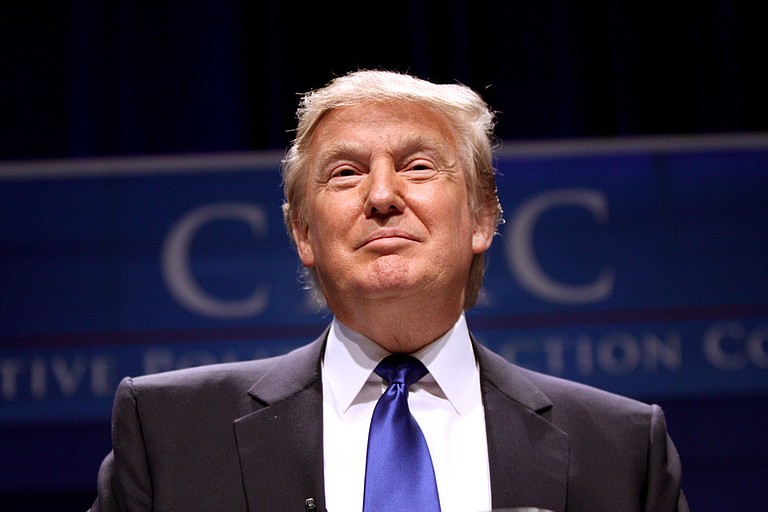 Tuesday, October 16, 2018
ESQUIPULAS, Guatemala (AP) — U.S. President Donald Trump threatened Tuesday to cut aid to Honduras if it doesn't stop a caravan of some 2,000 migrants, even as they resumed their northward trek through Guatemala with hopes of reaching the U.S. border.
Despite having walked the entire previous day with swollen, blistered and aching feet, the group was up shortly after sunrise after sleeping on the ground in their clothes.
Dozens attended Mass at the Basilica in the city of Esquipulas, just across the border from Honduras and about 90 miles (150 kilometers) east of Guatemala City, to receive a blessing, before continuing the journey escorted by Guatemalan police.
The group's numbers have snowballed since some 160 migrants departed Friday from San Pedro Sula, Honduras, with many people joining spontaneously carrying just a few belongings. A Guatemalan priest estimated that more than 2,000 had been fed at three shelters run by the Roman Catholic Church.
Three weeks before midterm elections in the United States, the caravan elicited a tough response from Trump.
"The United States has strongly informed the President of Honduras that if the large Caravan of people heading to the U.S. is not stopped and brought back to Honduras, no more money or aid will be given to Honduras, effective immediately," Trump tweeted.
However, the Central American nation's ability to do anything at this point appeared limited as the migrants had already crossed into Guatemala on Monday, twice pushing past outnumbered police sent to stop them — first at the border and then at a roadblock outside Esquipulas.
Trump did not follow through on a similar threat to the Central American nation in April over an earlier caravan, which eventually petered out.
There was no immediate public response from the Honduran government. In late September, in a speech at the U.N. General Assembly, President Juan Orlando Hernandez defended migrants, criticizing their treatment in detention centers and the separation of children from their families — without explicitly naming the United States.
"Migration is a human right," Hernandez said. "For centuries human beings have moved and emigrated and have contributed to the social and economic development of the nations that have taken them in, in search of better opportunities. We in Honduras and the Central American region are not an exception."
Meanwhile, Mexico's immigration authority sent out a fresh warning late Monday that only those who meet entry requirements would be allowed into the country and each migrant would have to satisfy Mexican migration agents. Hondurans need visas to visit Mexico in most cases.
Still, it remains unclear if Mexico and other governments in the region — many of whose own people are migrants — would have the political will to physically halt the determined border-crossers, who are fleeing widespread poverty and violence in one of the world's most murderous countries.
"In Honduras there are no jobs, and the jobs that do exist aren't enough to live on," said Jose Francisco Hernandez, a 32-year-old from Copan state in western Honduras. "We can't go to the city because it is full of gang members, and that is hurting us. We decided to migrate from the country to see if we can find a better life."
Carlos Reyes, 20, said he was attacked a week ago for being gay and dressing in women's clothing.
"Some men were going to kill me. ... They wanted to kill me for who I am," Reyes said.
The migrants hope that traveling en masse affords them protection from robbery, assault and other dangers that plague the journey north.
Many carried only a few belongings in backpacks and bottles of water. Some pushed strollers or carried toddlers on their shoulders. As the day wore on, the crowd splintered into smaller groups as some walked faster and others fell behind.
Nery Jose Maldonado Tejada, a 29-year-old from San Pedro Sula, said he lost both feet in a June 2015 freight train accident in Mexico while trying to make it to the United States.
On Tuesday, he was being pushed in a wheelchair by a friend, his lower legs wrapped in bandages and a green duffel on his lap. He was intent on making it to the U.S. this time, he said.
"I know that there they can put a prosthesis on my feet and I will be able to walk," Tejada said, "and to work, because my hands are still good."
Last week, U.S. Vice President Mike Pence urged leaders in Honduras, El Salvador and Guatemala to persuade their citizens to stay home and avoid the long, risky journey to the United States.
On Tuesday, Pence tweeted that he had spoken with Hernandez, the Honduran president.
"Delivered strong message from @POTUS: no more aid if caravan is not stopped. Told him U.S. will not tolerate this blatant disregard for our border & sovereignty."
Since 2014, the United States has committed $2.6 billion in aid for Central America's Northern Triangle region of Honduras, Guatemala and El Salvador. For fiscal year 2019, Washington has earmarked $65.7 million in aid to Honduras for security, democracy building, human rights and economic and social development programs.
In Honduras, recriminations flew across the political aisle.
Salvador Nasralla, a former opposition presidential candidate, tweeted that stopping the caravan would only bring "temporary relief" for the United States. "What we need is to fight against the corrupt government" of Honduran President Hernandez, he said.
Fernando Anduray, leader of the governing National Party, accused Hernandez's opponents of being behind the caravan. "It is a strategy planned and financed by the opposition," he said.
Edmundo Orellana, a former Honduran foreign minister and chief prosecutor, said Trump's threat creates a headache for Hernandez, who was supported by the U.S. president when voting irregularities cast doubt on his 2014 re-election.
"Hernandez is in a tight spot because Trump has always been his protector," Orellana said.
But Trump's threat seemed unlikely to dissuade the migrants, some of whom expressed displeasure with Hernandez.
Gabriela Natareno, 27, who was traveling with her 16-year-old cousin, said her president is to blame for continued migration by desperate Hondurans.
"He keeps the country mired in poverty and corruption," she said.