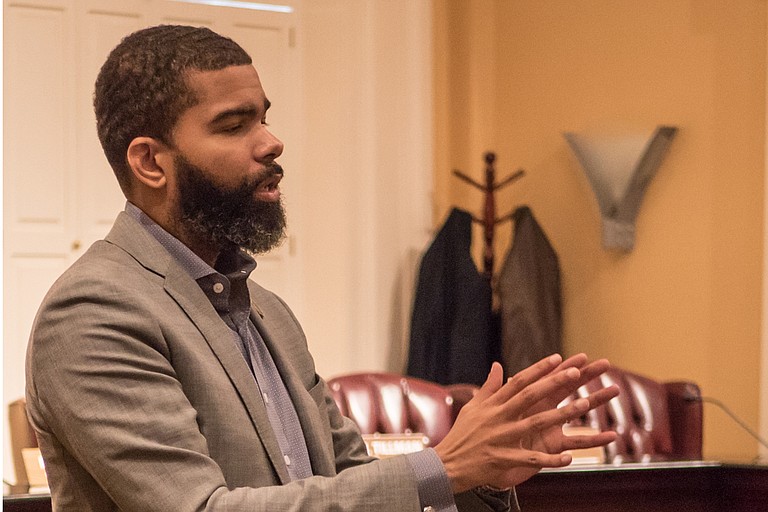 Tuesday, October 16, 2018
JACKSON — Mayor Chokwe Antar Lumumba says the Mississippi Bureau of Investigations alerted the City of Jackson last week that it will no longer take on officer-involved shooting cases in Jackson. The move follows the mayor's Sept. 28 announcement that the City would soon adopt a policy to release names of officers who have shot people within 72 hours of the incident, a common policing best practice in many cities and states.
Lumumba said today that he calls "foul" on MBI's decision as a matter of policy.
"I see it as a political decision and not based on the merits of objective investigation," he told the Jackson Free Press. "We can't allow this to stop our efforts to embrace and engage community more from standpoint of officer and community relations."
The mayor plans to apply the new 72-hour policy retroactively to all officer-involved shootings since he took office in July 2017, but he has yet to sign a formal executive order.
Department of Public Safety Communications Chief Warren Strain told the Jackson Free Press today that within the last two weeks, MBI decided to stop investigating officer-involved shootings in Jackson because of this forthcoming policy.
"[I]t was after the mayor's recent statements regarding releasing the names of officers—it goes against our protocol," Strain said.
MBI entered a memorandum of understanding with the City of Jackson in May to investigate these incidents following a rise in officer-involved shootings. A Jackson Free Press analysis counts nine since July 2017 at press time. The agency took over officer-involved shootings investigations from the scene, including all public information that is released.
'Who Polices the Police?'
The Jackson Free Press previously reported about the increasing difficulty to obtain basic information about such incidents once the MOU with MBI went into effect because the bureau does not discuss ongoing investigations.
The mayor said that simply releasing names of officers does not necessarily interfere with investigations, and iterated that the forthcoming policy, built upon recommendations from his officer-identification task force, has built-in protections to gauge credible threat to officers' safety within that 72-hour period before releasing their names to the public. Jackson would not release an officer's name if it found his or her life to be in danger. The task force proposed that a three-member board comprised of a community member and two municipal court judges will determine if there is a credible threat to the officer.
Strain said that within 72 hours, MBI would not be able to gauge whether it's at a point to discuss the case or release information—something the agency doesn't do anyway.
"We don't discuss ongoing investigations," Strain said. "It endangers the lives of witnesses, officers, families—that type of thing."
Jackson will now return to handling investigations of officer-involved shootings in-house, as laid out in the use-of-force policy that dates back to 2004. Without MBI, the City will have the unfettered ability to release names within 72 hours, but it will also return to the days of investigating itself in these instances, which does not please the mayor.
"That does reflect a shortfall in how we look at these matters because it leaves the police to investigate the police, and it leaves the question of who polices the police?" the mayor said.
MBI's Complicated, Unchecked Involvement
MBI's involvement with the City of Jackson came about two months after the mayor appointed a task force to wrestle with how the City would handle transparency around officer-involved shootings in the future. No JPD officer's name has ever been formally released after an officer-involved shooting.
After nearly half a year of meeting, the task force comprised of a dwindling number of police officers and other residents, all of whom the mayor appointed in the wake of the Jackson Free Press calling for the release of the names, decided to go with national standards: releasing names within 72 hours. The mayor stood by his task-force's decision in September.
Months ago, the Jackson Free Press brought to the attention of city officials that MBI's involvement with officer-involved shootings and its closed nature seemed to be in direct contradiction with a task force finding a way to be more transparent and a mayor that leaned toward releasing names.
On June 18, this reporter asked the mayor at a press conference to clarify the role of the task force considering MBI's then newly cemented role in the City. The mayor said then that it was not good practice for the City to continue using its own officers to investigate officer-involved shootings and defended MBI's right to choose what information it divulges.
"In terms of what MBI's policies are, we engaged MBI because we do not think that it is good policy for the City to investigate its own shootings," Lumumba said. "MBI has a policy that is independent, or the decision-making on their policy is independent of the City's influence so they make determinations of what they release or not release."
Lumumba added: "The entity the City has available to it in order to investigate officer-involved shootings is the Mississippi Bureau of Investigations, and they have their own policies that govern how they answer to press inquiries."
At an officer-identification task force meeting that same day in June, this reporter asked the task force to answer whether or not the city would even have the jurisdiction to release names since at the time MBI investigated those shootings, not JPD.
"I could see even though MBI's policy is that they don't release names either on closed or open investigations, once an investigation is closed, which means they've done their job, we are free as a City to talk about those findings," said Chief of Staff Safiya Omari, a non-voting member on the task force. "So it's not just this clear-cut, black-and-white issue."
MBI had been invited to speak before the task force in May, but declined by way of not responding. Strain said then that "typically MBI is not a policymaking entity; it is a fact-finding entity."
Attorney CJ Lawrence, the chairman of the task force and Mayor Lumumba's former law partner, said at the June 4 meeting that MBI's lack of response to his invitation gives the members reason to question transparency from MBI.
Kaepernick, Nike and Mississippi Policy
Lawrence told the Jackson Free Press that he finds this decision from MBI to be in keeping with the position of the entity's higher-ups, and Department of Public Safety Commissioner Marshall Fisher in particular, following his stance against Nike.
In September, Fisher told the Associated Press that state police will no longer buy Nike products, saying the athletic apparel maker is unpatriotic and fails to support those in uniform. This immediately followed Nike's ad campaign featuring Colin Kaepernick, who has been essentially blacklisted from playing in the National Football League after protesting police brutality by kneeling during the national anthem.
"As commissioner of the Department of Public Safety, I will not support vendors who do not support law enforcement and our military," Commissioner Marshall Fisher said in a statement to AP.
Lawrence said that Fisher's decision offers a window into MBI's swift decision.
"The fact that this person in the State of Mississippi is also the person that presides over MBI gives us insight into how pervasive that state of mind really is when it comes to their view on police brutality, on officer-involved shootings and to a certain degree, justice," he told the Jackson Free Press.
Mayor Lumumba told the Jackson Free Press today that he thanks Nike for its boldness, and that Fisher's decision to stop purchasing Nike "adds ammunition" to his argument that this reaction from MBI is political.
"I think that we need to utilize every mechanism and take every opportunity to raise the issue of a flawed criminal-justice system," Lumumba said. "Whether that's athletes who do not just shut up and dribble, or politicians that take progressive steps, we have to do it."
Email city reporter Ko Bragg at [email protected] and read more on this newspaper's investigation of officer-involved shootings at jfp.ms/policeshootings.