Tuesday, October 16, 2018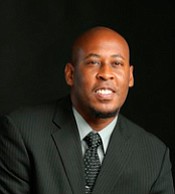 Fast Facts About Yemi L. Kings
Age: 34
Title of Specific District/Position Campaigning for: Hinds County Court Judge, Sub-District 3
Educational Background: Graduate of Lanier High School, Tougaloo College, and Thurgood Marshall School of Law
Professional Background: 9 years as a Practicing Attorney, Former Assistant Public Defender, Managing Attorney for Kings & Associates Law Office, and Current Assistant Hinds County Prosecutor
Place of Residence: Jackson, Mississippi
Spouse/children:
Wife: Attorney Terri Kings, Graduate of Lanier High School, Jackson State University, and Mississippi College School of Law
Son: Yemi L. Kings, Jr. (5 years old)
The Jackson Free Press reached out to all judicial candidates who are running on the Nov. 6 ballot to represent jurisdictions throughout the Jackson metro area, regardless of whether they had a challenger or not. Each candidate received the same questionnaire. We've published their responses in full below, with minimal edits for editorial/reader clarity only. The JFP did not copyedit or line-edit candidate responses. The views expressed by candidates do not necessarily reflect the views of the JFP.
Why do you want to serve Hinds County right now?
I truly believe that Hinds County is at a critical point, where we need real change in our criminal justice system. We are living in a time where a person can commit murder and be released before the victims' family can have the funeral. I would like for my family and your family to be safe in our communities. We can make a real change in our criminal justice system right now, and I am vying for the opportunity to help bring about that change for Hinds County.
Provide one or two examples of your legal and/or judicial experience when you have made an impact in Hinds County and describe the result.
Recently, a Defendant was charged with Armed Robbery and Aggravated Assault. The victim had been robbed, beaten with a gun, and sustained severe injuries. The Defendant was released from jail without having to post bond. As a Hinds County Prosecutor, I was able to have the Defendant brought back into court and convinced the Judge that the Defendant was a danger to the community and to increase the bond to $400,000.00. I have been able to keep countless violent offenders off our streets while serving as a prosecutor.
In the past year or so, what has been the most consequential/at-risk issue facing the area you wish to serve and what do you plan to do about it?
I have noticed that there are a number of instances where Defendants charged with violent offenses have been released on very low bonds. As a prosecutor, I have fought against this practice and made efforts to ensure that violent and dangerous offenders are not allowed to terrorize our communities. There is an existing law that states that a judge can deny bond when a person is a danger to the community. I am very familiar with that law which can be found in our Mississippi Constitution. Hinds County Court Judges set bonds in many felony cases and I plan to consider the laws as well as the safety of the community when setting bonds.
If selected to preside over youth court, how would you serve the juvenile population of Hinds County?
I am working to develop a list of employers who would be willing to employ some of our youth coming through the Youth Court system. Far too often our youth leave the Youth Court system and we don't provide them with enough resources. Many times, they find themselves with nothing constructive to do and end up back in the system. I believe that we can save our youth by providing them with positive outlets. I am tired of seeing teenagers come into the Youth Court system and graduate into the adult court system, instead of graduating from high school.
Secondly, I would like to start a mandatory Life Skills Program for every child that comes through Youth Court. This program will provide classes that include Anger Management, Conflict Resolution, Job Application/Interview training, College prep, GED prep, ACT prep, Military Service, etc.
I believe that every single child can be saved, not one of them is a lost cause. Everyone at 26 or 36 is a different person than when they were at 16. All of our children will change as they get older. We have a duty to be a Village for our children and to do all that we can to make sure that our kids are changing for the better.
What are the characteristics of a good judge, and how do your characteristics compare?
In Exodus, when Moses appointed his Judges, he sought out able men of Wisdom, Truth, and Understanding. I would start there and also add Fair, Impartial, and Firm. I possess all of these characteristics. I have the Wisdom, Fairness, and Understanding necessary to serve the people of Hinds County as a Judge.
I have prosecuted and defended well over 1,000 cases in the Hinds County Courts, ranging from Capital Murder to Misdemeanors. I have been a Defense Attorney and a Prosecutor, so I understand the affects that decisions have on all parties involved. On one hand, you have victims that must be respected and included in the process, and on the other hand, you have Defendants who have rights and they have families that hurt as well. A good Judge considers both parties and weighs all factors in making any decision on the bench.
What sets you apart in this race?
My upbringing and my experience as a Hinds County Prosecutor, Public Defender, and Youth Court Prosecutor sets me apart in this race.
I was born and raised here in Hinds County and my family has lived here for generations, which drives my passion and desire to make Hinds County a safer place for the families here and the families to come. I grew up in the inner city of Jackson like many of the Defendants, Plaintiffs, and victims who come through our courts, which gives me a unique understanding of criminal and civil cases. Fighting for the betterment of others is in my blood. Like my great grand-father, Rev. R.L.T. Smith, who fought for Civil Rights and was the first African American in Mississippi to run for U.S. Congress after Reconstruction, I love the people of Hinds County and I would like to leave this beautiful place better than I found it.
I have handled over 1,000 cases in the Hinds County Courts. I have prosecuted cases ranging from Murder to Drug Possession and Abuse and Neglect of Children cases in Youth Court. Youth Court is a specialized area with its own set of laws. I have spent countless hours handling cases as a defense attorney and as a prosecutor in the Hinds County Youth Court and if I am elected, I will walk into the courtroom with hands-on experience as to how Youth Court and County Court works.
If you are unsuccessful in your race, how specifically will you continue working on behalf of your district?
I will continue to work as an Assistant Hinds County Prosecutor under the direction of the Hinds County Attorney, Gerald Mumford, and continue to help carry out our vision for a safer Hinds County. Also, my wife Terri and I will continue to operate Kings & Associates Law Office in Jackson, MS, where we handle personal injury, family law, and criminal defense cases. We will continue to provide guidance and mentorship to the youth of Hinds County.