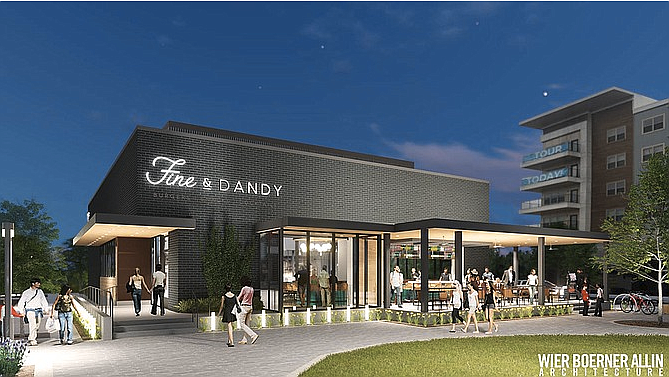 Tuesday, October 16, 2018
Fine & Dandy will a host a special champagne dinner called "Bubbles & Buckets" on Thursday, Oct. 18, at 6:30 p.m.
The restaurant, located in the District at Eastover (100 District Blvd. E.), is partnering with Fondren Cellars to procure five rare bottles of champagne from retailer Moët Hennessy for the event, including Ruinart Rosé, Dom Perignon, Veuve Clicquot La Grand Dame Rosé, Chandon Sweet Star and Krug Grande Cuvée, which is the house champagne of Buckingham Palace in London.
Jesse Houston, culinary director and executive chef for Fine & Dandy, will prepare a family-style meal with champagne pairings and a pre-fixe, or preset, menu. Food options will include regular and Nashville hot-sauce fried chicken, deviled eggs, buttermilk whipped potatoes with tallow gravy, butterbeans, white barbecue slaw, butternut squash cobbler with pecan streusel and more.
After the dinner, attendees will be able to purchase the champagnes served during the dinner at a 10-percent discount at Fondren Cellars.
"We're looking to bring something fun, fancy and different to Jackson with this event," Marisa Marino, Fine & Dandy's hospitality director, told the Jackson Free Press. "We want to let people sit down and enjoy awesome-tasting champagne and fried chicken while they come together as a community to mix and mingle."
Tickets to "Bubbles & Buckets" are $130 per person, including gratuity, and are available at eventbrite.com. For more information, call 601-202-5050 or visit eatdandy.com.
Highland Village Hosts Ballet Magnificat! "Snow Queen Experience"
Jackson-based Ballet Magnificat! will celebrate the coming of the holiday season and its production of "The Return of Snow Queen" with an event called "The Snow Queen Experience" at Highland Village on Sunday, Nov. 11, from 1 p.m. to 4 p.m.
The event will include shopping specials, free ballet lessons for children, food, face painting and other activities in the courtyard. Ballet Magnificat! dancers will be in costume and perform selections from "The Return of Snow Queen," which will be at Thalia Mara Hall on Dec. 15 and 16.
Jewelry, beauty and home decor retailer Kendra Scott will host two raffles during the event, with one winner receiving gift cards and products from Highland Village businesses and another winning a VIP backstage package for "Snow Queen."
Other Highland Village retailers and restaurants, including J.McLaughlin and Red Square, will offer 10-percent discounts and donate 10 percent of sales during the event to Ballet Magnificat! Deep South Pops and Aplos will also have themed drinks for sale.
For more information on Ballet Magnificat! and the Snow Queen production, visit balletmagnificat.com.
GreenPal Launches in Jackson
GreenPal, a Nashville, Tenn.-based app that helps homeowners find and hire lawn-care professionals, launched in Jackson on Saturday, Oct. 13.
Nashville natives Gene Caballero and Zach Hendrix founded GreenPal in 2013. The app allows homeowners to list their lawns online and request a service date. Vetted lawn-care professionals in their area then bid on the job based on factors such as square footage, grass height, Google street and aerial images of the property and other details the homeowner chooses to provide.
App users can then select who they want to hire from the bids they receive. After a vendor completes the job, they send a time-stamped photo of the completed work to the homeowner, who can then pay via the app and set up more appointments if they choose.
The landing page for GreenPal in Jackson also includes a listing of the top-rated local lawn services, along with descriptions from owners, customer reviews and the current average price for lawn care in Jackson.
The app is currently available in more than 40 markets, including larger cities such as Atlanta, New Orleans, Orlando, Houston and San Diego. Caballero told the Jackson Free Press that he and Hendrix decided to bring GreenPal to Jackson because the city was ninth on the business' top-10 cities requesting to sign up for service.
"Having been in the landscaping business myself since high school and then all throughout college, I learned a lot about how homeowners go about finding professionals to hire and how a landscaping company grows," Caballero said.
"It's tough for lawn care professionals to do great work while also managing their marketing and accounting, so we created this app to help power the landscaping industry on behalf of those who run a great business and want to grow it, but may not have time to handle the scheduling and marketing side of things."
For more information, call 1-866-798-4485 or visit yourgreenpal.com.