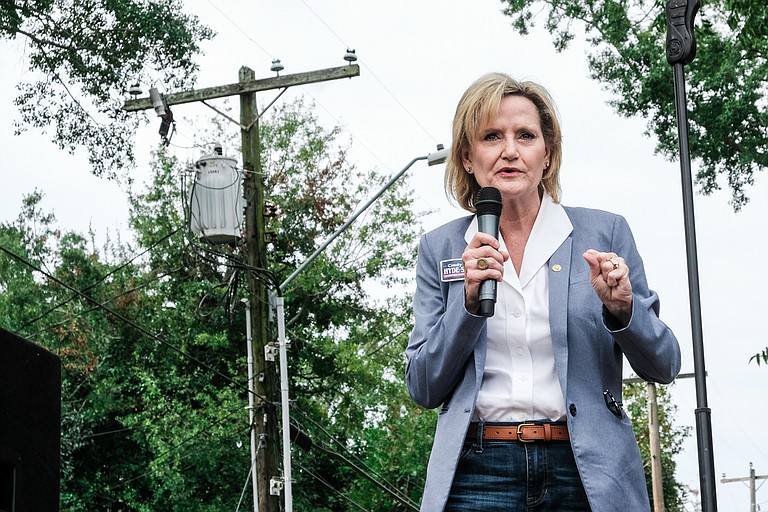 Republican U.S. Sen. Cindy Hyde-Smith's campaign pushed back against opponent Chris McDaniel's renewed calls for a debate on Friday, accusing the Mississippi state senator and his supporters of "uncivil" and "horrific" behavior.
McDaniel, who is also a Republican, has pushed for months for Hyde-Smith to join him and their Democratic rival in a debate. She turned down invitations to two now-cancelled debates that were set for this month, citing a busy schedule in Washington, D.C., as the reason.
On Thursday, however, Senate Majority Leader Mitch McConnell announced a surprise fall recess, freeing Hyde-Smith up to return to Mississippi.
"Cindy Hyde-Smith can no longer hide behind the veil of Washington to save her from facing the Mississippi voters," McDaniel said in a Friday press release. "We know she'll be here in-state, so there's no reason she can't stand on a stage and defend her stances."
The Hyde-Smith campaign is "looking at her schedule," its communications director, Melissa Scallan, told the Jackson Free Press on Friday.
"If that's something that we can work in, there's a possibility we would do it," she said. "We won't be bullied by Chris McDaniel. We won't let him dictate what we do."
'We Don't Want a Repeat of the Neshoba County Fair'
Hyde-Smith, Scallan said, fears McDaniel and his supporters would not be "civil" at a debate.
"She's not at all opposed to discussing issues and answering questions, but if she thinks it's not going to be civil, then she's going to be reluctant to do it, and he only has himself to blame for that," Scallan said. "We don't want a repeat of the Neshoba County Fair."
In August, Hyde-Smith took the stage to speak at the Neshoba County Fair in Philadelphia, Miss., only to be met by an ongoing cascade of boos and jeers from a group of McDaniel supporters in the crowd. They shouted that she was a "gun grabber," accused her of supporting Planned Parenthood (which she says she opposes), and laughed derisively when she praised former Sen. Thad Cochran, to whose seat Gov. Phil Bryant appointed her after the ailing senator retired in March.
"Their behavior at the fair was horrific," Scallan said. "The way his supporters behaved was not good. They were very rude, and we don't want a repeat of that in any setting."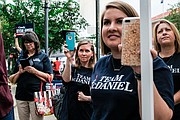 In Clinton, Miss., on Saturday, McDaniel told the Jackson Free Press that he rejects Scallan's characterization of his supporters.
"They're not going to do anything uncivil or inappropriate toward her," he said. "They're kind, polite people who just believe strongly that she needs to stand before them and answer the tough questions. They want to hear why she deserves to keep the position she was appointed to. That doesn't make them uncivil. It makes them inquisitive."
As for suggestions of bullying, McDaniel scoffed.
"If she doesn't have the courage to stand in Mississippi and debate me, what makes us think she'll stand in Washington and debate for us there?" he said, adding that he believes Hyde-Smith is afraid of having to address her past as a Democrat. She switched to the Republican Party in 2010.
McDaniel said he is willing to spar over tea if his GOP opponent likes.
"I've never been uncivil to anyone," he said. "I'm willing to debate anytime, anywhere. If she wants me to come to her office, we'll do it there. In fact, if she'll invite me over for tea one afternoon, we'll do it at her home in Brookhaven."
On Saturday, Hyde-Smith and McDaniel crossed paths once more at the Fall for Clinton Market in downtown Clinton, where Hyde-Smith spoke to the crowd about her accomplishments. Both candidates brought a group of supporters, staff and volunteers with them. This time when Hyde-Smith spoke, however, McDaniel's crew quietly listened, some holding up their smartphones to video the Brookhaven native's speech.
The candidates' Democratic rival, Mike Espy, has also criticized Hyde-Smith's reluctance to debate. In September, he pulled out of an Oct. 4 event (which was later cancelled), saying it would be "unacceptable" to take part in a debate that did not include the incumbent.
If no candidate wins more than 50 percent of the vote on election day on Nov. 6, the top two will compete in a runoff several weeks later. The Jackson Free Press asked Scallan if Hyde-Smith would be more likely to take part in a debate if McDaniel is eliminated, leaving just her and Espy to compete.
"(Espy) has had time to hold town halls and speak to voters" while Hyde-Smith has been busy in the Senate, Scallan said; the campaign would have to consider how to allocate its time before commiting to a runoff debate, she added, but they are not thinking that far ahead just yet.
Oct. 2 marked 10 years since Mississippi voters last saw a debate among top-tier U.S. Senate candidates,, when former Democratic Gov. Ronnie Musgrove debated Republican Roger Wicker. Wicker won that race and is up for re-election in November when he faces a challenge from Democratic House Minority Leader David Baria.
Hyde-Smith is the first woman from Mississippi appointed to serve in Congress and could become the first elected one come November. In 1986, Espy became the first black congressman from Mississippi since the post-Civil War Reconstruction Era; this year, he could become the first black U.S. Senator from the state since the same period.
Voters choose between Espy, Hyde-Smith and McDaniel in a nonpartisan special election on Nov. 6—the same day as the national midterms. If no one gets more than 50 percent of the vote, the top two vote-getters will face one another in a Nov. 27 runoff. Wicker and Baria also face off that day, and U.S. House seats are up in all four of Mississippi's congressional districts. Voters must bring a valid form of photo ID such as a driver's license or a student ID to vote. Polls in Mississippi are open from 7 a.m. to 7 p.m.
Ashton Pittman covers politics and elections for the Jackson Free Press. Follow him on Twitter @ashtonpittman. Email him at [email protected]. Read more 2018 campaign coverage at jfp.ms/2018elections.