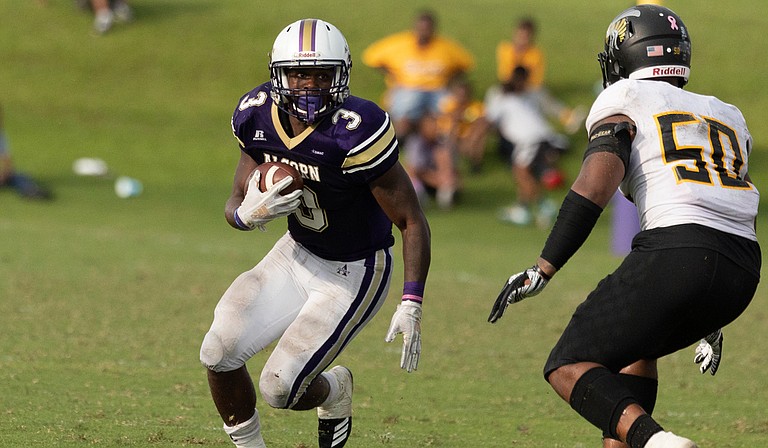 Thursday, October 11, 2018
De'Lance Turner and P.J. Simmons provided a potent one-two rushing attack last season for Alcorn State University. Turner is now with the Baltimore Ravens, and Simmons entered this season as SWAC Preseason Offensive Player of the Year.
The Braves needed to find another running back to give the team the same results on offense this season. Junior college transfer De'Shawn Waller is starting to become that complement to Simmons that the Braves were hoping to find.
Waller started the season slowly with little playing time in the season opener against the Georgia Institute of Technology. The Yellow Jackets dispatched Alcorn State 41-0 in a game that saw the junior running back catch one pass and make three rushing carries for minimal yardage.
The Atlanta native did not play in the Braves' next three games against Louisiana College, Texas Southern University and Mississippi Valley State University, but earned significant playing time against Southern University on Sept. 29.
His 14 carries against Southern led to a then-career-high 54 yards, and he scored the only touchdown of the game in the Braves' 20-3 win. That earned him SWAC Newcomer of the Week honors from the conference.
In Alcorn State's matchup with Alabama State University on Oct. 6, Waller enjoyed a breakout game. The running back exploded for 214 yard on 28 carries and averaged 7.6 yards per carry. He not only reached a new career high in rushing yards but also in touchdowns with two in the game.
Alcorn State found itself down 7-14 when Waller made it to the end zone for the first time on a one-yard run, tying the game in the fourth quarter. He scored his second touchdown, which gave the Braves their first lead of the game at 22-14.
The teams then traded field goals and entered overtime tied at 25-25. The Hornets ended the marathon contest with a field goal, upsetting the Braves 28-25.
This is the first conference loss for Alcorn State this season, but the team still leads the SWAC East division with a 3-1 record. Even with the defeat, Waller earned SWAC Newcomer of the Week honors for the second week in a row.
Though he only posted stats in just three games this season, Waller is third on the team in rushing with 283 yards on 45 carries. He is tied for second with three rushing touchdowns and second in kickoff return yards with 32 on two returns. The junior running back has caught three passes for seven yards this season.
Waller played high-school football at the B.E.S.T. Academy in Atlanta, where he rushed for 3,135 yards with a 9.9-yard average per carry. He averaged 149.3 yards per game and scored 32 of his 40 touchdowns on the ground.
After high school, Waller signed with Hutchinson Community College in Kansas. As a freshman, he ran for 442 yards on 101 carries with two touchdowns. In his final season, he rushed for 446 yards on 76 carries and four touchdowns. Over the course of his two seasons at Hutchinson CC, he had 888 rushing yards on 177 carries, averaging five yards per carry, with six touchdowns.
Alcorn State plays what could be a pivotal conference game this Saturday, Oct. 13, on the road against Alabama A&M University with a 2 p.m. kickoff.