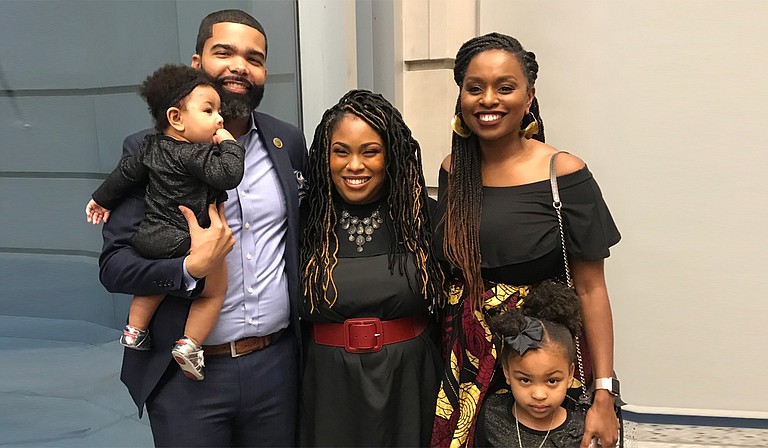 Thursday, October 11, 2018
JACKSON — Angie Thomas, best-selling author of "The Hate U Give," promised not to cry at a private reception honoring her young-adult-novel-turned-movie, which comes out this week in her home state. She said her makeup artist would kill her.
"To know that all of you took time out to come here tonight to celebrate what's happening, and in some ways to celebrate me, I am honored," she said. "This makeup on my face looks good. I'm not going to cry. That's what I said."
Thomas said she wants to continue to be an example of the good that comes out of this state, where she plans to stay.
After the release of her debut novel in 2017, Thomas has been around the world, promoting her work. At an Oct. 10 event celebrating the Jackson native at the Mississippi Civil Rights Museum and Museum of Mississippi History, she rejoiced in not having to take time in her remarks to clear the air about her home state.
She said she often lists off five things to contest misconceptions about Mississippi: First, the state has indoor plumbing; second, Mississippians wear shoes; third, people do not have to sit on the back of the bus because of the color of their skin anymore; fourth, she has never had to drink from a colored-only water fountain; and fifth, she has never been called the n-word in Mississippi but probably has been via Twitter.
"We have a long way to go, but we've come a long way," Thomas said. "I'm proud to say that Mississippi is hopeful. I'm proud to say I have a lot of faith in this state. I'm proud to say I come from this state. It's going to be my duty to show people that all the assumptions they make about us are wrong."
Mayor Chokwe Antar and Ebony Lumumba, the Mississippi Department of Archives and History, the Well Writers Guild and the Mississippi Book Festival co-sponsored the event, which nearly 400 guests attended. Thomas said she wishes every person who comes to her events could see the crowd gathered there, which represented a mix of races and ages.
Mayor Lumumba congratulated Thomas—the first recipient of the key to the City of Jackson under his administration.
"This is truly an exciting day, not only for Angie, but for this community that loves her very dearly," he said.
The mayor said that wife Ebony, the chair of the English department at Tougaloo College and a doctoral candidate at the University of Mississippi, was the one who introduced him to "The Hate U Give," which began as a senior thesis while Thomas was at Belhaven University.
"When you are abroad and pushing your mission forward, we are celebrating you right here in Jackson, Mississippi," Ebony said. "Angie, that's because you are the culmination of our hope for this space. She is a JPS product. That deserves a round of applause."
Ebony encouraged the room to share the book with young people and added that she was intentional about bringing the first couple's two young girls, Alake and newborn Nubia, to this celebration.
"We brought our young people, our children, tonight because if you're familiar with the concept of T.H.U.G. L.I.F.E, you know what the hate you give does to young people, what it does to future generations," she said, referencing the late rapper Tupac Shakur's renowned tattoo of the acronym: "The Hate U Give Little Infants F*s Everybody." It is also the inspiration behind Thomas' book.
Ebony continued: "I laud you, Angie, for taking on the task of making us responsible for what comes after us—thank you, sister."
Thomas offered a direct message for the youth of Mississippi.
"Specifically to the young people in this room, when you look at me, I hope you see what you can become, but I hope you know that you can do even better," she said. "I hope that I'm a mirror for you to see that you have greatness inside of you right here in Mississippi.
"I hope that 10, 20 years from now, when one of you is standing up here, we won't have to say 'Black Lives Matter'—it'll be understood. I hope that you take that torch and you run with it, and I hope that you show people that Mississippi is a good place."
Thomas' breakout novel is about a 16-year-old girl named Starr who crafts a delicate balance in code-switching between a predominantly white prep school and the inner-city where she lives with her family. She is forced to reckon with those careful boundaries after witnessing a police officer shoot and kill her childhood best friend during a traffic stop after a party.
The book has spent 84 weeks on the New York Times Best Sellers list, and the film will come to Mississippi theaters on Friday, Oct. 13. Thomas encourages everyone to go out and support the movie, which she characterized as a love letter to Mississippi.
"I mean, when your cousin comes at you with the flash drive talking about, I've got 'The Hate U Give' for free, you need to tell your cousin that Angie said, 'Nah, we can't do that,'" Thomas said, encouraging laughs from the crowd. "I want them to see that right here in Mississippi, some of the most love and support for this film was born right here."
Email city reporter Ko Bragg at [email protected].