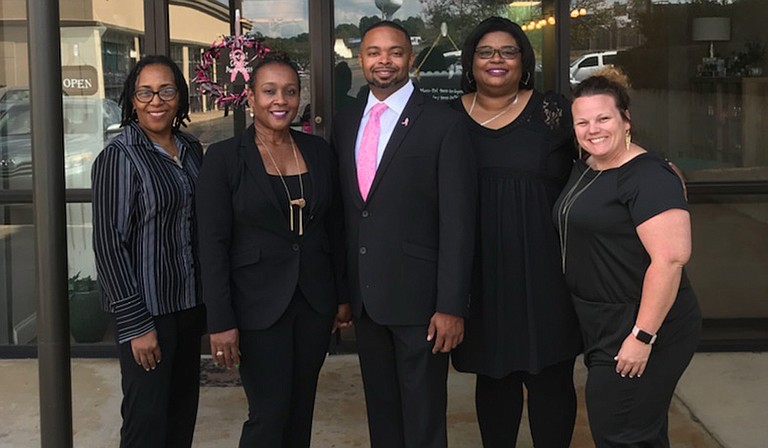 A celebration of the release of the film "The Hate U Give," based on Jackson native Angie Thomas' best-selling novel of the same name, is on Wednesday, Oct. 10, at the Mississippi Civil Rights Museum and Museum of Mississippi History (222 North St.). The film entered select theaters on Friday, Oct. 5, and will come out nationally on Friday, Oct. 19.
The movie-release celebration, which Jackson Mayor Chokwe Antar Lumumba and wife Ebony Lumumba, the Mississippi Book Festival, the Mississippi Department of Archives and History and The Well Writers Guild are hosting, begins with a private reception on Wednesday from 6 p.m. to 7 p.m. Tickets to that reception are $100 per person and include reserved seating at the film's Mississippi premiere on Oct. 11 at Malco Grandview Cinema (221 Grandview Blvd., Madison). The free public reception will be from 7 p.m. to 9 p.m. on Wednesday, with the first 100 guests to arrive receiving tickets to the premiere.
"Angie Thomas is a superstar writer who never forgets her roots, her early friends and her supporters," Holly Lange, executive director of the Mississippi Book Festival, told the Jackson Free Press. "The Mississippi Book Festival is proud of our partnership with her and her success. She is an inspiration to us all, and we know she has more great stories to tell."
Thomas, a 2011 Belhaven University graduate, initially wrote "The Hate U Give" as a short story for her senior project after the police shooting of an African American man named Oscar Grant in Oakland, Calif. She expanded the short story into a novel after over the course of five years, as conversations of race and police violence grew more prolific.
The book and film follow the story of a black high-school student named Starr Carter who witnesses a police officer shoot and kill her unarmed friend, Khalil, at a routine traffic stop after they fled a shooting at a nearby party. The movie stars Amandla Stenberg as Starr Carter, and Issa Rae, Common and Regina Hall.
The Nail Bar and Spa Opens Holds Grand Opening
Vicky Pilkington, owner of Magnolia Nail and Spa (107 W. Cunningham Ave., Terry), held a grand opening for her second salon, The Nail Bar and Spa (4800 Interstate 55, Suite 20) in Jackson on Friday, Oct. 5, following a soft opening on Sept. 10.
The Nail Bar and Spa provides services such as hormone replacement for men and women, Botox fillers, vitamin B12 injection, mole removal, nail services, manicures, pedicures, acrylics for nails, gel nails, nail art, facials, waxing, laser hair removal, skin tightening and massages.
The salon also allows customers to book the space for events such as spa, bridal and birthday parties. Pilkington plans to begin hosting educational seminars on her business' services in November.
Pilkington, a Florence, Miss., native, is also a geriatrician and internal medicine doctor at Merit Health Medical Group Primary Care in Byram. She opened Magnolia Nail and Spa in May 2018.
"Several years ago, I had clients asking me about Botox and other treatments, and I saw how such treatments could change the well-being of people and how they see themselves," she told the Jackson Free Press. "I thought then that opening this kind of business was something I needed to do. I enjoy seeing people witness the results of working on their hair or nails. It's very gratifying and something you don't see when you're treating things like blood pressure."
The Nail Bar and Spa is open Monday through Friday from 9 a.m. to 6 p.m., Saturday from 9 a.m. to 4 p.m. and by appointment only on Sunday. For more information, call 769-216-2152.
Bras Along the Bridge at Riverwalk Casino
Riverwalk Casino Hotel (1046 Warrenton Road, Vicksburg) is collecting bra donations throughout October in honor of Breast Cancer Awareness Month as part of its "Bras Along the Bridge" event. For every bra it receives, Riverwalk will donate $1 to the American Cancer Society.
Participants can drop off bras at Riverwalk or participating sponsor locations. Anyone who brings a bra to Riverwalk between 10 a.m. and noon or 4 p.m. to 6 p.m. on a Sunday will receive a 50-percent-off voucher for the casino's buffet for that day.
At the end of October, Riverwalk team members and members of the Vicksburg Bridge Commission plan to string the bras across the Old Vicksburg Bridge to raise awareness for breast cancer.
On Saturday, Nov. 3, the casino will host a bra-viewing ceremony on the bridge for breast cancer survivors, which will include a check presentation for the ACS donations at 10 a.m. All visitors at the viewing ceremony from 9 a.m. to 11 a.m. will receive a buy-on-get-one-free buffet coupon for Riverwalk.
For more information and a full list of drop-off locations, visit riverwalkvicksburg.com.