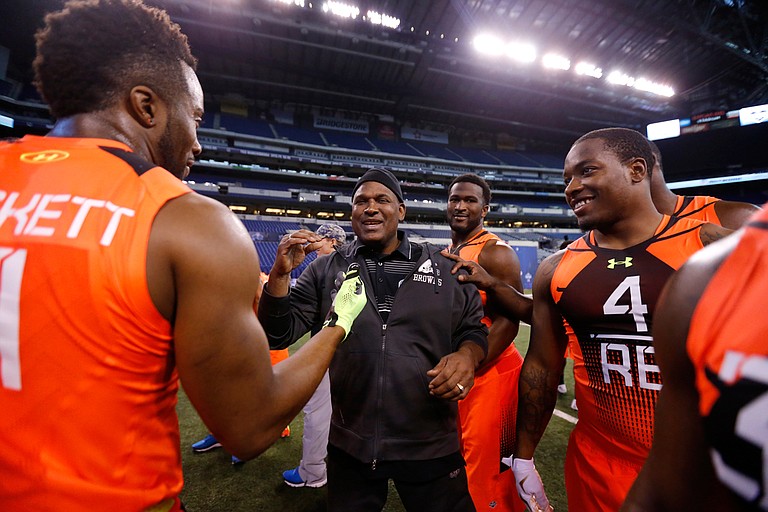 Football talent runs deep in the Montgomery family of Greenville, Miss. Of the 10 boys in that family who grew up in Mississippi Delta, nine of them played college football, five played professional football and four were in the NFL.
While some football fans would not consider Wilbert Montgomery to be the most talented brother, he is without a doubt the most famous. He was an All-State running back and defensive back at Greenville High School. While there, his teams went 19-1 in his final two years and beat Callaway High School in the 1974 Capital Bowl.
While he was starring on the football field, Montgomery had to hide that fact from his mother, Gladys, who didn't want him playing football. He eventually had to confess that he was playing the sport when college recruiters started coming by their family home, trying to get him to attend their respective universities. He ran a 9.6-second 100-yard dash, and lettered four years in football and three in track.
Montgomery was set to head to Jackson State University, but he would have had to sit behind a stockpile of talented running backs, including Walter Payton. Instead, he ended up becoming a star at Abilene Christian University in Abilene, Texas, even running for a touchdown the first time he touched the ball.
As a freshman in 1973, he set the National Association of Intercollegiate Athletics record for touchdowns with 31 regular-season scores. He added six more in the postseason for a total of 37 on the season and rushed for 1,181 yards. Abilene Christian won the NAIA Division I National Championship that season. The Associated Press and NAIA named Montgomery All-American..
The rest of his college career wasn't as spectacular as his first year at Abilene, as injuries hampered him from putting up bigger numbers. He rushed for 657 yards as a sophomore, 612 as a junior and 597 as a senior.
Even with the injuries and missed games, he still ended up as the ACU school leader in rushing with 3,047 yards. He set the record for college touchdowns with 70 in the regular season, breaking Payton's record. He scored 60 rushing touchdowns, nine receiving scores and one touchdown off a 99-yard punt return.
Montgomery's small-school status and injuries sent him down the draft board. He wasn't selected until the the Philadelphia Eagles picked him up in the sixth round with the 154th overall pick in the 1977 NFL Draft.
During his rookie season of 1977, he did not run the ball often, with 45 carries for 183 yards and two touchdowns. He made more of an impact as a rookie by returning kicks, with 619 return yards with one touchdown.
Montgomery had a breakout season in 1978, when he was named All-Pro and made the Pro Bowl team. He rushed for 1,220 yards on 259 yards with nine touchdowns and started all 14 games for the Eagles that season.
The 1979 season was his best as a professional athlete. He rushed for 1,512 yards on 338 carries with nine touchdowns. He added 494 receiving yards on 41 receptions with five touchdowns, and started in all 16 games. He was named All-Pro and made the Pro Bowl for the second and final time in his career.
Montgomery only played in 12 games during the 1980 season. He rushed for 778 yards on 193 carries with eight touchdowns. He rumbled into Philadelphia sports lore with his 194 rushing yards on 26 carries against the Dallas Cowboys in the NFC Championship Game. The Eagles defeated the Cowboys 20-7, and he ran for a 42-yard touchdown in the win.
Ultimately, Philadelphia lost to Oakland 27-10 in Super Bowl XV that season, as the Raiders' defense held Montgomery to 44 yards on 16 carries with 91 receiving yards on six catches.
He rushed for 1,402 yards in the 1981 season, the last time he had more than 1,000 rushing yards in his pro career. He played with the Eagles through the 1984 season and left the team holding most of Philadelphia's rushing records. He then played for one season with the Detroit Lions in 1985, playing in seven games with six starts and just 251 yards on 75 carries.
Montgomery finished his career with 6,789 yards on 1,540 carries and 45 touchdowns. He caught 273 passes for 2,502 yards with 12 touchdowns during his nine year NFL career.
In 1997, he started his assistant-coaching career with the St. Louis Rams, helping the Rams win Super Bowl XXXIV over the Tennessee Titans in 2000 and reach Super Bowl XXXVI in 2002, where they lost to the New England Patriots.
He coached for the Detroit Lions from 2006 to 2007 before making his next stop with the Baltimore Ravens from 2008 to 2013. Under his leadership, the Ravens won Super Bowl XLVII over the San Francisco 49ers. He then spent 2014 and 2015 coaching for the Cleveland Browns but has not coached since the Browns released him during a coaching purge.
Montgomery was named to the Eagles Hall of Fame in 1987, Abilene Christian Hall of Fame in 1990, Lone Star Conference Hall of Fame in 1996 and College Football Hall of Fame in 1996.
The Greenville native will enter the Mississippi Sports Hall of Fame as part of the 2019 class. Jackson Preparatory School and Mississippi State University football coach Ricky Black, former Mississippi State University quarterback and coach Rockey Felker, former LPGA golfer Cissye Gallagher, former MLB pitcher Roy Oswalt and former University of Mississippi star lineman Richard "Possum" Price join him.