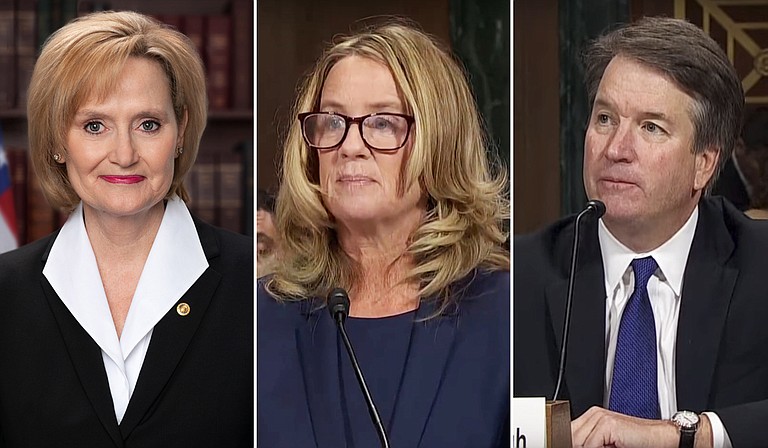 JACKSON — Accusing Democrats of a "disservice to victims of sexual violence," U.S. Sen. Cindy Hyde-Smith, R-Miss., voted to advance the nomination of Judge Brett Kavanaugh to the U.S. Supreme Court Friday morning.
The procedural vote passed 51-49, with one Democrat voting in favor and one Republican voting against. Mississippi's other Republican senator, Roger Wicker, also voted in favor. The Senate set a final vote on Saturday to confirm the embattled nominee.
The Senate will likely confirm Kavanaugh tomorrow, after Sen. Susan Collins, R-Maine, announced that she will support his confirmation.
Hyde-Smith blasted Democrats for an "unnecessarily ugly" process, but said the cloture vote was "easy" for her.
"The excellent impression Judge Kavanaugh made when we met only grew stronger after I reviewed his record, and followed a confirmation process that can only be described as unnecessarily ugly," Hyde-Smith said in a statement after the vote. "The FBI's supplemental background investigation only reaffirmed my earlier judgment that Brett Kavanaugh is imminently qualified to serve on the Supreme Court."
A Secret, Hidden FBI Report
Kavanaugh faces multiple allegations of sexual misconduct. Last week, Christine Blasey Ford testified to the Senate Judiciary Committee that Kavanaugh attempted to rape her at a party when she was 15 and he was 17. Another woman, Deborah Ramirez, alleged that Kavanaugh exposed himself to her at a party in college.
A vote had been set for last week, but was delayed after one Republican senator demanded an FBI investigation into the claims. The FBI spoke to Ramirez but did not interview Ford, Kavanaugh, or dozens of others former classmates who claimed to have evidence to corroborate the women's claims. Republicans claim the investigation produced no new evidence, but the report is secret and remains hidden from the public.
In her statement, Hyde-Smith blasted Democrats for not sharing Ford's accusations with the rest of the Senate when Ford first alerted Sen. Dianne Feinstein of California, D-Calif., of the allegations in July.
"Decisions made by the Democratic minority have instead resulted in a disservice to victims of sexual violence, to Judge Kavanaugh, and the American people," Hyde-Smith said.
Ford said last week that she had asked Feinstein to keep her allegations confidential at the time while she deliberated whether to come forward publicly or not. David Baria, the Mississippi Democrat who is challenging Wicker for his seat in November's midterm election, criticized both of the state's senators.
"These votes were never in doubt," Baria tweeted. "They told us from the moment the nomination was made public and continued to say they would vote yes regardless of the information that was provided to them. #RubberStamp."
Trump Falsely Calls Espy a Socialist
Hyde-Smith's Democratic opponent, Mike Espy, called her "irresponsible" and "wrong" last week when she announced her support for Kavanaugh before the FBI completed its investigation.
At a campaign rally for Hyde-Smith (who is also up for election in November) in Southaven, Miss., on Tuesday, President Trump praised her for voting with him "100 percent of the time." During their campaigns, both candidates have touted their pro-Trump voting records.
At the same rally, he mocked Ford for her testimony as a crowd of Mississippi supporters laughed and cheered behind him.
Trump called Espy a "vote for the Democrats' extreme agenda of open borders and radical socialism."
The Democratic Party's platform does not call for a socialist government and Espy, who once won an award from the National Rifle Association, was known as a moderate during his time as a congressman and as U.S. secretary of agriculture under President Bill Clinton. "I'll work with anyone as long as the goal is to improve Mississippi," Espy said in a wide-ranging interview with the Jackson Free Press last month.
Hyde-Smith's other opponent, State Sen. Chris McDaniel, also supports the Kavanaugh appointment. Last month, he claimed that "99 percent" of sexual-assault accusations are false, but studies suggest the number is actually between just 2 and 7 percent.
Mississippi Gov. Phil Bryant appointed Hyde-Smith to her U.S. Senate seat in April, after long-serving Sen. Thad Cochran resigned due to ill health.
Voters choose between Espy, Hyde-Smith and McDaniel in a nonpartisan special election on Nov. 6—the same day as the national midterms. If no one gets more than 50 percent of the vote, the top-two vote-getters will face one another in a Nov. 27 runoff. Wicker and Baria also face off that day, and U.S. House seats are up in all four of Mississippi's congressional districts. Polls in Mississippi are open from 7 a.m. to 7 p.m.
Update (2:53 p.m.): This story has been updated to reflect the announcement by Sen. Susan Collins, R-Maine, that she will vote to confirm Kavanaugh, giving Kavanaugh enough votes for confirmation.
Ashton Pittman covers politics and elections for the Jackson Free Press. Follow him on Twitter @ashtonpittman. Email him at [email protected]. Read more 2018 campaign coverage at jfp.ms/2018elections.