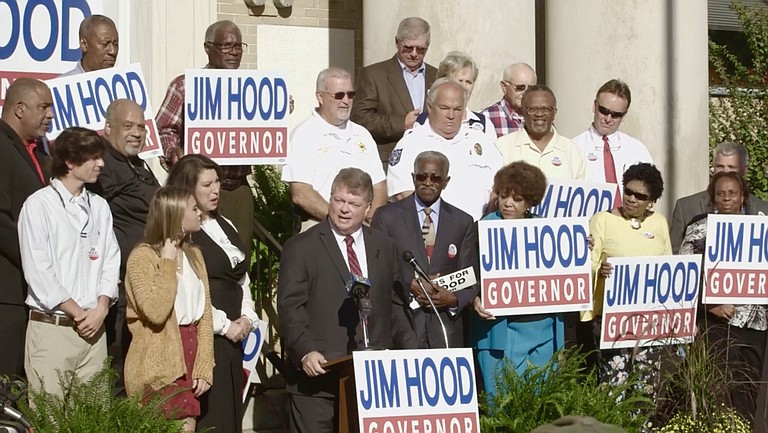 Thursday, October 4, 2018
JACKSON — One Sunday morning just weeks before announcing his run for governor, Mississippi Attorney General Jim Hood looked at the backs of the heads of the congregants who sat in the pews ahead of him at Houston First Baptist Church. Many of them, the self-described "backrow Baptist" noted, belonged either to the parents of old friends who had long since left the state or to friends whose children had left in search of a brighter future elsewhere.
Hood recalled the dismal observation as he stood on the Chickasaw County Courthouse steps in his hometown of Houston, Miss., on Wednesday morning. There, Mississippi's only statewide-elected Democrat officially launched his gubernatorial campaign.
"I come humbly before you today and announce our campaign for governor of the state of Mississippi," Hood told a crowd of supporters. "It's time to put our families first here in Mississippi and to build an economy where our children will stay."
To set the stage for his campaign's vision, Hood evoked the biblical lessons of his Southern Baptist upbringing.
"Jesus taught us to fight for the poor and the elderly and the widows and the children—the least among us," he said. "This is the Mississippi I will fight for—hard-working folks who love family, care for each other and want to build a better life."
A Progressive Economic Agenda
Hood, known for his conservative positions on criminal justice, then sought to make the case that Mississippi's "petty partisanship is getting us nowhere," and laid out a progressive policy agenda on taxes, health care, education and infrastructure.
"First, we've got to stop giving away our money—giving away tax cuts to corporations out of state that don't need it," Hood said, promising to roll back the $278 million in annual corporate franchise tax cuts that mostly benefit out-of-state corporations. "We need to invest in our main street businesses and manufacturers and the people in our state."
Referencing the fact that a higher percentage of people under age 40 leave the state than in any other nationwide, Hood laid out an ambitious agenda to stop the state's "brain drain," proposing universal pre-k and tuition-free community college.
Florida, Georgia,and Oklahoma are the only states that currently offer free universal preschool for all children, but Hood said it would be "the greatest investment Mississippi has made in our children" in decades.
If Mississippi emulated Tennessee's tuition-free community-college program, he said, Mississippi could experience growth like that seen just a little ways north, where household income grew by 6 percent in 2017; in Mississippi, it only grew by 2.1 percent, equal to the rate of inflation. Already, five Mississippi counties—Chickasaw, Itawamba, Lee, Monroe, Pontotoc and Lafayette—have programs that pay tuition costs for residents who attend Itawamba Community College.
On health care, Hood sharply criticized the state's Republican leadership's rejection of federal dollars for Medicaid expansion that the Affordable Care Act offered. That decision, he said, has accelerated the closure of rural hospitals.
"We had an emergency room here in Houston my whole life, and now that emergency room is closed," Hood said. "In 1940, we had better emergency health care in rural Mississippi than we have right now. That's insane."
Trace Regional Hospital in Houston closed its doors in 2014, making it among five of the state's rural hospitals that have closed since 2010. A 2017 state auditor's report found that six of Mississippi's rural hospitals were in "poor" financial health.
Losing rural hospitals means losing economic opportunities, he said.
"The best-paying jobs for a rural community like ours is in a medical community," he said, promising to accept the federal funding for Medicaid expansion that Republican Gov. Phil Bryant rejected.
The newly announced candidate proposed a massive statewide investment in infrastructure, saying that "working people swinging hammers" would create thousands of jobs, offering a rippling boon to the Mississippi economy.
"It's time for us to protect our values and to create a future for our kids so that they can stay here and build a Mississippi that works for everyone," he said.
Polls Look Good for Hood
In 2003—the same year Hood was first elected to serve as attorney general—Mississippi's last Democratic governor, Ronnie Musgrove, lost his re-election bid to Republican Haley Barbour. If Hood wins next year, it will be the first time Mississippi has sent a Democrat to the governor's mansion since 1999.
Petal Mayor Hal Marx, a far-right Republican who supports state Sen. Chris McDaniel for the U.S. Senate, is the only other candidate to announce so far, but political observers expect Republican Lt. Gov. Tate Reeves to run and become the Republican nominee.
A Millsaps-Chism State of the State Survey released on Tuesday shows Hood with a 23-point net positive approval rating. Fifty percent of Mississippians approve of the job he's doing compared to just 27 percent who disapprove. Among independents, Hood's "approves" lead "disapproves" by 28 points. Among Republican-leaning voters, those who approve of Hood lead by 21 points. Even among voters who describe themselves as "strong Republicans," Hood is 15 points above water.
The polling picture is less rosy for Reeves. More voters approve than disapprove of the job he is doing as lieutenant governor and Mississippi Senate leader, but by a more narrow 37-32 margin. Reeves is barely more popular with Republican-leaners than Hood, from whom he earns a 24-point net positive approval rating, and does not enjoy the kind of bipartisan goodwill Hood does. Reeves is 26 points underwater with Democratic-leaning voters and 41 points underwater with self-described "strong Democrats."
The poll of 640 Mississippi voters was conducted Sept. 15-16 and has a margin of error of +/-3.6 percent. Sixty-five percent of respondents were on landline phones, while 35 percent were on cell phones.
Chism Strategies is a Democratic pollster in the state.
A separate Mason-Dixon poll conducted in April asked about a potential Hood-Reeves race and found Hood leading Reeves 44-39, with 17 percent of voters undecided.
Marx criticized Hood's position on the franchise tax in a tweet Thursday.
"One day into his campaign and @HoodForGovernor is already talking about new and higher taxes," Marx wrote. "He claims to be a different kind of Democrat, but Jim Hood follows the same liberal economic playbook. I want to eliminate and reduce as many taxes as possible."
Voters will have more than a year to make up their minds about who they want to succeed Gov. Phil Bryant, who has held the office since 2012. Mississippians will not elect their next governor until Nov. 5, 2019.
View Hood's announcement video for his campaign here.
Ashton Pittman covers politics and elections for the Jackson Free Press. Follow him on Twitter @ashtonpittman. Email him at [email protected]. Read more 2018 campaign coverage at jfp.ms/2018elections.