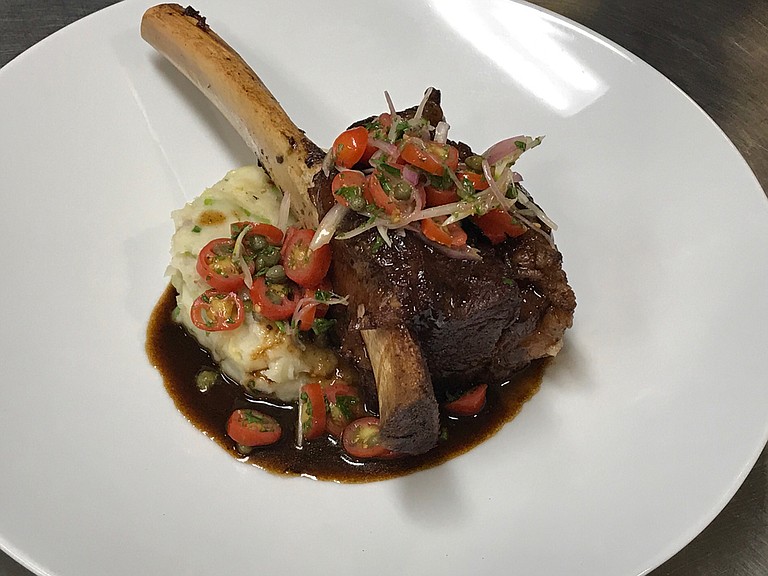 Certified Angus Beef LLC named Simon Brown, chef de cuisine at Seafood R'evolution (1000 Highland Colony Pkwy., Ridgeland), as a "Culinary Innovator" during the organization's convention in Maui, Hawaii, from Sept. 26 to Sept. 28.
Brown received the title in honor of a new dish he created that he calls the "short rib tomahawk," which will appear on Seafood R'evolution's menu in November.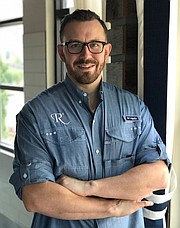 "Being named as a Culinary Innovator means taking a product and transforming it into a different cut of meat," Brown told the Jackson Free Press. "I wanted to do something different for our fall and winter menu here, and I know plenty of people in Mississippi love short ribs. I took a bone-in beef rib and turned it into a braised tomahawk short rib, which gets its name from looking like a tomahawk axe, and then slow-cooked it in my own Guinness sauce."
Brown was born in Dundee, Scotland, and moved to West Monroe, La., with his wife, Jennifer, in 2011. The couple relocated to Jackson in 2014 when Seafood R'evolution owners John Folse and Rick Tramonto hired Brown as a sous chef for the restaurant, which opened that year. He became executive sous chef in 2015 and chef de cuisine in 2017.
"I felt elated when I found out a month ago that I'd be receiving a national award like this," he said. "It feels great to be representing Mississippi from a field that includes competitors from major metropolitan cities around the country. I love working with John and Rick here at the restaurant because we all come from different backgrounds and work together to come up with menu items, so you get great Cajun dishes with a Scottish influence."
The restaurant is also preparing to celebrate its fourth anniversary with the opening of The Lounge at Bar R'evolution on Friday, Oct. 12. The lounge area has seating for up to 24 people, and will be available for private cocktail and hors d'oeuvre parties, business gatherings and other events. The space will be open daily from 3 p.m. to closing time, and will offer menu items such as crab beignets, tuna tartare, lobster rolls and truffle popcorn.
Seafood R'evolution is open Monday through Thursday from 11 a.m. to 9 p.m., Friday and Saturday from 11 a.m. to 10 p.m., and Sunday from 10:30 a.m. to 8 p.m. For more information, call 601-853-3474 or visit seafoodrevolution.com.
Julian Rankin Named Executive Director of Walter Anderson Museum of Art
Julian Rankin, managing director of the Mississippi Museum of Art's Center for Art & Public Exchange, will take on a new position as the executive director of the Walter Anderson Museum of Art in Ocean Springs effective Monday, Oct. 15.
Monique Davis, director of museum culture and experience at the Mississippi Museum of Art (380 S. Lamar St.), will succeed Rankin as the managing director of CAPE.
The Mississippi Museum of Art launched CAPE on Nov. 30, 2017, with a grant from the W.K. Kellogg Foundation. The initiative uses art to start conversations about issues such as race and gender equality in Mississippi. CAPE also offers residency programs in which selected artists learn about communities in Mississippi and create collaborative art projects.
"I'm excited about being able to work on CAPE and pick up the work Julian started," Davis told the Jackson Free Press. "CAPE uses art to talk about equity and justice in a way that doesn't immediately make people defensive, and that is work that needs doing. Art has the power to create civil conversations on topics that need to be discussed today, and you can communicate things with art that cannot be communicated through spoken word or text."
Rankin was born in Shaw, Miss., and grew up in Oxford. He moved to Jackson in 2010 and joined the public relations department of the Mississippi Museum of Art that same year. He became the museum's marketing director in 2014 and managing director of CAPE in 2017.
"The eight years I've spent working in Jackson at the Mississippi Museum of Art have been transformative and have taught me so much about the obligations museums have to communities," Rankin told the Jackson Free Press. "This new position is a continuation of our work here, to start conversations, to make art relevant in contemporary life and to benefit the public.
"I would not be able to venture out and take this opportunity if not for what I've learned working in Jackson. It's bittersweet to leave, but it is important to continue the work of using culture to empower the community. I want to thank the Mississippi Museum of Art and all the people of Jackson that I've been fortunate enough to collaborate with in my time here."
The Walter Anderson Museum of Art, named for the late artist Walter Inglis Anderson, opened in Ocean Springs in 1991. Anderson was born in New Orleans and moved to Ocean Springs with his family in 1923. He often created artwork depicting the animal and plant life of the Mississippi Gulf Coast.
"Anderson is probably best known for his watercolors and block prints of the natural world," Rankin said. "The museum based around his works celebrates the connection we all have to the natural world, the beauty of nature and what it can teach us. He was a singular genius whose work opens conversations on the kind of creative output we as Mississippians can create."
For more information about the Walter Anderson Museum of Art, visit walterandersonmuseum.org, and to learn more about the Mississippi Museum of Art, visit msmuseumart.org.