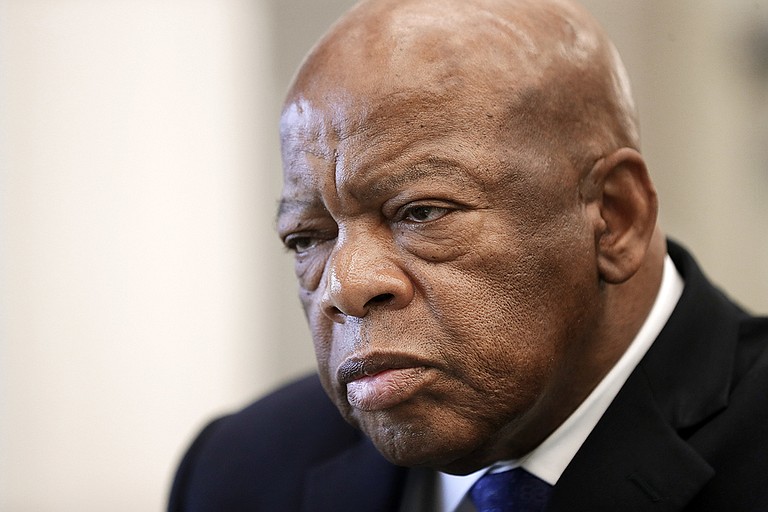 JACKSON — Rep. John Lewis, a famous civil-rights activist and a Georgia congressman, urged Mississippi voters to support Democrat Mike Espy's U.S. Senate campaign in a Sept. 25 email.
"I'm with Mike because I know he won't let partisanship or division stop him," Lewis wrote in a fundraising email the Espy campaign sent out. "He'll come to Washington and fight for what's best for his constituents—standing up for Medicare and Social Security, taking on the corporations to keep prescription drug prices affordable, and improving our education system."
Lewis coordinated the 1964 Mississippi Freedom Summer voter registration drive and, in 1965, led the march across the Edmund Pettus Bridge in Selma, Ala., on the day now known as Bloody Sunday. State troopers met the marchers on the other side of the bridge where they dispersed tear gas and beat them with night sticks. The attack left Lewis with a fractured skull.
The Pettus bridge is named for the brother of John J. Pettus, the slaveholder and governor of Mississippi who led the state's secession in order to extend and maintain slavery. The Sons of Confederate Veterans recently gave the John J. Pettus Award to Gov. Phil Bryant, who supports Republican Sen. Cindy Hyde-Smith against Espy. A Hyde-Smith TV ad this welcome prominently featured her in front of the Confederate canton of the state flag.
'This Isn't About Begging for Scraps'
Lewis, a native of Troy, Ala., warned that Mississippi could be "dragged into the past" unless it elects Espy. He pointed to Espy opponent Mississippi State Sen. Chris McDaniel's mid-September appearance on MSNBC's "Morning Joe."
On the Sept. 14 episode, a panelist asked McDaniel what he would say to Mississippi's African American voters to convince them that he's "not a danger to them."
McDaniel replied: "I'm going to ask them, 'After 100 years of relying on big government to save you, where are you today?'" McDaniel said. "'After 100 years of begging for federal government scraps, where are you today?'"
The comment drew immediate backlash in the form of boos from the live audience in Oxford, Miss., where the episode was filmed. (McDaniel tried to dial back his comment after the jeers subsided, claiming he meant to refer to Mississippi as a whole). In response, McDaniel's Republican opponent, incumbent U.S. Sen. Cindy Hyde-Smith, called him "toxic" in the same vein as Roy Moore, the extreme-right Republican U.S. Senate candidate who lost a race to Democrat Doug Jones in Alabama last year amid allegations that he sexually preyed on underage girls.
In the email, Lewis lamented McDaniel's rhetoric.
"This kind of talk leaves me heartbroken," Lewis wrote. "Because it goes against everything so many of my brothers and sisters gave their lives for."
During the Selma to Montgomery march alone, four activists were killed, joining dozens of Civil Rights-era martyrs.
In his fundraising pitch, Lewis alluded to McDaniel's comments once more.
"This isn't about 'begging for scraps,'" he wrote. "It's about coming together and making our communities, our states, and our country better for every American."
McDaniel is a staunch supporter of the Mississippi state flag, which bears the symbol of the Confederacy, and his campaign's new yard signs feature it prominently.
'Mississippi's Next'
In a follow-up email, Espy wrote that he was "very proud to have the Congressman's support" and pointed to Jones' surprise victory in Alabama, and to historic Democratic candidacies in Georgia and Florida. In Georgia, Stacey Abrams is the first African American woman nominated to become governor of any state in U.S. history; in Florida, Andrew Gillum is the state's first black nominee for governor.
"We came together and made a difference in Alabama, Florida, Georgia, and all around the country," Espy wrote. "Now, Mississippi's next. We have the opportunity to take our state forward and rise above the division that's been holding us back for so long."
If elected, Espy would be the first African American U.S. senator from Mississippi since Reconstruction, the period of rebuilding in the South that followed the Civil War. He became the first black congressman from Mississippi since that same period when voters elected him to that position in 1986.
Last week, Espy cancelled plans to appear at an Oct. 4 debate with McDaniel, citing Hyde-Smith's refusal to join. Gov. Bryant appointed Hyde-Smith to her seat in April, after longtime Sen. Thad Cochran resigned due to health, triggering the current special election.
Voter Registration Deadline Looms
On. Nov. 6, the same day as the national midterms, voters choose between Espy, Hyde-Smith and McDaniel in a non-partisan U.S. Senate special election. Mississippi's other U.S. Senate seat, as well as House positions in each of the state's four congressional districts, will also be on the ballot that day. Voters must bring a valid form of photo identification such as a driver's license. Polls are open from 7 a.m. to 7 p.m.
Mississippians must register to vote 30 days before an election. The last day to register to vote in the midterms is next Monday, Oct. 8, when forms must be submitted in-person by noon or postmarked by Oct. 9 if mailed in. Some voters are eligible to vote by absentee ballot. Polls in the state are open from 7 a.m. to 7 p.m.
If no candidate receives more than 50 percent of the vote in the special election, the top two vote-getters will face one another in a runoff on Nov. 27. Voters who did not register in time for the Nov. 6 election can still vote in the runoff if they register 30 days prior.
Ashton Pittman covers politics and elections for the Jackson Free Press. Follow him on Twitter @ashtonpittman. Email him at [email protected]. Read more 2018 campaign coverage at jfp.ms/2018elections.