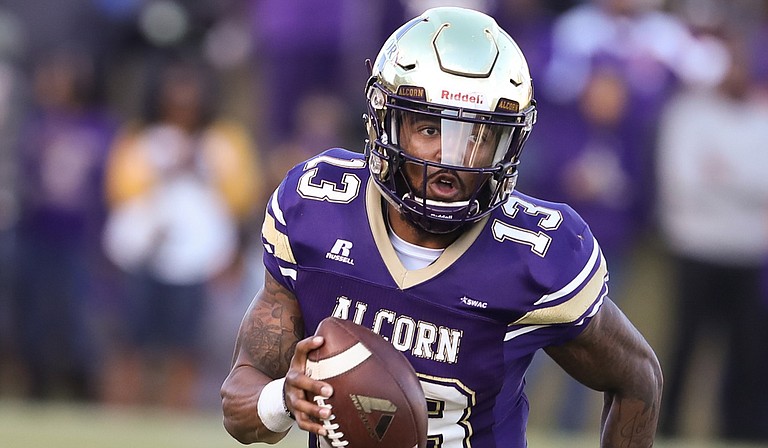 Thursday, November 29, 2018
Alcorn State University's strangle hold of the SWAC East division looked to be in jeopardy in the Soul Bowl against Jackson State University. Both football teams reached halftime tied 3-3 in their regular-season finale.
At stake for the winner was a spot in the conference title game. The Braves were looking to become the first team to host that game and the first to play in five straight SWAC Championship bouts.
Alcorn State came alive in the second half when the team's many offensive weapons finally got on track. Noah Johnson, a redshirt junior quarterback from Tampa, Fla., led the ASU squad down the field at the start of the third quarter with a touchdown.
Johnson put the game out of reach on the next Alcorn State drive with a 47-yard touchdown pass to Juan Anthony, finally putting some distance between the Braves and Jackson State with a 14-point lead. Alcorn State added an interception return for a touchdown for the finishing touches in a 24-3 rout of its main rival.
Johnson threw for 177 yards and completed 14 of 20 pass attempts with one touchdown, as he continued to help Alcorn's offense get on track. He ran for just 11 yards on nine carries, though—his lowest rushing output this season.
He has rushed for more than 100 yards in three games this season with a season-high 154 yards coming against Alabama A&M, and in nine games, he has rushed for 30 or more yards. He is currently fifth in the conference in rushing with 813 yards and seven touchdowns on 114 carries, averaging 73.9 yards per game.
This season, Johnson has thrown for more than 130 yards in eight of the Braves' 11 games. He has two games with more than 300 passing yards and four games with more than 200. He threw for 316 yards against New Mexico State University, helping the Braves go toe to toe with an FBS team.
Johnson ranks in the top five in passing in the conference. He is currently averaging 176.7 passing yards per game, and has thrown for a total of 1,944 yards with 15 touchdowns and eight interceptions. He is one of two players in the conference to rank in the top five in both rushing and passing, with Prairie View A&M University quarterback Jalen Morton being the other.
Thus far in his third season with Alcorn State, Johnson has put up career-high numbers. He went from 440 yards rushing in 2016 to 333 yards rushing in 2017, and now to 813 this season. His yards-per-carry average has gone up each season, as well, rising from 5.9 to 6.7 to 7.1 this year.
His 1,994 passing yards this season are the most in his college career, following 1,116 yards in 2016 and 782 yards in 2017. He has also passed for a career-high 15 touchdowns this season after 11 in 2016 and just four last year.
The Braves will face Southern University in this year's SWAC Championship Game with coverage on ESPNU and kickoff at 3:30 p.m. on Saturday, Dec. 1. The winner will represent the conference in the Celebration Bowl against a team from the Mid-Eastern Athletic Conference.