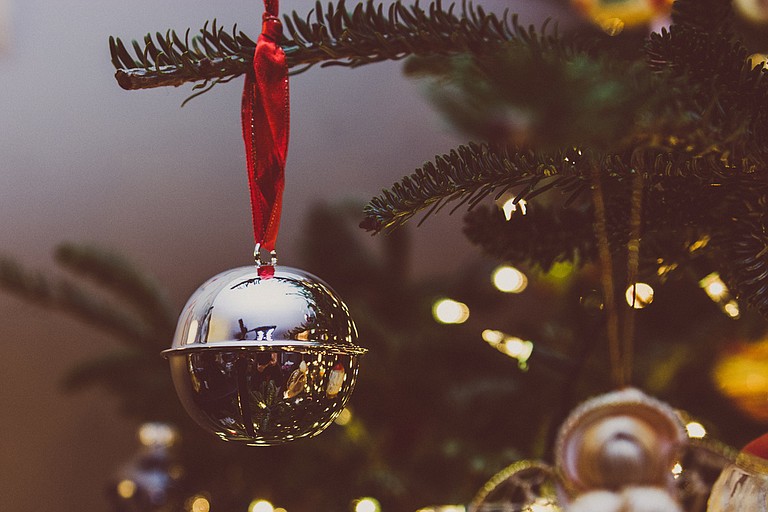 Wednesday, November 28, 2018
One day, I was sitting at one of the computers at church when my friend walked over and handed me something.
"I saw this and thought of you," she said. It was a package with something that felt like it was made of metal.
I unwrapped it and found an orange and yellow lapel pin from designer Kate Gabrielle with the words "Make America Kind Again" written in '70s-esque letters with little white flowers surrounding it. It was cute, and very much my style.
When I wear it, it serves as a reminder, both for myself and anyone else who notices it, of the power of kindness. I will be the first to admit that "make America kind again" is a super hokey phrase, but it's a good reminder, and also so necessary right now when we're in the midst of a Senate race that's brought out the worst in some of our politicians (cough, cough, Cindy Hyde-Smith). Roll your eyes all you want, but we do need to make America, and Mississippi, kind again.
One of my favorite people to follow on social media is Bob Goff, a lawyer, honorary U.S. consul for Uganda and the founder of nonprofit Love Does, which does work in education and human rights in post-conflict countries. He's the kind of person who carries around balloons to give to people as a gesture of kindness. He wrote books such as "Love Does" and "Everybody, Always," which I just finished reading.
In "Everybody, Always," Goff talks about the parable of the Good Samaritan in the Bible. You probably know the story. This is an extremely abbreviated version, but a man who was traveling was attacked and abandoned on the side of the road. A priest and a Levite passed him by. It was a Samaritan, essentially an outcast in that time, who showed him mercy and took care of him.
Jesus used this parable to answer the question of "Who is my neighbor?" The answer? "The one who showed 
him mercy."
It's important to note here that the man on the side of the road was Jewish, and the one who saved him was Samaritan, who were the enemy of Jews back in that time period. Yet it was a Samaritan who showed the man mercy.
Goff uses this story to illustrate his point that everyone is our neighbor. The people who work in our offices and buildings, those who make the dreaded small talk in elevators. The people who go to your church. The people who serve your food or coffee (for the love of God, please tip them). City-council members. Mayors. Governors. Senators. Parents. Friends. Enemies. Frenemies. People of different races. Immigrants. People who love differently than you do or identify differently. 
 In this great big world, we're all neighbors, and though we come from different backgrounds and paths of life, we all have one thing in common: We're human. We deserve kindness and love. All of us, no matter who we are or where we come from.
The day we go to press with this issue is Giving Tuesday, and my inbox is full of ways to give back, and if you did participate in giving back, good on you.
But it's not just about donating to a charity, though that's helpful for all these organizations that are trying to make a difference. It's also about doing nice things for people—doing the right thing. Showing them compassion and kindness, regardless of who they are. Psychology Today says one act of kindness can affect a person's physical and mental health. Compassion and kindness reduce stress, boost immune systems, and help decrease emotions like anger, anxiety and depression. And I'm sure every single one of us could probably use more good stuff and less negativity in our lives right now.
The holiday season gives us the perfect excuse to show a little more kindness toward other people. After all, it's in the nature of the holiday. At least I hope it is. And it doesn't even have to be a gift.
It could be simple things like holding the door for someone or participating in cleaning up a local area, or just talking to someone you don't know. It could even be something else simple like shopping local. When you shop at local businesses, you're literally helping your neighbor, many times directly. And then you're helping where you live because statistics show that if you spend $100 locally, roughly $68 of that goes back into the community. And you know what? Best of Jackson provides another great way to give back to local businesses. It's your chance each year to let those businesses know how you feel about them. The finalist ballot goes online on Dec. 5, so make sure you show local business and people lots of kindness.
Mississippi is being portrayed in a negative way, again, thanks to Hyde-Smith's comments. People like her would have the rest of the world believe that we're backward people who still believe that people of another race or economic background are beneath us. And sure, some people may believe that. But that's not the Mississippi I know. The Mississippi I know isn't perfect by any stretch of the imaginations. We still deal with ghosts of our past day in and day out, but many of us are fighting against that. We're fighting for things like people's right to marry who they want and for a woman's right to bodily autonomy.
We're a creative bunch, and the only thing that stops us from accomplishing our goals is ourselves. We literally and figuratively stand on fertile ground. Let's make something of ourselves and show our fellow people more kindness this holiday season.
Managing Editor Amber Helsel is a storyteller who moonlights as an artist. You can often catch her running sound at CityHeart Church. Email story ideas to [email protected].