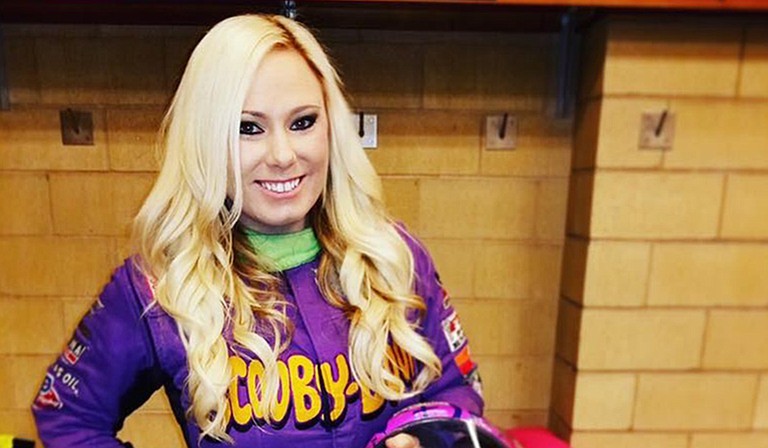 Friday, November 16, 2018
Scooby Doo was an iconic character long before motorsport event series Monster Jam turned the crime-solving canine into one of its signature trucks, complete with a wagging tail. However, since its debut in 2013, the Scooby Doo truck has become something of an icon itself, thanks in part to Myranda Cozad, who has been one of its drivers for almost three years.
Growing up in Davenport, Iowa, Cozad was heavily involved in the world of motorsports from a young age, as her father competed in a variety of sports. She attended a Monster Jam event in Rockford, Ill., where she met driver Madusa and told her that she wanted to be a monster-truck driver. The veteran then became her mentor, and in 2016, Cozad began her first season with Monster Jam.
"I had been racing since 16, and it's funny because my dad, he always told me, 'You know, it's hard to make it a career obviously,'" she says. "Everybody has things they want to do and everything, but yeah, it's pretty cool that I get to do that and make it a career."
Cozad says that driving the Scooby Doo truck has been a great experience, in particular, because so many people love the character.
"Well, everybody knows who Scooby Doo is, so it's pretty cool," she says. "You know, little kids know it, and their parents and grandparents. Scooby Doo has been around for ages, and it's definitely an iconic truck, for sure."
Making the shift to monster trucks from her other primary motorsport, drag racing, was not without challenges, though. Cozad says learning how to drive and maneuver the vehicle on dirt compared to pavement took getting used to, but once she got the changes down, competing has been fun.
And make no mistake, she says—it is a competition. Cozad drives in the Triple Threat Series during the first quarter of each Monster Jam season, which means that she is driving monster trucks, ATVs and speedsters for points. Those points help determine which drivers will get to compete in the annual Monster Jam World Finals, the next installment of which will be May 10-11, 2019.
"It's definitely entertainment, but it's definitely a competition, too," she says. "Like, I have just as much of a chance to go out there and win as Gravedigger. That's one thing that's really neat about the Triple Threat Series is that it's all about points. Some of it is fan-judged, but some of it is just us competing and racing, too. And the women compete on the same level obviously, too, so that's pretty neat."
That is a factor that separates Monster Jam from many other professional sporting leagues. While Cozad is still one of the few female drivers involved with the competition, she says that more and more women are entering the sport, which she hopes will be an inspiration for younger girls.
"It's been really neat to be one of the only females. There are usually two females on each tour, and we stick together, too. (El Toro Loco driver) Kayla Blood, she's actually become one of my best friends. We've become so close, traveling together and stuff, but me and her, we always go out there—and obviously we all want to win—but we don't care if either one of use wins. We just want to beat the boys," she says with a laugh.
Monster Jam is at the Mississippi Coliseum (1207 Mississippi St.) on Friday, Nov. 16, at 7 p.m. and Saturday, Nov. 17, at 1 p.m. Ticket prices range from $15 to $45. The pit party, which will be on Saturday from 10:30 a.m. to noon, costs an additional $15 and requires a ticket to the Saturday event. For more information, visit monsterjam.com.