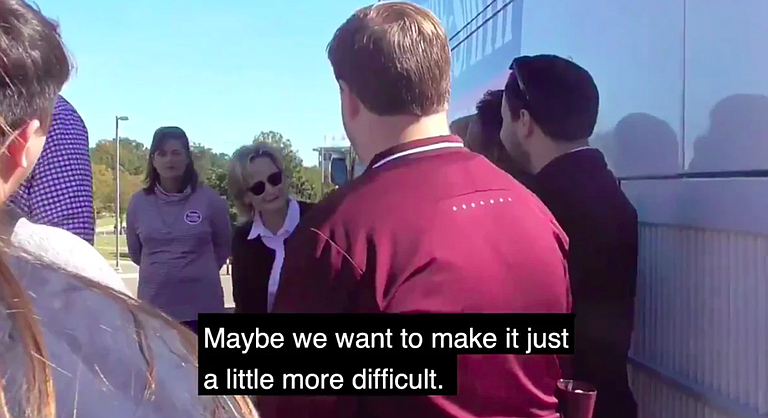 Thursday, November 15, 2018
This story has been updated to reflect additional comments from Cindy Hyde-Smith communications director Melissa Scallan.
JACKSON—In a newly surfaced video, U.S. Sen. Cindy Hyde-Smith suggests making it "more difficult" for people in certain schools to vote.
"And then they remind me that there's a lot of liberal folks in those schools who maybe we don't want to vote. Maybe we can make it just a little more difficult. And I think that's a great idea," the Republican senator from Mississippi says in a new video that surfaced today.
In the video, published Thursday evening by Lamar White of the Bayou Brief, Hyde-Smith appears to be speaking to a small group of supporters next to her campaign bus. The video was shot in Starkville, Miss., on Nov. 3, the Bayou Brief reports.
The clip offers no context for which schools Hyde-Smith was talking about, but voter suppression targeting African Americans has been a major topic in Mississippi in recent years, and there are six historically black colleges in Mississippi.
In a statement, Hyde-Smith claimed she was "joking."
"Obviously, Sen. Hyde-Smith was making a joke, and clearly the video was selectively edited," said Hyde-Smith campaign Communications Director Melissa Scallan.
Scallan told the Jackson Free Press via text message that she did not know which schools Hyde-Smith was joking about because she was not there. Asked if she would ask Hyde-Smith, Scallan said she would not be able to talk to her Thursday night. Later, however, Scallan called to say she had spoken to a staffer who was present when the video was taken.
"She was talking to four freshman students at Mississippi State," Scallan said, relaying what she said the staffer told her. "And they were talking about the idea of having polling places on college campuses. And someone made a joke about college campuses being liberal, and that's when she said, 'Well, maybe we don't want everybody to vote.' But the great idea was the putting of polling places on college campuses."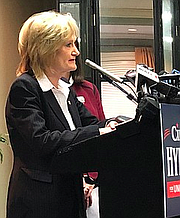 Sen. Cindy Hyde-Smith created a firestorm with her remark about "public hangings" as she faces off against black opponent Mike Espy.
In a statement, the Mike Espy campaign accused Hyde-Smith of advocating for vote suppression.
"For a state like Mississippi, where voting rights were obtained through sweat and blood, everyone should appreciate that this is not a laughing matter," Espy Communications Director Danny Blanton said. "Mississippians deserve a senator who represents our best qualities, not a walking stereotype who embarasses our state."
White told the Jackson Free Press he received the video only 15 minutes prior to publishing it, and did not know know which schools Hyde-Smith referred to in the clip.
White is the same progressive blogger who, on Nov. 11, published a separate clip of Hyde-Smith from Nov. 2 in which she tells a cattle rancher that if he invited her to "a public hanging," she would be "on the front row."
From Tupelo to the Ivory Coast
Hyde-Smith sought to deflect attention from Thursday's video by pointing to a Fox News article that describes Espy's time working as a lobbyist for an African dictator.
"Now the liberal media wants to talk about anything other than Mike Espy's record of corruption and taking $750,000—and lying about it—from an African dictator now charged with war crimes, including murder, rape, and torture," Scallan said in the statement.
When he was working as a lobbyist in 2011, Espy told The Hill he had suspended a $750,000 contract his agriculture consulting firm, AE Agritrade, signed with the Cocoa and the Coffee Board of the Ivory Coast. The resignations came amid turmoil in the African nation as then-President Laurent Gbabgo refused to leave office despite losing an election.
Espy, who served as President Bill Clinton's secretary of agriculture from 1993 to 1994, told The Hill he accepted the first payment of $400,000 but suspended the contract after a month.
"I have voluntarily suspended it," Espy said at the time. "Events are spiraling rapidly. It is very difficult to work in that context." He said his work mainly focused on supporting the nation's cocoa farmers, but that he did at one point represent Gbabgo's position that the 2010 elections were fraudulent in meetings with the CIA, foreign ambassadors and the United Nations.
At the time, Espy expressed concern that the country's unfolding civil war was leading to "stark poverty" for cocoa farmers in the country.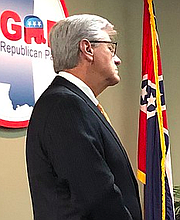 Gov. Phil Bryant said black women are committing "genocide" when they get abortions in a bizarre defense of Sen. Cindy Hyde-Smith's "hanging" remark.
Forces working for the country's duly elected president arrested Gbago in April 2011, and then that November, the International Criminal Court charged him with as an "indirect co-perpetrator" of murder, rape, persecution and other inhuman acts."
While Espy told The Hill in March 2011 that he suspended his contract with the Ivory Coast in early February, a FARA supplemental statement in July of that year specified the termination date as March 12—the day after The Hill article published. It also shows that Espy collected a second payment of $350,000 on March 1 of that year.
The filing describes Espy's purpose to "promote stability of cocoa industry in Ivory Coast, protection of industry from civil discord, promote resumption of coca sales in US."
Mississippi GOP chairman Lucien Smith suggested the Bayou Brief video was a trick designed to distract from the Ivory Coast story.
"Pro tip: always keep a heavily edited misleading video in the can just in case a story drops that you took nearly a million dollars to lobby for a ruthless dictator who killed his people after losing an election," Smith tweeted.
In comments to Fox News early Thursday, Blanton defended Espy's international work.
"Over the course of that work, he realized one of those clients didn't pass the smell test, so he terminated the contract, and then reported what he knew to the U.S. government," Blanton said.
After Hyde-Smith's statement responding to the latest Bayou Brief video, Blanton told the Jackson Free Press that the Ivory Coast story was a "smear."
"Cindy Hyde-Smith had a chance to admit she was wrong, and instead of apologizing, she doubled down," Blanton said. "Since that hasn't worked, she's trying to change the subject with a smear campaign against Mike."
Hyde-Smith Accepts Donation from Notorious Racist
After the Bayou Brief video, progressive newsletter Popular Information reported that Hyde-Smith accepted a donation from Pete Zieve, a businessman in Washington State notorious for his racist views.
Zieve donated $2,700, the max donation an individual can make, to Hyde-Smith's campaign on Nov. 14. The donation came three days after the video surfaced in which Hyde-Smith referenced public hangings.
Washington State sued Zieve in 2011 for racially discriminatory hiring practices at his business, Electroimpact. He offered his nearly all white staff a $1,000 marriage bonus and a $1,000 "procreation bonus."
Zieve explained the bonus in a 2015 email to employees.
"The future can only be secured by building families," he wrote. That seems to be a reference to the Fourteen Words, a neo-Nazi slogan inspired by Adolf Hitler's writing and used by white supremacists worldwide.
"We must secure the existence of our people and a future for white children," the Fourteen Words read.
The Fourteen words appear in the White Genocide Manifesto written by David Lane, a founder of the white supremacist terrorist organization known as The Order. He also wrote the 88 Precepts essay, which advocates for racial religions, rejects universal religions like Christianity, opposes integration, and argues for segregation. White supremacists often use 14/88 to refer to the two documents.
In 2018, the Trump administration's U.S. Department of Homeland Security came under fire for a document with a 14-word title similar to the one used by neo-Nazis that included references to the number 88.
"We Must Secure the Border and Build the Wall to Make America Safe Again," reads the title of the document.
A foiled 2008 white supremacist plot to assassinate Barack Obama included plans to murder 88 African Americans, including Obama, and behead 14.
Zieve donated over $1 million to Donald Trump in 2016.
Scallan would not comment on the donation Thursday evening.
Hyde-Smith Faces Espy in Debate, Nov. 27 Runoff
On Nov. 20, Mississippi Farm Bureau will host Espy and Hyde-Smith for a U.S. Senate debate that will be broadcast on WLBT, WLOX and radio stations statewide. It will be the first U.S. Senate debate in Mississippi in 10 years.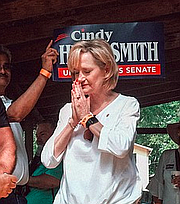 Editor Donna Ladd's letter to GOP leaders about decades of political racism.
No matter who wins, the Nov. 27 runoff will be historic. When Gov. Phil Bryant appointed her, Hyde-Smith became the first woman to represent Mississippi in Congress and could be the first duly elected come November. If Espy wins, he would be the first black U.S. senator from the state since Reconstruction, when Sens. Hiram Revels and Blanche K. Bruce represented the state in Washington, D.C., until the end of Reconstruction brought the disenfranchisement of black voters.
Hyde-Smith and Espy headed to a runoff after snagging the top two spots in the general election on Nov. 6, with neither getting an outright majority. Hyde-Smith beat back a challenge from a fellow Republican, Mississippi State Sen. Chris McDaniel, whom her campaign argued could lose to Espy because of his "toxic" history of remarks about race and gender.
"If Chris McDaniel made the runoff against Democrat Mike Espy, his toxic image would put the seat at risk in much the same way Roy Moore lost the Alabama Senate race to Democrat Doug Jones," Scallan said in September.
Around 900,000 Mississippians voted in this year's election—a midterm turnout record of 40 percent, up from 29.7 percent in 2014. Anyone who registered to vote by Oct. 29 will be eligible to vote in the runoff, even if they could not vote in the Nov. 6 election. Voters must have a valid form of photo ID, such as a driver's license or student ID. The Secretary of State's website has a full list of acceptable forms of ID. Polls are open in Mississippi from 7 a.m. to 7 p.m.
Ashton Pittman covers politics and elections for the Jackson Free Press. Follow him on Twitter at @ashtonpittman. Email him at a[email protected]. Read more 2018 campaign coverage at jacksonfreepress.com/2018elections.