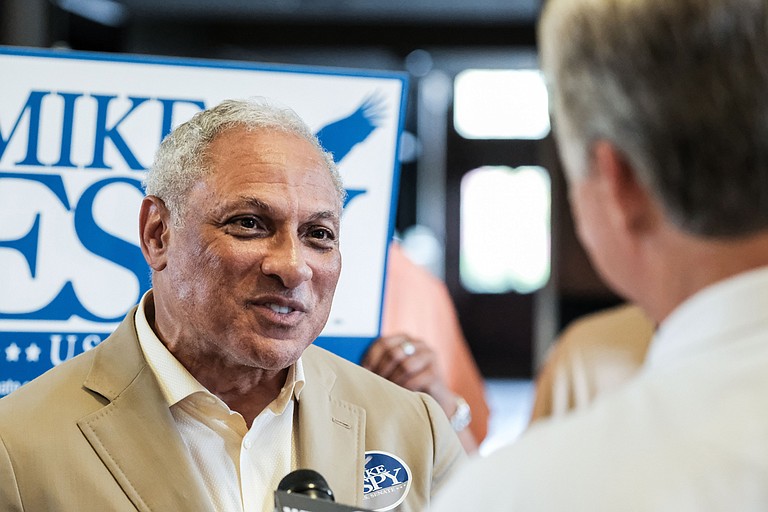 Thursday, November 15, 2018
JACKSON — U.S. Senate candidate Mike Espy addressed Jacksonians at a community forum on Nov. 14 where he expounded upon and set the record straight about his stances, including his response to viral "public hanging" comments from his competitor, incumbent U.S. Sen. Cindy Hyde-Smith. She was also invited but had returned to Washington, D.C., at the time of the event.
Working Together Jackson hosted the forum. It is a nonpartisan umbrella over various community organizations, religious groups and nonprofits in the Jackson metro area.
During the afternoon gathering at New Horizon Church in west Jackson, community leaders from different organizations stepped up to the podium to probe Espy on his positions on public education and college, healthy food access and healthcare, and borders and the fate of DREAMers. He had two minutes to respond to each question.
Espy on Education
On public-education funding, which he called the number-one structural problem in the state today, Espy promised to help fund public schools without infringing on parental choice.
Espy said he and his twin sister were homeschooled before going to parochial school and ultimately graduating from a public school. His son currently goes to private school, he said.
"I've been involved in all of these aspects of education. Here's the disclaimer: I cannot, and I will not tell any parent where to send their child," he said. "Parents will choose what they feel would be the best situation for their child, and I won't try to direct them."
However, Espy added that he will direct resources and attention to public schools because they are where most Mississippi children go to learn.
"First of all, what I'm going to make sure of is that private dollars that go toward promoting public school budgets are not diverted to charter schools or anywhere else," he said. "Even though I write a check for my child to (go to a) private school, I would never allow my property taxes to go to that private school. I'm sorry, but that's just how I feel."
State law only allows charter schools without permission from the local school board to open in "D" and "F" districts. Charter schools such as the ones up and running in Jackson have pulled from the already strapped Jackson Public Schools.
Since Reimagine Prep and Midtown Public Charter School, Mississippi's first two charter schools, opened in 2015, JPS has sent more than $12 million in state and local tax dollars to the three charter schools operating in the district.
Espy also said he wants public-school teachers to be paid well enough so that they do not have to buy classroom supplies for their students or rely on second and third jobs.
A student from Hinds Community College asked about the candidate's position on raising the federal minimum wage.
"Yes," he said to immediate applause. "But there are other things we can do."
Espy then pivoted back to education.
"I really believe that all technical schools, all community colleges and maybe even perhaps the first two years of public colleges ought to be free," he said.
He suggested some of the forthcoming state lottery should go toward funding this.
Espy on Immigration, Being Called Liberal
When a question about immigration came up, Espy immediately referenced an opposition ad from the Mississippi Republican Party that harps on cleared charges from his time as U.S. Secretary of Agriculture during the Bill Clinton era. The ad also claims Espy supports open borders.
"I believe in secure borders," Espy said Wednesday. "But, I believe that our immigration policy should be moral."
In the 20 days between Election Day and the runoff on Nov. 27, Hyde-Smith has been tweeting one reason "why Espy is too liberal for Mississippi" each day."
On Nov. 13, with two weeks, or 14 days until the runoff, Hyde-Smith tweeted message No. 14. It features President Donald Trump pointing toward Espy with a cartoon bubble above the president's head that says "Build the Wall!"
Elaborating further, Espy said he does not support illegal immigration, but if someone—who is not a terrorist, he added—comes in and wants asylum, Espy said the government should honor that because this process is already written into immigration law.
He is against child separation at the border, but not against ICE, which he believes needs more funding to operate in a more expeditious way.
When it comes to DREAMers, or kids under the Development Relief and Education for Alien Minors Act, Espy says they should be able to stay here "because it is the only place they've ever known."
Espy also addressed Hyde-Smith's characterization of him as a "liberal Democrat."
"She got half of it right, I'm a Democrat—I'm an independent Democrat, small "I," independent Democrat," he said. "By that I mean, I'm going to work with everyone."
Espy touted his vote for former Gov. Haley Barbour who served Mississippi from 2004 to 2012. He said he felt Barbour would be best positioned to move Mississippi forward after Hurricane Katrina. Espy said he would work with other Republicans, too, if it benefits Mississippi.
"I'll work with President Trump when he's right, I won't work with him when he's wrong," he said. "... My objective is to be a senator for Mississippi. I believe in Mississippi first. Wherever that idea emanates, if it benefits Mississippi I'll be there. If it doesn't, I won't.
Race, 'Public Hangings'
With Espy fresh off the national media circuit following a viral video of Hyde-Smith's "public-hanging" comment in Tupelo, Miss., Espy said Hyde-Smith's refusal to elaborate beyond her e-mailed statement from Nov. 11. made things worse.
At a National Right to Life Event for Hyde-Smith the day after video of Hyde-Smith's comments hit the Internet, she refused to answer reporters' questions about the hanging comment, and deferred to her statement. Gov. Phil Bryant then backed her up by throwing black women under the bus, and accusing them of committing "black genocide" when they get abortions.
Apologies and owning up to mistakes show strength, Espy said.
"She made it a campaign issue. That was curious what she said, but even more than that, being asked to explain it, to clarify it or whatever, she didn't," Espy told reporters. "I think it's even worse that right now political leaders think that humility is some kind of form of weakness.
As the state and nation grapple with Hyde-Smith's comments in the context that her running mate Espy is African American. He said Hyde-Smith's statements hurt Mississippi.
"It was hurtful to Mississippians' good will who know better," Espy said. "It was also harmful because it reinforces all those negative stereotypes—these stereotypes that I've been working all my life to overcome."
Espy talked to reporters about high school, when he and his twin sister were two of 17 black students in a school of about 800.
"Here in Mississippi we've had these issues all my life," Espy said. "... I was the n-word every day."
He said now he wants to be the candidate who unites people around the issues that impact Mississippians: education, health care, job development and pre-existing conditions.
"What I'm going to do is make sure everyone understands, we may have come over here on different ships, but we're all in the same boat now," Espy told reporters. "... Yes, there are race issues here in Mississippi, I'm not going to sweep those under the rug, but I'm not going to dwell on that. I want to be the senator for everyone, irrespective of race, irrespective of gender, irrespective of party, irrespective of religion. I think we can all do it together and I want to be the vehicle for a Mississippi that progresses into the third decade of the 21st century.
Mississippi voters will choose between Espy and Hyde-Smith in a Nov. 27 runoff. Anyone who registered to vote by Oct. 29 will be eligible to vote in the runoff, even if they could not vote in the Nov. 6 election. Polls are open in Mississippi from 7 a.m. to 7 p.m.
Email city reporter Ko Bragg at [email protected].