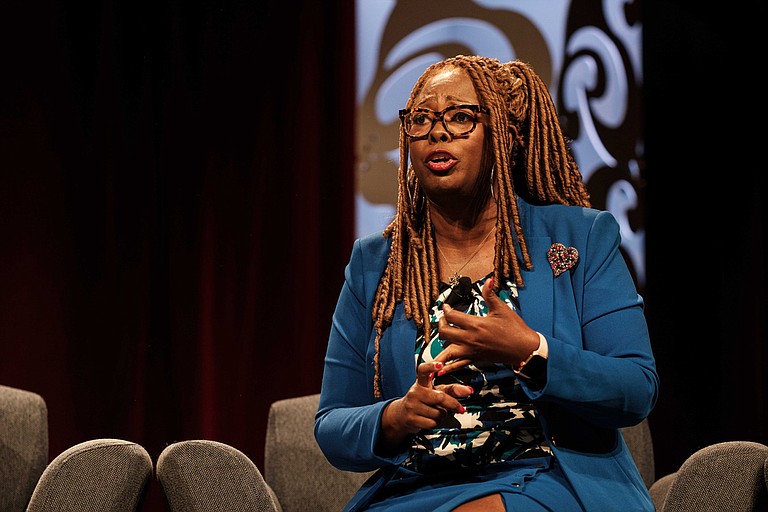 Thursday, November 15, 2018
JACKSON — Mississippi Matters, a coalition of activists and organizations, plans to call for U.S. Sen. Cindy Hyde-Smith's resignation at a protest outside her Jackson office Friday at noon.
The protests are in response to a Nov. 2 video that surfaced on the Bayou Brief blog on Nov. 11, where the Mississippi Republican says she would sit "on the front row" of "a public hanging" if one of her supporters invited her. Mississippi historically had the highest rate of lynchings of African Americans, critics note. The clip drew rebuke from the likes of Democratic Jackson Mayor Chokwe Antar Lumumba, Democratic Mississippi Congressman Bennie Thompson, conservative Mississippi Tea Party Chairwoman Laura Van Overschelde and the NAACP.
Biloxi native Genesis Be will speak at the event. She is the granddaughter of Rev. Clyde Briggs who challenged the Ku Klux Klan in his native Roxie, Miss., just outside Natchez in the 1960s. Klan members fired a warning shot into his family home. The bullet lodged into the wall above where his young daughter was sleeping. His granddaughter is now an artist and activist, speaking out loudly for changing the Mississippi flag while also bringing groups of various races together to discuss differences and Confederate symbols with the goal of understanding and reconciliation.
"Our leadership has made it clear to us that they side with the ideology of white supremacy and are blatant with their attempts to demean and degrade the descendents of those systematically tortured by this ideology," Genesis Be wrote in a Facebook post. "They operate in a bubble, like they are immune to progress and untouchable to outside forces."
She added the hashtag, #hellnocindygottogo.
By Wednesday morning, more than 4,000 people had signed a petition from Mississippi Matters calling for Hyde-Smith's resignation or removal.
Organizations involved in the event include Black Voters Matter, Malcolm X Grassroots Movement, the Movement for Black Lives Action Fund, the Mississippi Poor People's Campaign, the Mississippi Rising Coalition, X the X and the Working Families Party.
"She has GOT to go," Black Votes Matter co-founder LaTosha Brown tweeted Thursday. "Please sign the petition and join us tomorrow for the protest rally against Cindy Hyde-Smith! Her comments about public hangings are domestic terrorism and unacceptable."
Recent Suspected Lynchings in Mississippi
While public lynchings are thought of as a thing of the past, several suspected cases have occurred in Mississippi in recent decades. In Scott County, the family of Willie Jones, Jr. is still seeking answers after he was found hanging from a tree outside his mother's home in February. The family rejected a suicide ruling, and in a press release, pointed to the fact that he had been dating a white woman for years whom he had a child with.
In an eerily similar story, 17-year-old Raynard Johnson was found hanging outside his family's home in Kokomo, Miss., in 2000. In that case, the family also rejected a suicide ruling, and pointed to the fact that he was known for dating white girls. Civil rights leader Jesse Jackson led a march down the country road that passed in front of his family's home, but the U.S. Department of Justice ultimately ruled the case a suicide.
In 2003, Nick Naylor was found hanging from a dog leash in Kemper County after he took his dogs for a walk and never returned. His death, too, was ruled a suicide, and his family also rejected the ruling.
In 2017, Mississippi State Rep. Karl Oliver, R-Winona, called for lynchings after then-New Orleans Mayor Mitch Landrieu ordered the removal of Confederate monuments in that city.
"If the, and I use this term extremely loosely, 'leadership' of Louisiana wishes to, in a Nazi-ish fashion, burn books or destroy historical monuments of OUR HISTORY, they should be LYNCHED!" Oliver wrote on Facebook at the time. "Let it be known, I will do all in my power to prevent this from happening in our State."
Oliver later apologized after his comments drew widespread rebuke. He still serves in the Mississippi Legislature.
On Nov. 6, Espy and Hyde-Smith snagged the top two spots in the U.S. Senate special election, knocking Mississippi State Sen. Chris McDaniel, R-Ellisville, out of the race. In September, Hyde-Smith criticized McDaniel for remarks he made about African Americans in the state. Hyde-Smith communications director Melissa Scallan said he "demeaned the African American population in Mississippi."
Hyde-Smith's talk of "public hanging" became public just days after Clayton Hickey, a nurse at a Memphis health facility, wore a t-shirt with a rebel flag, a noose and the words "Mississippi Justice" to vote at a polling place in Olive Branch, Miss. Regional One Hospital confirmed Thursday that Hickey, a former Memphis police officer, had been fired.
Runoff Election Set for Nov. 27
On Nov. 20, Mississippi Farm Bureau will host Espy and Hyde-Smith for a U.S. Senate debate that will be broadcast on WLBT, WLOX and on radio stations statewide. It will be the first U.S. Senate debate in Mississippi in 10 years.
No matter who wins, the Nov. 27 runoff will be historic. When Gov. Phil Bryant appointed her, Hyde-Smith became the first woman from Mississippi to serve in Congress and could be the first duly elected come November. If Espy wins, he would be the first black U.S. senator from the state since Reconstruction, when Sens. Hiram Revels and Blanche K. Bruce represented the state in Washington, D.C., until the end of Reconstruction brought the disenfranchisement of black voters.
Hyde-Smith and Espy headed to a runoff after snagging the top two spots in the general election on Nov. 6, with neither getting an outright majority. Hyde-Smith beat back a challenge from a fellow Republican, Mississippi State Sen. Chris McDaniel, whom her campaign argued could lose to Espy because of his "toxic" history of remarks about race and gender.
"If Chris McDaniel made the runoff against Democrat Mike Espy, his toxic image would put the seat at risk in much the same way Roy Moore lost the Alabama Senate race to Democrat Doug Jones," Hyde-Smith campaign communications director Melissa Scallan said in September.
Around 900,000 Mississippians voted in this year's election—a midterm turnout record. Anyone who registered to vote by Oct. 29 will be eligible to vote in the runoff, even if they could not vote in the Nov. 6 election. Voters must have a valid form of photo ID, such as a driver's license or student ID. The Secretary of State's website has a full list of acceptable forms of ID. Polls are open in Mississippi from 7 a.m. to 7 p.m.
Ashton Pittman covers politics and elections for the Jackson Free Press. Follow him on Twitter at @ashtonpittman. Email him at [email protected]. Read more 2018 campaign coverage at jfp.ms/2018elections.