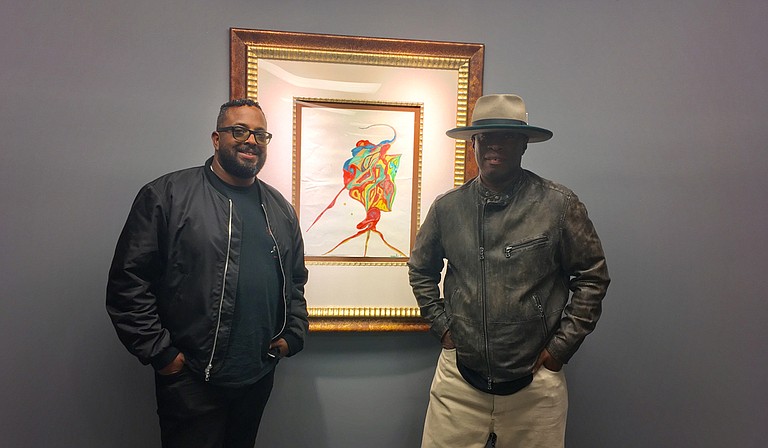 Wednesday, November 14, 2018
Erin Davis and Vince Wilburn Jr. came to a stop after stepping into the art gallery at Jackson State University's downtown campus.
"Oh wow," Wilburn said quietly, eyes wide 
under his broad-brimmed hat.
At least a few people might have shared his response later that evening on Nov. 8, when JSU held the opening reception for "We're Miles Ahead: The Miles Davis Exhibition." However, for Erin and Wilburn—the late music icon's youngest son and nephew, respectively—there was a special power in seeing their most famous family member's artwork on display again.
"A lot of people don't even know that he painted, so we try to expose them to that because that was a big part of his life, you know?" Erin says.
"He painted every day or sketched or drew. He could draw Vince and give him the sketch, sign it or write something on it, or paint a full-blown 20-foot canvas. So those are things we try to show people."
Jackson State is the first university in the United States to host a gallery of Miles Davis' visual artwork, with more than a dozen of his paintings and personal photographs 
appearing in the exhibit.
"It's another side of his genius, and we want to share it," Wilburn says. "Erin and I want to share with the world the genius of Miles Davis in whatever capacity we can. That's our mission. We've been all around the world doing this."
In their youth, both men got to experience and take part in the legendary trumpet player's artistic process. As a child, Wilburn said he would stand in the wings whenever "Uncle Miles" would play in Chicago. It was at those shows that he set his mind on playing drums.
"I said, 'That's what I want to do.' So from a young age, I knew that," he says. "It was just the movement of the drummer, the limbs. I didn't understand who it was or the magnitude of the drummer, of the music. But it was just like when you're a kid fixated on something, like you're watching cartoons."
As a teenager, he played in a Chicago band, and Miles Davis would call his sister—Wilburn's mother—and have her set the phone down so he could hear the young 
musicians' rehearsal and critique. Then, around 1980, the trumpeter invited his nephew and the band to come to New York and play on his now-legendary album "The Man with the Horn."
Growing up, Erin said that his father, whom they call "Chief," would often have him help record musical ideas on a four-track and run out to get art supplies for his latest work. As he got older, Erin also began a music career, serving as a percussionist for his father's band, then as drummer for blues-rock act Bloodline in the 1990s and then working as an artist manager.
These days, Erin is less involved with the music industry, while Wilburn leads the Miles Electric Band, an internationally touring ensemble featuring former Miles Davis players. However, the cousins still collaborate as managers for Miles Davis' estate, helping handle areas such as merchandising, music licensing, films such as actor-director Don Cheadle's 2015 biopic "Miles Ahead," and of course art galleries like the new exhibition at Jackson State.
"I don't really think of it personally as, 'I'm curating his legacy,' even though that is what we're doing," Erin said. "We just like everything to be as it should be, take care of the music and take care of the images. The important job to me is to expose him to younger audiences, to try to have people understand why they should like Miles Davis and what they should know about him."
"The legacy speaks for itself. What Erin and I do—I mean, it's fun," Wilburn said. "What better way to have a part of our lives in this music? ... It's an honor to do. Promoting the music is just what we do. And we promote each other! If Erin's got some things he's working on, I'm like, 'Erin, let me hear it,' or if I've got some things, Erin's like, 'Yeah, let me hear what you're doing.' It's family, you know what I mean? It's love.
"It's like walkin'," he added, chuckling lightly as he hummed a bar from Davis' song of the same name.
"We're Miles Ahead: The Miles Davis Exhibition" is at the Jackson State University downtown campus (101 W. 
Capitol St.) through Nov. 30. For details, visit jsums.edu.