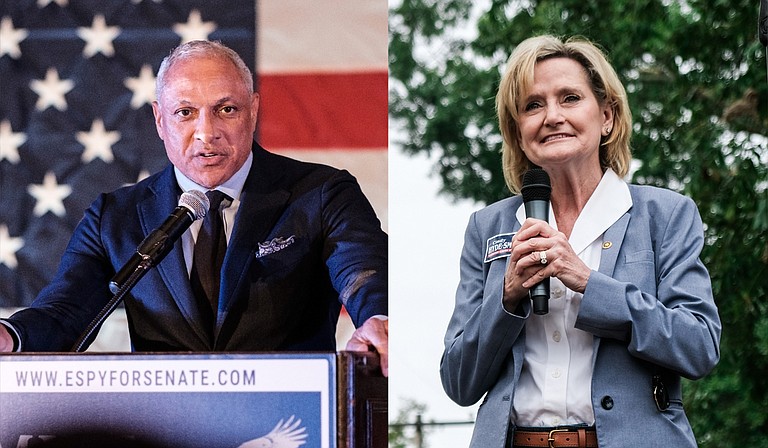 Tuesday, November 13, 2018
JACKSON — Democratic U.S. Senate candidate Mike Espy has accepted an invitation to join incumbent Republican U.S. Sen. Cindy Hyde-Smith, R-Miss., for a runoff debate that will be broadcast across the state live on Nov. 20.
In a press statement, Hyde-Smith said she looked forward to participating in the debate "to discuss the key issues and clear differences in this runoff election." She accepted the invitation last week.
In April, Gov. Phil Bryant appointed Hyde-Smith to the U.S. Senate after former Sen. Thad Cochran resigned. That triggered a special election, and Hyde-Smith and Espy snagged the top two spots in the Nov. 6 election, moving on to a runoff set for Nov. 27.
Cloud 'Hanging' Over Hyde-Smith
A debate could present perils for Hyde-Smith. Since Sunday, her campaign has been embroiled in controversy over a video surfaced from a Nov. 2 campaign event in Tupelo. In the video, which progressive blogger Lamar White of The Bayou Brief first obtained, Hyde-Smith says she would "be on the front row" of "a public hanging" if a cattle rancher invited her.
Critics pointed out that the comment is, at best, tone-deaf. Historically, Mississippi had the most lynchings of African Americans of any Southern state, and her opponent, Espy, would be the first black U.S. senator from Mississippi since Reconstruction if he won. Hyde-Smith ignored those facts in a terse statement Sunday, calling criticisms "ridiculous."
During a press question-and-answer session at a campaign event on Monday, reporters repeatedly tried to ask her questions about the video. Each time, though, Hyde-Smith deflected.
"We put out a statement yesterday, and we stand by that statement," she told the first reporter.
"I put out a statement yesterday, and that's all I'm going to say about it," she replied to the second.
"I put out a statement yesterday," she explained to yet another.
Her performance was broadly mocked on outlets nationwide, including CNN.
Gov. Phil Bryant, who was with Hyde-Smith at the event where the anti-abortion National Right to Life organization was endorsing her, arguably made matters worse. After Hyde-Smith's refusals to answer questions about her "public hanging" comment, he sought to deflect by saying abortion is genocide against African Americans.
"See, in my heart, I am confused about where the outrage is at about 20 million African American children that have been aborted. No one wants to say anything about that. No one wants to talk about that," Bryant said, with Hyde-Smith and National Right to Life President Carol Tobias standing nearby.
Tea Party President Rebukes Hyde-Smith
When Kelvin Smith, who served as the Jones County chairman for Mississippi State Sen. Chris McDaniel's U.S. Senate bid, heard on Sunday that Hyde-Smith would be speaking the next day, he suggested she should "Hyde"—a play on her name that became popular among McDaniel supporters who were frustrated that she refused to join the Ellisville Republican and Espy for a debate before the general election.
"Surely her 'people' are not going to let her speak!?" Smith tweeted the day before the messy press event. "She might read but surely not speak right!? She better go and 'Hyde' for the next two weeks & hope for the best!"
After he placed third on Nov. 6, McDaniel urged his supporters to support Hyde-Smith in his election-night concession speech.
"Mr. Espy cannot be allowed to win the seat," McDaniel said. "... We unite now under Trump's umbrella. We unite now to fight for his party."
Smith is one of a number of McDaniel supporters who say they will not take McDaniel's advice—particularly after Hyde-Smith's hanging comment.
In a Facebook comment, Mississippi Tea Party leader Laura Van Overschelde, whose organization endorsed McDaniel in October, called Hyde-Smith's comments "embarrassing to all Mississippians and especially most hurtful to our black neighbors...." Former U.S. Sen. Trent Lott of Mississippi, she noted, resigned from his leadership position for "similar gaffs." (sic)
Former Jackson Mayor Tony Yarber, who called on Hyde-Smith to resign in a tweet on Sunday, predicted the debate would be a boon for Espy.
"All the debate will prove is that Mike Espy is a superior leader," Yarber tweeted Monday. "But, it won't change the minds of those who believe Hyde-Smith is the best MS has to offer its people and DC."
'We Should Have Leaders That Try to Unite Us'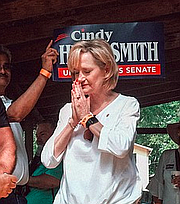 Editor Donna Ladd's letter to GOP leaders about decades of political racism.
In an appearance on CNN Monday, Espy called her comments "hurtful" and "harmful."
"They're hurtful to Mississippians who are people of good will, and they're harmful because they tend to reinforce the stereotypes that held back our state for so long and that have cost us jobs and harmed our economy," Espy said. "I mean, this is 2018. We are going into the third decade of the 21st century, and we should not have this. We should have leaders that try to unite us, not divide us."
Prior to the runoff, Hyde-Smith repeatedly declined to join Espy and McDaniel for a debate, citing scheduling conflicts and concerns that McDaniel's supporters would be rude if a debate were open to the public. In a secretly filmed video, though, Hyde-Smith said she was refusing the debates on the advice of advisers who said agreeing to such a debate would be like handing McDaniel a $200,000 donation.
Trump endorsed Hyde-Smith in August and campaigned for her in north Mississippi in October. Throughout her campaign, her most-touted policy position has been her policy of voting with Trump 100 percent of the time.
Though Hyde-Smith is favored in the runoff, Espy hopes to win by staying the course.
"We're going to stay with the same strategy that brought us here," Danny Blanton, communications director for Espy's campaign, told the Jackson Free Press on Nov. 8. "We're going to talk about access to affordable health care, fully funding public education, keeping rural hospitals from closing, developing infrastructure in the state that will attract industry and providing solutions to those problems to make their lives better."
Much of Hyde-Smith's campaign, on the other hand, has focused on promises to continue voting with President Trump "100 percent" of the time.
Mississippi's First U.S. Senate Debate in 10 Years
The Farm Bureau debate will be broadcast live on WLBT, WLOX and on radio stations across the state.
It will be the first U.S. Senate debate in Mississippi in 10 years. The last time was in October 2008, when former Democratic Gov. Ronnie Musgrove debated Republican Roger Wicker in a special election for the seat to which Gov. Haley Barbour appointed Wicker. Wicker won that race and was recently re-elected on Nov. 6. He refused to appear for a debate this year with his now vanquished Democratic opponent, Mississippi House Minority Leader David Baria.
No matter who wins, the Nov. 27 runoff will be historic. When Bryant appointed her, Hyde-Smith became the first woman from Mississippi to serve in Congress and could be the first duly elected come November. If Espy wins, he would be the first black U.S. senator from the state since Reconstruction, when Sens. Hiram Revels and Blanche K. Bruce represented the state in Washington, D.C., until the end of Reconstruction brought the disenfranchisement of black voters.
Around 900,000 Mississippians voted in this year's election—a midterm turnout record. Anyone who registered to vote by Oct. 29 will be eligible to vote in the runoff, even if they could not vote in the Nov. 6 election. Voters must have a valid form of photo ID, such as a driver's license or student ID. The Secretary of State's website has a full list of acceptable forms of ID. Polls are open in Mississippi from 7 a.m. to 7 p.m.
Ashton Pittman covers politics and elections for the Jackson Free Press. Follow him on Twitter at @ashtonpittman. Email him at [email protected]. Read more 2018 campaign coverage at jfp.ms/2018elections.