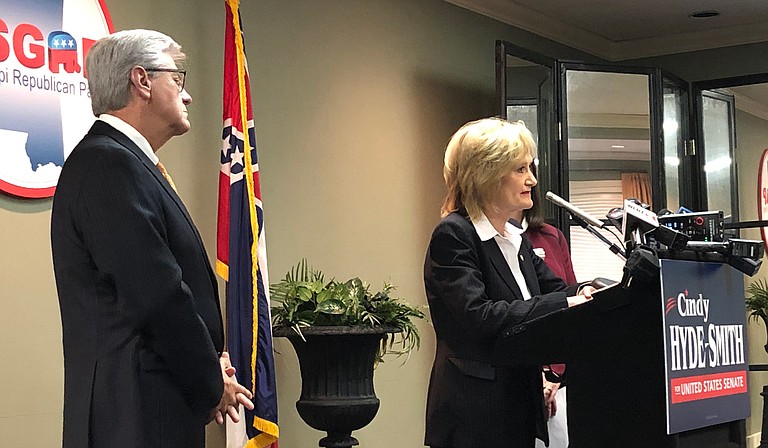 Monday, November 12, 2018
JACKSON — As state and national controversy swirls around U.S. Sen. Cindy Hyde-Smith's comment about a "public hanging" in her race against an African American opponent, Gov. Phil Bryant opened a press conference this morning implying that black women are participating in "the genocide of 20 million African American children" through legal abortions.
"See, in my heart, I am confused about where the outrage is at about 20 million African American children that have been aborted. No one wants to say anything about that. No one wants to talk about that," Bryant said, with Hyde-Smith and National Right to Life President Carol Tobias standing nearby.
Bryant's use of the abortion-as-genocide conspiracy theory about a woman's right to choose a legal abortion, a trope popular with white conservatives, comes amid a state and national outcry after it went viral Sunday that Hyde-Smith had made a comment about "public hangings" at a campaign stop in Tupelo. She is in a run-off to keep her U.S. Senate set on Tuesday, Nov. 27, against former Secretary of Agriculture Mike Espy, who would become Mississippi's first African American senator since Reconstruction, should he win the race.
Anti-abortion activists, white and black, often point to black women choosing abortion as a form of "genocide" of African Americans. "Look at African Americans," Bryant said Monday morning. "According to Wikipedia, had those (black) children not been aborted, the African American population would be 48 percent larger in America. Forty-eight percent larger. We can play with those numbers, and we can look at statistics, but the cold, grim truth is, children are being murdered." (At press time, we had not located the Wikipedia page Bryant referred to.)
The "black genocide" charge draws heavy criticism from African American women who work to increase better health and reproductive care for Mississippi mothers.
"It is absurd that a governor in a state that has one of the worst maternal and infant mortality rates in the country, where it is one of the most dangerous places for women to give birth—black women to give birth, specifically—would talk about abortion being black genocide," Mississippi Reproductive Freedom Fund Executive Director Laurie Bertram-Roberts said today.
"First of all, black women are not committing genocide when the same women he's talking about are the mothers of black children," she said. "To commit genocide, you have to be trying to eliminate a race of people. By definition, that cannot be black mothers. The majority of women who have abortions are also mothers. … Number two, Phil Bryant has never made a policy or endorsed a policy that helps black babies in this state."
Bryant, who was the chairman of the failed Personhood initiative in Mississippi in 2011, takes the most extreme views on abortion. Personhood would have banned not only the abortion procedure itself, including in cases of rape, incest and to save the life of the mother, but also forbidden the use of birth-control pills (considered "abortifacents")and even limited the ability of families to use in vitro fertilization.
Bryant emphasized that Hyde-Smith is the right choice to ensure that women must give birth regardless of the circumstances.
"Cindy Hyde-Smith is fighting for those children. This Christian woman, this mother, this wife has fought hard to protect those unborn. And she will do so in the United States Senate as she continues," Bryant said.
National 'Pro-Life' Endorsement
National Right to Life President Carol Tobias criticized Espy on his position of being personally opposed to abortion, but supportive of a woman's right to choose the procedure, saying his "pro-abortion views" are "out of step and grossly out of touch with the values of the Magnolia State."
"Mike Espy was a co-sponsor of the so-called Freedom of Choice Act, a piece of pro-abortion legislation so sweeping it would have invalidated all federal, state and local limitations on abortion," Tobias said.
As a congressman, Espy co-sponsored the Freedom of the Choice Act of 1992, but that bill did not allow for unlimited access to abortions as Tobias implied. Under the bill, states could not restrict the right of a woman to an abortion before fetal viability. However, the bill preserved the right of states to prohibit abortions after viability "unless such termination is necessary to protect the life or health of the woman."
"Espy's record stands in direct contrast to Sen. Cindy Hyde-Smith," Tobias said. "In the few short months since she arrived in the U.S. Senate, she has shown herself a valued ally in the fight to protect unborn babies and their mothers."
Before the Nov. 6 general election, Hyde-Smith's Republican opponent, Mississippi State Sen. Chris McDaniel, criticized her repeatedly for voting for government funding bills that include funding for Planned Parenthood.
In the week ahead of the election that ultimately saw McDaniel knocked out of the race and Hyde-Smith go to a runoff with Espy, McDaniel started sharing a video on his social-media platforms in which Hyde-Smith admits, "I did vote for a bill that has some funding in it for Planned Parenthood."
The video, which appears to be a secret recording of Hyde-Smith during a one-on-one conversation, cuts off what she said just before and just after that remark.
'Hanging' Comment: 'We Put Out a Statement Yesterday'
As soon as Tobias concluded her endorsement, members of the press began pelting Hyde-Smith with questions about her "hanging" comments.
"We put out a statement yesterday, and we stand by that statement," Hyde-Smith said.
A reporter asked Hyde-Smith to explain her statement, in which she described the comment as "an expression of regard" and said it should not be viewed with a "negative connotation."
Another reporter asked Hyde-Smith if she was familiar with Mississippi's history of lynching.
"I put out a statement yesterday, and that's all I'm going to say about it," Hyde-Smith responded.
That reporter then asked Hyde-Smith if she could explain what positive connotation the comment had.
"I put out a statement yesterday, and that's all I'm going to say about it," Hyde-Smith said once again, her voice rising.
"Is that phrasing in your everyday lingo, your everyday vocabulary?" another reporter asked.
"I put out a statement yesterday," Hyde-Smith said.
Gov. Bryant then stepped in, defending his hand-picked choice for the U.S. Senate.
"I think she is, she's certainly addressing the fact that she put out a statement," said Bryant, who insisted that the video of her remarks "was clearly designed for a political purpose."
"All of us in public life have said things on occasion that we could have phrased better," he said.
Lamar White, the Louisiana blogger who first published the video on Sunday, said that while he is a Democrat who runs The Bayou Brief—a progressive-leaning nonprofit website—he has no connection to Hyde-Smith or Espy's campaign.
"I have not contributed to and have no relationship whatsoever to either of the campaigns," White told the Jackson Free Press, adding that the only U.S. Senate candidate he donated to was Democrat Beto O'Rourke, who narrowly lost a bid to unseat Republican Sen. Ted Cruz last week.
"The reason I was sent this, I was told, is the work I've been doing on exposing racism in the American South," White said. "People need to see what these candidates really are like when they don't think the cameras are rolling. Or when they do, and they're so arrogant they don't even realize what they're saying is offensive. I hope it changes the dynamic a little bit, or at least forces a conversation."
Bryant Defends Own Record on Race, Too
Then, Bryant defended his own record on race, moving quickly to his stance that stopping abortion is a way to protect African Americans.
"Absolutely, we have been sensitive to race relations in this state," Bryant said. "I brought the president of the United States here to open the Civil Rights Museum, and African American leaders failed to even come to the event because the President of the United States was there. Today, I talked about the genocide of 20 million African American children. See, in my heart, I am confused about where the outrage is at about 20 million African American children that have been aborted. No one wants to say anything about that."
Bryant, who attended a Citizens Council high school in south Jackson, has a controversial track record in Mississippi on race. In February 2016, the Jackson Free Press broke the news that the governor was quietly proclaiming April as "Confederate Heritage Month" annually, with no mention of slavery. The Sons of Confederate Veterans, which requests that proclamation from Bryant annually, recently gave him the John J. Pettus Heritage Award at its annual banquet. That award is named for the "fire-eater" Mississippi governor who led Mississippi to secede. He was a slave owner and trader.
Members of the Poor People's Campaign protesting white supremacy recently burned a Confederate flag in front of the Mississippi Governor's Mansion due to Bryant's refusal to act to change the Mississippi flag, as well as other policies, including efforts to limit women's health-care and reproductive options.
The governor is continually on the front lines of trying to take away all abortion rights in Mississippi, although the procedure has been legal for 45 years across the United States. Mississippi has only one clinic performing abortion left, which is in Jackson. The state's only Planned Parenthood, in Hattiesburg, does not perform abortions, although the State of Mississippi has worked to limit its ability to dispense birth-control pills and other health services, even in cases where poor women are seeking help with health conditions beyond preventing an unwanted pregnancy.
"This morning's press conference was used a despicable attempt to deflect from what Sen. Hyde-Smith had said previously. And we condemn her comments and the black genocide comments," Mississippi State Director of Planned Parenthood Southeast Felicia Brown Williams told the Jackson Free Press.
Bryant has worked unsuccessfully to date get the Jackson Women's Health Organization closed, leaving no abortion clinic in the state.
"Just here in Fondren today, more than likely, or tomorrow, a child's life will be taken," Bryant declared at the press conference. "And we stand idly by and let that happen. Because the Supreme Court in 1973 in Roe v. Wade said it's OK. It's in the Constitution. We don't believe that to be in the Constitution. It's the law of the land; we understand it. But our heart weeps for the lives that have been taken."
'I Want to be Clear That This Is a Racist Attack'
Bertram-Roberts does not accept Bryant's tears on behalf of black families.
"He's against Medicaid expansion, which has impacted rural hospitals (and) rural prenatal access to care," she said. "… If he cared about people not having abortions, then he would help people access comprehensive sex education, free contraception; he would do something to fund our health department so that they would be able to give people better access to family planning. … Those are things that would help people be able to parent the babies they want to have, instead of him trying to stigmatize and shame black women who make choices for their families, which are valid and their human right to make."
Besides, she adds, those who equate abortion with "genocide" do not direct the accusation at white women.
"It's a specific racial attack, and I want to be clear that this is a racist attack," Bertram-Roberts added.
As aides told reporters the question-and-answer session was over at today's press conference, reporters continued to interject.
"Have you ever been to a public hanging?" one asked. "What is a public hanging in your context?"
"We did address it yesterday, thank you," Hyde-Smith said.
"Is public hanging a pro-life position?" another asked.
"We did address it yesterday," Hyde-Smith again replied.
Mississippi voters will choose between Espy and Hyde-Smith in a Nov. 27 runoff. Anyone who registered to vote by Oct. 29 will be eligible to vote in the runoff, even if they could not vote in the Nov. 6 election. Polls are open in Mississippi from 7 a.m. to 7 p.m.