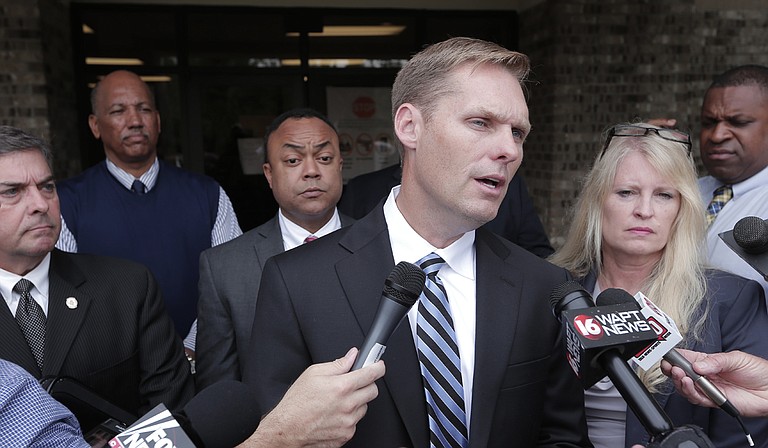 Thursday, November 8, 2018
JACKSON, Miss. (AP) — Mississippi saw its highest federal midterm voter turnout ever on Tuesday.
More than 880,000 Mississippians cast ballots in the special U.S. Senate election that resulted in a Nov. 27 runoff between Democrat Mike Espy and Republican Cindy Hyde-Smith, according to unofficial results compiled by The Associated Press. Thousands of provisional ballots are likely to be added to totals before counties certify elections to the Secretary of State next week.
About 43 percent of all Mississippians who are registered participated.
Mississippians in the 3rd District elected a Republican district attorney as the state's newest member of Congress on Tuesday, choosing Michael Guest of Brandon over Democratic state Rep. Michael Ted Evans of Preston.
The state's other three congressional incumbents held their seats easily, with Republicans Trent Kelly and Steven Palazzo and Democrat Bennie Thompson winning additional two-year terms.
The voting isn't done yet, with two Court of Appeals judges and two state representatives also headed for Nov. 27 runoffs.
U.S. HOUSE 3rd DISTRICT
A Republican prosecutor won an open seat representing Mississippi in the U.S. House of Representatives.
Michael Guest, a longtime district attorney in suburban Jackson, defeated Democrat Michael Ted Evans of Preston and Reform Party member Matthew Holland in the 3rd Congressional District.
Winning a competitive Republican primary, Guest supported higher infrastructure spending, immigration changes, and more consumer choice in health care.
Evans ran as a populist-but-conservative Democrat who opposes abortion and voiced distaste for Democratic leader Nancy Pelosi. He opposed President Donald Trump's trade policies and supported broader health coverage.
The district has been represented for the last 10 years by the retiring Gregg Harper. Like Guest, he's a Rankin County Republican. The district runs diagonally across 24 counties from Natchez through the Jackson suburbs and farther northeast to Starkville.
U.S. HOUSE 1st DISTRICT
Republican U.S. Rep. Trent Kelly won a second full term in a north Mississippi congressional seat, defeating Democratic challenger Randy Wadkins.
Kelly, a former district attorney, first won election to Congress from the 1st District in 2015 after U.S. Rep. Alan Nunnelee died. Kelly heavily outraised Wadkins, a University of Mississippi chemistry professor.
Kelly, a Mississippi National Guard general, emphasized support for higher military spending. He also called for continued decreases in regulations and supports President Donald Trump on trade.
Wadkins entered the race citing disagreements with Kelly and Trump, especially over health care. Wadkins supported plans for government-funded health insurance for all Americans.
The 22-county district stretches from suburbs of Memphis, Tennessee, to Tupelo and Columbus. Also running was Reform Party member Tracella Lou O'Hara Hill.
U.S. HOUSE 2nd DISTRICT
Democrat Bennie Thompson of Mississippi cruised to his 13th full term in the U.S. House of Representatives.
Thompson won the race in the 2nd District, which spans 26 counties including the Mississippi Delta and parts of the Jackson area, overcoming independent Troy Ray and Reform Party candidate Irving Harris.
A Hinds County supervisor before he was first elected in 1993, the 70-year-old Thompson is in line to become chairman of the House Homeland Security Committee if Democrats retake the majority in Congress.
U.S. HOUSE 4th DISTRICT
U.S. Rep. Steven Palazzo has won a fifth term in the U.S. House.
The Republican Palazzo defeated Democratic state Rep. Jeramey Anderson and Reform Party member Lajena Sheets on Tuesday.
First elected in 2010, Palazzo touted support for military spending in a district where the largest employer is military shipbuilder Ingalls Shipbuilding. He urged voters to re-elect him as a show of support to President Donald Trump.
Anderson had called for broader health coverage, an increased minimum wage, and less punitive criminal sentencing.
The district covers 14 counties from Laurel to the Gulf Coast.
COURT OF APPEALS
Voters in two Court of Appeals districts in the western half of the state appear likely to return to the polls on Nov. 27 to settle judicial races.
Returns Wednesday showed Deborah McDonald of Fayette was leading but just short of a majority in the 2nd District, with Eric Hawkins of Greenville in second. Former Court of Appeals Judge Ceola James finished third. The district includes the Mississippi Delta and parts of Jackson.
McDonald raised more than $30,000, the most of the three. She cites experience as a municipal court judge and lawyer for government agencies in southwest Mississippi. Hawkins has been Washington County prosecutor and Greenville city prosecutor.
Similarly, David McCarty of Jackson was leading but just short of a majority in the 4th District, with Hinds County Circuit Judge Jeff Weill in second. Byron Carter of Byram was third. The district includes Jackson and much of southwest Mississippi, stretching to Laurel.
"We're still awaiting final tallies from some counties but we're prepared and excited for a runoff," McCarty said.
McCarty raised more than $125,000. Endorsed by some Democrats, McCarty says he has more experience arguing cases before Mississippi's appellate courts. Weill, previously a Republican member of the Jackson City Council, raised nearly $150,000. Although technically running without a party label, Weill was endorsed by the state GOP.
STATE HOUSE ELECTIONS
Voters in state House districts in southwest Mississippi and the Mississippi Delta were choosing replacements for representatives who resigned.
In House District 85, Jeffery Harness and JoAnn Collins Smith moved to a runoff, placing first and second among four candidates. The seat, which covers parts of Claiborne, Franklin, Jefferson and Warren counties, was left vacant by the resignation of Democrat America "Chuck" Middleton.
In House District 31, Otis Anthony and Shannon Brown advanced to a Nov. 27 runoff after leading among eight candidates. They are competing for a seat left open when Democrat Sara Richardson Thomas resigned. The district covers parts of Bolivar, Humphreys, Sunflower and Washington counties.