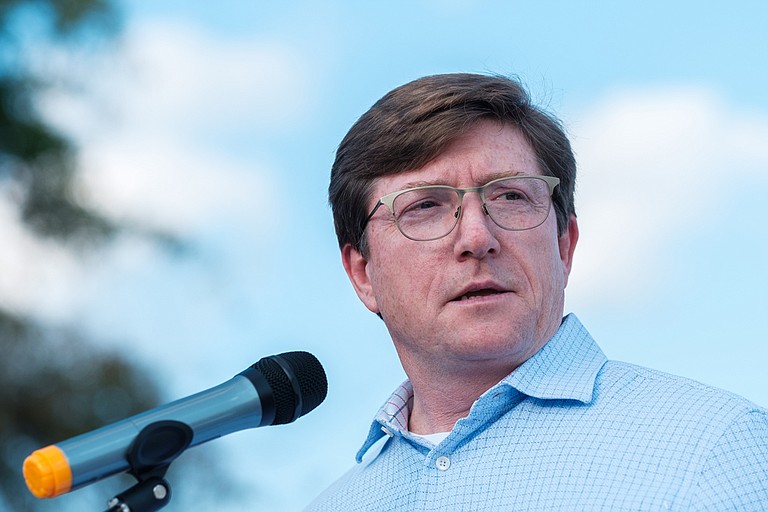 Wednesday, November 7, 2018
JACKSON — Mississippi Democratic House Minority Leader David Baria's chances to unseat incumbent U.S. Sen. Roger Wicker came to an end at just after 8 p.m. on election night—an hour after Mississippi polls closed.
With more than 96 percent of the vote in, Wicker led Baria 59-39. Wicker will now go to Washington, D.C., for this third consecutive term.
"I start tomorrow," he said at his joint party with U.S. Sen. Cindy Hyde-Smith at the Westin hotel in downtown Jackson. "I've got a few more weeks in this term and look forward to the next term in January. But we've got to keep working starting tomorrow."
Wicker speculates that he will soon be up for chairman of the commerce committee.
"Continuing as we're seeing across the country with this great red wall that we're seeing in the great heartland, if I am chairman of the commerce committee, we're going to work on the wide range of issues there to make Mississippi better and to make America stronger, including rural broadband," he said.
Less than a mile away, Baria said he made two attempts to call Wicker before taking the stage around 9:30 p.m. to hesitantly address his election-night watch party at the King Edward Hotel in downtown Jackson.
"As you're aware, AP has called this race," Baria, a Bay St. Louis resident, said. "I'm a little uncomfortable standing before you when my beloved Gulf Coast counties haven't even been counted, yet. But we all trust the AP to know what they're talking about."
Despite his discomfort, he spoke optimistically about his campaign setting the groundwork for change.
"What we built together, we're going to carry forward into 2019," he said.
Change Delayed
Next year, Mississippi will vote for a governor to replace Gov. Phil Bryant, who faces term limits. Attorney General Jim Hood, a Democrat, has already thrown his hat in the ring, and Republican Lt. Gov. Tate Reeves is expected to join the race, as well. Baria pointed out that members of the Legislature will also be on the ballot.
"We have built a political infrastructure that we have not had in the Democratic Party in Mississippi for 20 years," Baria said. "This is important, folks, because we need to sustain this and improve this going forward, and we have elections next year where we can do that."
He spoke with pride about his challenge against Wicker. Baria raised more money than any Mississippi Democratic nominee for U.S. Senate since 2008, with more than $317,000 in the third fundraising quarter that began July 1 and ended Sept. 30, bringing his total since March to nearly $850,000. He rejected corporate PAC (political action committee) money throughout his campaign, preferring individual contributions instead.
"I want you to know that your investment of time and resources and money is the foundation from which change is going to come—and trust me, change will come," he said. "It's just a little bit delayed tonight."
Baria knows that his money pales in comparison to Wicker, who amassed nearly $434,000 in the third quarter, bringing his total for the cycle to just under $5.8 million.
"We ran a credible campaign against far greater resources," Baria said. "And I hope that despite our loss tonight, you're just as proud of our campaign team and the campaign that we ran."
'Love and Happiness'
Baria's political director, Pam Shaw, swayed her hips to the Bruno Mars' chorus in Mark Ronson's "Uptown Funk" during the party because she liked the music, not because it matched how she felt inside.
"We knew this was a heavy lift," Shaw told the Jackson Free Press during a dance break. "So when David said what we were trying to do is build an infrastructure, that's the reason why I got onboard. It's a loss. It's a defeat and a loss, but the battle is not over. Democrats have lost for a long time in Mississippi."
She expressed some disappointment but knew how hard it would be to defeat an incumbent with Wicker's fundraising power. However, Shaw said she was thrilled with how the state came together. With the backing of former Govs. Ray Mabus and Ronnie Musgrove, U.S. Congressman Bennie Thompson, the Mississippi Legislative Black Caucus and more than 40 other legislators, Baria led a progressive campaign in a deeply conservative region. She said that she was happy to see people come together in a way she has not seen for another Mississippi Democrat in a while.
"It's time for us to sit back and look at, absolutely, the progress we've made, but what are the things we have to do to go to the next level?" she told the Jackson Free Press. "A big part of that is how you change the narrative. One of the narratives is we can work together."
Brandon Jones, Baria's law partner, also felt inspired.
"Regardless of tonight's results, we do know this: Your effort has made a difference," Jones told supporters. "It has moved this state to being closer to being what it can be. Thank you all very much."
The playlist at the Baria event was soulful. He and his wife, Marcie, walked across the patterned carpet to join their family onstage as the DJ played Al Green's "Love and Happiness."
"I mean, that's what I'm feeling. I really am," Baria said, referencing the iconic song. "My heart is so full of gratitude to all of you for all that you have done."
In Mississippi's other U.S. Senate race, the special election for the seat former Sen. Thad Cochran stepped down from in March, Democrat Mike Espy and incumbent Cindy Hyde-Smith—whom Gov. Phil Bryant appointed in April—will now head to a runoff on Nov. 27.
If she wins, Hyde-Smith would be the first woman that the voters of Mississippi have duly elected to the U.S. Senate, while Mike Espy could also make history as the first African American to represent Mississippi in the U.S. Senate since the post-Civil War Reconstruction era.
Any Mississippian who registered to vote by Oct. 29 is eligible to vote in the runoff, even if they could not vote on Nov. 6. Polls in Mississippi will be open from 7 a.m. to 7 p.m.
Email city reporter Ko Bragg at ko@jacksonfreepress. Ashton Pittman contributed to this story.