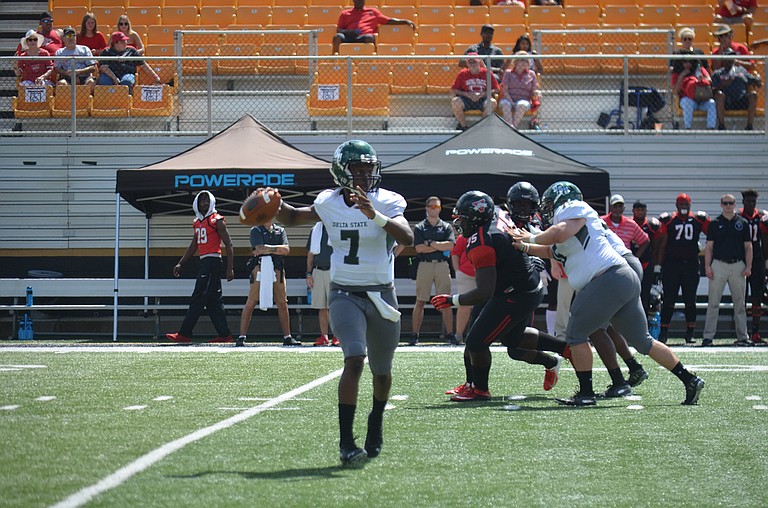 The 2018 season has not gone the way that Delta State University coaches and players hoped. The football team began this year losing the first seven games of its campaign.
Compounding problems for the Statesmen was senior quarterback Breck Ruddick's injury in the second game, which forced Delta State to turn to true freshman quarterback Patrick Shegog.
Shegog lettered in football and basketball at South Panola High School, and was named a Southern Elite Sports 10 member. He threw for a school-record 2,105 yards with 21 touchdowns and 12 interceptions, and added 1,032 rushing yards with 11 touchdowns as a senior.
The quarterback also helped lead Mississippi past Alabama in the 2017 Mississippi-Alabama All Star Game. He originally committed to Tulane University but decommitted in November 2017 before signing with Delta State.
So far, Shegog has produced up-and-down results from game to game in his first season as a college athlete.
Pressed into action against Grand Valley State University on Sept. 8, Shegog kept DSU in the game for a time with a 45-yard rushing touchdown, but the team still lost 10-21. He ran for 85 yards on 18 carries, and threw for 101 yards on 12 of 30 completions and one interception.
Shegog threw his first college touchdown against Florida Institute of Technology a week later in a 12-30 loss for the Statesmen. He ended the game completing 15 of 33 passes for 112 yards while adding 46 rushing yards on 21 carries.
The Batesville, Miss., native hit another milestone against North Greenville University on Sept. 22. He threw for more than 200 yards during the 20-33 loss and landed 23 of 44 pass attempts for 295 yards with two interceptions, as well as 30 rushing yards with a touchdown.
One of the best examples of Shegog's rollercoaster season came on Sept. 29 against the University of West Florida—his first game with multiple touchdowns but also his most interceptions. In the Statesmen's 21-30 loss, he threw for 219 yards with 16 of 26 pass completions, two touchdowns and three interceptions. He added 64 rushing yards on 15 carries.
He struggled again in a 28-59 loss to Valdosta State University on Oct. 6. The freshman ended the game with just 162 passing yards on 17 of 32 attempts with a touchdown and added another rushing touchdown with 30 yards on nine carries.
Shegog produced his third 200-yard passing game against the University of West Alabama on Oct. 13 in what ended up being a much closer deafeat at 14-17. He finished with 22 of 40 passing completions for 208 yards and an interception.
Everything finally came together for the freshman against Shorter University on Oct. 25, and he managed his first 300-yard passing game and first win at quarterback. He threw for 319 yards on an outstanding 22 of 29 passing effort with three touchdowns during the 46-20 victory.
Shegog's efforts in that game earned him Gulf South Conference Freshman of the Week and Player of the Week honors. He is the first DSU quarterback to reach 300 passing yards in a game since 2016 and the first to throw for three touchdowns in a game since 2017.
Nine games into this season, Shegog leads the team with 1,632 passing yards, eight touchdowns and 10 interceptions. He is second on the team in rushing with 343 yards and four touchdowns.
This week, Shegog and the Delta State squad will have an opportunity to bounce back from last week's loss to the University of West Georgia. The Statesmen play at home against Mississippi College on Saturday, Nov. 10, at 2 p.m.