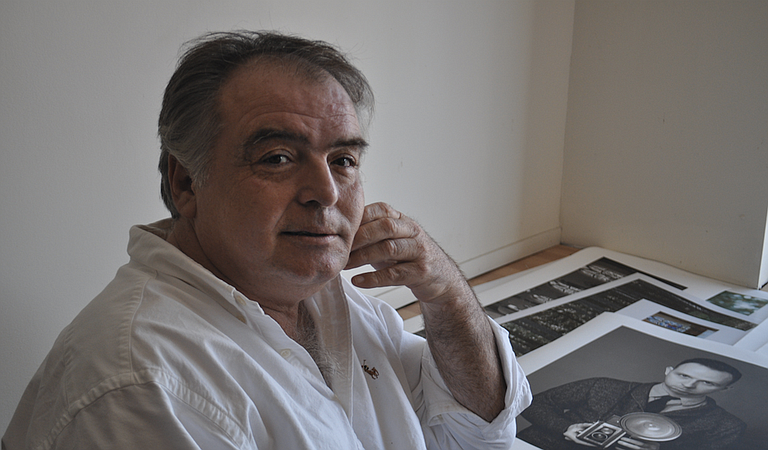 The passing of influential artists often inspires outpourings of gratitude and respect from fans, colleagues and loved ones, but Jackson photographer James Patterson was one of the few who got to see that celebration of his life while he was living.
Before Patterson died from stage IV lung cancer on Oct. 21, there were several events honoring the visual artist and his work, including a special exhibition at the Mississippi Museum of Art from July to September and a fundraising concert for his medical expenses at Duling Hall in August. The Mississippi Arts Commission also announced Patterson as a 2019 Governor's Arts Award recipient in September.
Marcy Fischer Nessel, who owns Fischer Galleries and worked with Patterson at a gallery for eight years, says that response comes from the impact he had on so many people's lives through his art and his support of local arts.
"He gave so much of himself, but he did it in only James' way," she says. "What I can tell you is my James story is so special to me, but you know what? It's one in about 300. It's one in a thousand. Every person I run into has their own story like that."
Nessel met Patterson about 25 years ago. After returning to Jackson from New York, she was reconnecting with the arts scene and attending various shows, but not getting to use her skills in the gallery world often. So Patterson, who did not know her well, offered her a position at his former gallery, Suite 103 Gallery, which was located in the space that Steve's Deli now occupies downtown.
"He was the most gracious, loving, nurturing (man)," she says. "I just adored him and adored working for him, and I feel like I got to learn from the best there is. The guy could spot talent. He saw talent from a mile away. He knew work immediately. He knew if work was good or bad or if the artist just needed a little attention or if they'd find their way."
Fellow Jackson photographer Ron Blaylock says that Patterson was an immensely talented artist with incredible taste, but he was also just a fun, likeable presence that people wanted to be around.
"He was always very honest and always had this way of saying things—and getting away with saying things that nobody else could just because he was James, you know?" he says. "... He was smart and talented and fun to be around, and that's a pretty rare combination with anybody you've got to work with. Everybody was drawn in to him. I think that's why he was successful and why anyone who ever knew him or worked with him just loved him to death."
Blaylock got to know Patterson just from working around town after returning to Jackson from New Orleans following Hurricane Katrina. When Blaylock decided to move out of his studio space in Ridgeland in 2011, several friends pointed him to Patterson, who had a space available at his studio in Fondren.
"We just thought we'd give it a try and see if it was a good fit, and it really was. Our personalities clicked. He was such a fun guy and knew everybody, knew everything about Mississippi and Jackson, and was just an amazing person to share a studio with."
Patterson inspired the creative people around him to want to be better, Blaylock says, and he was not afraid to tell someone when they could improve.
"When you were showing him a print or something you shot, you cared that he thought it was good," he says. "You always wanted to impress him, and so it always kind of pushed you a little bit harder. We made jokes about each other's work and always kind of teased each other, but at the end of the day, you always wanted to impress James. You wanted him to say, 'Oh wow, that's really good.'"
Still, Patterson was never the kind of person to brag about his own skill, Nessel says. At one visit about two weeks before his death, she asked him about creating a charitable foundation, scholarship or something else under his name.
"He just said, 'Oh, don't do that. No one needs to go through that much work,'" she says. "... He told me, 'I don't want to toot my own horn,' and I said, 'No, James. Your legacy needs to carry on. It needs to be remembered. There are so many of us who want to keep your memory alive.'"
Hal & Mal's (200 Commerce St.) will host a memorial service for Patterson on Saturday, Nov. 3, at 6 p.m. The event is open to the public.