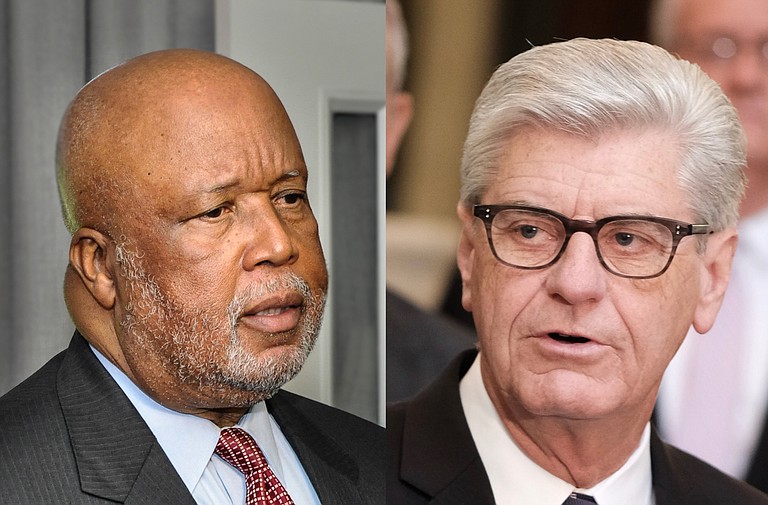 Thursday, November 1, 2018
JACKSON — U.S. Congressman Bennie Thompson called on Mississippi Gov. Phil Bryant to withdraw from a lawsuit that could overturn protections for those with pre-existing conditions.
"This lawsuit is just another way he is restricting health-care rights for all Mississippians," the Democrat said in a press release Wednesday. "He needs to drop this lawsuit and finally stand up for everyone with pre-existing conditions."
Bryant is one of 20 Republican state officials nationwide who, earlier this year, signed onto a lawsuit seeking to gut the pre-existing conditions protections in the Affordable Care Act, also known as Obamacare. The lawsuit, Texas et al. v. United States et al., was filed in the United States District Court for the Northern District of Texas in February.
Last year, Congress repealed the law's individual mandate, which imposed tax penalties on Americans who could afford health care but chose not to get it. Bryant, Maine Gov. Paul LePage and 18 state attorneys general are asking the court to strike down the entire law, reasoning that, without the mandate, the ACA is unconstitutional.
Former Secretary of Agriculture Mike Espy, a Democrat who will be on the ballot for Mississippi's U.S. Senate special election on Nov. 6, agreed with Thompson.
"Congressman Thompson is absolutely right," Espy tweeted Wednesday. "They're coming for your health care, and we need leaders who will stop them. That's why I'm running for U.S. Senate."
In October, Democratic U.S. Senate Minority Leader Chuck Schumer targeted Bryant in a tweet of his own.
"(Bryant) is trying to gut protections for Americans with pre-existing conditions through the courts," Schumer wrote on Oct. 18.
Bryant denied the charge.
"(Sen. Schumer), you're wrong," Bryant wrote on Oct. 22. "This is about the unconstitutional Obamacare mandate that's been a disaster from the start, not pre-existing conditions. We will continue to uphold the constitution, while you continue to gut it."
Bryant's argument makes little sense, though; the mandate has already been repealed and the lawsuit, if successful, would indeed end prohibitions on insurance companies discriminating against Americans with pre-existing conditions.
If those protections are overturned, Americans with a history of conditions like diabetes, cancer or heart disease could once again be charged more or denied health insurance altogether.
A 2017 report from the U.S. Department of Health and Human Services found that about 51 percent, or 133 million, Americans under the age of 65 have a pre-existing condition.
The U.S. Justice Department declined to defend the law in court and, in June, asked that a ruling be postponed until January—after the midterm elections.
Thompson also criticized Bryant for rejecting the ACA's Medicaid expansion, the vast majority of which the federal government would have paid.
"He chose not to expand Medicaid, hurting patients and hospitals throughout the state," Thompson said. "This lawsuit is just another way he is restricting health-care rights for all Mississippians."
Five rural hospitals in the state have closed in recent years, which is attributed in part to Mississippi's failure to expand Medicaid. Hospitals in Amory, Clarksdale and Batesville are also in danger of closing.
Espy is campaigning in favor of expanding Medicaid, as is Democratic U.S. Senate candidate David Baria, who is running in the state's other U.S. Senate race. Mississippi Attorney General Jim Hood, a Democrat who is running for governor in 2019, has made Medicaid expansion and protection of rural hospitals a key part of his platform.
The U.S. Supreme Court has already upheld the ACA twice during legal challenges in 2012 and 2015, but the 2012 decision allowed states to reject Medicaid expansion if they wished. The law originally mandated expansion.
On Nov. 6, the same day as the national midterms, Mississippi voters will choose senators in Mississippi's regular U.S. Senate election and nonpartisan U.S. Senate special election. House seats in each of the state's four congressional districts are also on the ballot. Voters must bring a valid form of photo identification such as a driver's license or student ID. Polls are open from 7 a.m. to 7 p.m. For more information, read our voter guide here.
If you experience any issues at polling places, including wait times or registration problems, the Jackson Free Press wants to hear from you. We partnered with ProPublica's Electionland to gather tips on Nov. 6. To participate, you can text the word VOTE to 81380, send a message on WhatsApp +1 (850) 909-8683, use Facebook Messenger or send a tweet to @Electionland. You can also call our newsroom directly (601) 362-6121.
Ashton Pittman covers politics and elections for the Jackson Free Press. Follow him on Twitter @ashtonpittman. Email him at [email protected]. Read more 2018 campaign coverage at jfp.ms/2018elections. Donna Ladd contributed to this report.