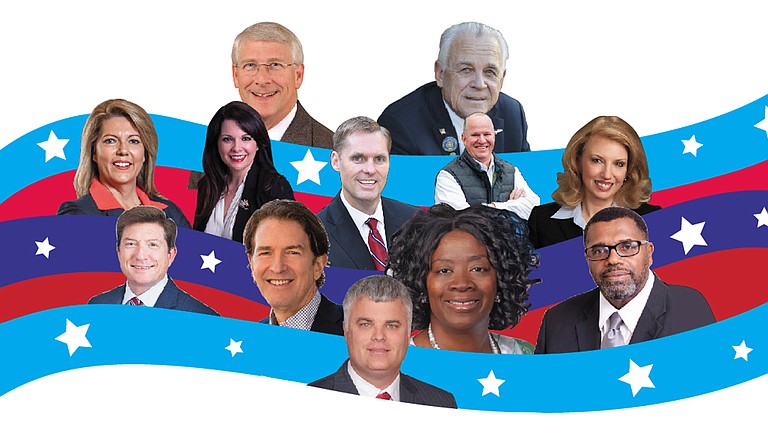 Mississippians will soon head to the polls for a federal election for the first time since Donald Trump became president in 2016. On Tuesday, June 5, registered voters can choose a ballot for either the Republican or Democratic primary election. The National Council of State Legislatures reports that Mississippi is one of 15 states with an open primary, meaning state law does not require a voter to declare or claim a party affiliation—and can choose which ballot to vote on. This is a year for Mississippi congressional elections, with GOP Sen. Roger Wicker's seat, for a six-year term, up for re-election as well as all four congressional seats in the U.S. House of Representatives.
Mississippians will vote for another senator in November after Sen. Thad Cochran, a Republican, announced he would retire, opening up a special election to replace him. While the special election to replace Cochran (which includes Sen. Chris McDaniel, Mike Espy, Tobey Bartee and Cindy Hyde-Smith, who is serving in Cochran's seat currently) is not until November, primary elections for Wicker's seat and a race to replace Rep. Gregg Harper have crowded ballots this summer.
Voters in metro Jackson live either in District 2 or District 3. Northeast Jackson as well as parts of Belhaven are in District 3, while west and south Jackson are in District 2. District 2 voters who choose a Democratic primary ballot will choose from a crowded list of candidates including David Baria, Jensen Bohren, Jerone Garland, Victor Maurice, Omeria Scott and Howard Sherman to run against either Roger Wicker or Richard Boyanton, a Gulf Coast Republican challenging the veteran lawmaker. Longtime Rep. Bennie Thompson, who represents District 2, does not have a Democratic challenger.
Voters in District 3 must choose a new representative, making for a more interesting ballot this year. On the District 3 Democratic ballot, voters can pick between Michael Aycox, a young veteran running on gun control and health-care reforms, and Michael Ted Evans, a state lawmaker who recently pushed to end state testing.
The GOP District 3 ballot is the most expensive ballot in Jackson. Donors across District 3 and beyond have poured nearly $1.45 million into the Republican race to replace Harper, which includes candidates Sally Doty, Morgan Dunn, Michael Guest, Whit Hughes, Perry Parker and Katherine Tate. To win a primary, a candidate must receive 50 percent of the vote plus one. If no one receives this amount of votes, the top two candidates will go into a run-off held on June 26, if necessary.
Michael versus Michael
Mississippi's Third Congressional District has been red for a long, long time. The third district is cut to include the Republican-leaning parts of Madison County (excluding Canton) as well as northeast Jackson and parts of Belhaven.
While the Cook Political Report assesses the district to be the least Trump-y of the three GOP-held House districts in the state, Rep. Gregg Harper never struggled to garner more than 60 percent of the vote in all five of his elections.
Before Harper, Chip Pickering won elections for the district by even wider margins.
Never mind the district's GOP-leaning constituents, two Democrats are facing off for a chance to challenge the candidate who wins the crowded, expensive Republican primary race.
State Rep. Michael Ted Evans, D-Preston, has been in the state House of Representatives since 2012, representing four counties at the Legislature. FEC filings show no campaign-finance contributions or reports filed by press time. Evans is vocal about legislation that will affect the rural parts of his district in the Legislature, and this year he was vocal about ending state testing in public schools.
Michael Aycox, a veteran and a police officer in Newton, is challenging Evans in the Democratic District 3 race. Aycox is running on a platform to streamline Veterans Affairs, install universal health care and free college, and implement certain gun-control reforms. Aycox has raised a little over $1,500, FEC filings show. Evans has not raised any funds, FEC filings show.
The Race to Replace Gregg Harper
Mississippi business elites, political players and various political action committees all have their eyes on the race to replace Rep. Gregg Harper. Six candidates lined up for a chance to replace Harper, representing a wide swath of the state from Meridian to Starkville to parts of Jackson and Natchez.
At press time, nearly $1.45 million has poured into the Republican primary contest for the District 3 seat, and that number could climb once the Federal Election Commission updates candidates' profiles with their campaign-finance reports, due last week.
Michael Guest, the district attorney for both Madison and Rankin Counties, jumped into the race early in January. So far, he has netted $396,411 in campaign donations, without loaning his campaign a dime. Guest has the support of former Rep. Gregg Harper, whose campaign committee has donated more than $5,000 to Guest. Harper was out of the country and unable to comment on his donations at press time. The Brandon resident has attracted the support of many attorneys and law enforcement officers too, FEC filings show.
Local millionaires John McGowan, who has long envisioned a lake development along the Pearl River in the district, and James Barksdale, an advocate for public-education funding and economic development, have also donated to his campaign.
Not long after Guest announced his candidacy, Whit Hughes declared his run for Congress, too. Hughes has deep political experience in Mississippi. He worked as Elizabeth Dole's finance director in her initial Senate campaign. He returned to Mississippi to help elect Haley Barbour in 2003 as governor as his finance director. Hughes also worked at the Mississippi Development Authority after his career in politics.
Hughes has raised the most of any Republican candidate seeking to replace Harper. He had received $430,577 by press time, without loaning any funds to his campaign. He has the support of former Rep. Chip Pickering, who held Harper's seat previously, as well as several Barbour family members and leaders of Mississippi-based businesses, like Joe Sanderson of Sanderson Farms, FEC campaign-finance filings show.
Sally Doty is the only current lawmaker and politician in the race to replace Harper, and she has relied on her experience to drive her campaign forward. The Brookhaven-based state senator announced she was running for Congress in January, and she largely has the support of other state lawmakers as well as the View PAC, which exists to elect Republican women into office.
Doty has raised $110,761 by press time, with about $15,000 in loans to her own campaign.
Morgan Dunn, a local business owner and health-care consultant, entered the election contest in January as well. Dunn is running on a platform to improve public health care and limit federal spending. She advocates for a business-model mentality to government, and she believes that her not being a lawyer or a politician is an asset.
Dunn has raised $118,340, but she has loaned her campaign $73,100.
Perry Parker, a former investor and international banker, is running a campaign of financial growth and ensuring that the next generation of Mississippians stays in Mississippi. Parker said he would push for an even simpler tax code than the 2017 GOP tax bill created, he said at a recent debate in Brandon. Parker has raised $390,412 by press time, but he loaned $240,000 to his own campaign.
Katherine Tate, a retired public-school teacher, is not raising any campaign funds. Her biggest campaign goal is to get the federal government out of education, she said at a debate in Brandon.
The race to replace Harper could end in a run-off after June 5 if no candidate receives 50 percent of the votes cast plus one. A runoff would be held for the top two candidates on June 26, if necessary.
Senate Showdown
Sen. Roger Wicker arguably dodged the biggest bullet in his campaign when Sen. Chris McDaniel announced he would not challenge Wicker, instead opting to run for Cochran's seat. Wicker had already ramped up his campaign presence, spending more than $3.17 million in the 2017-2018 election cycle on advertisements and other campaign expenditures.
Without McDaniel in the race, Wicker faces Richard Boyanton, a Gulf Coast candidate who is running on a platform of limiting federal spending as well as imposing term limits, a restriction that at this point would have kept Wicker from running again. On the Democratic side of the Senate election, several candidates threw their names in the race to challenge Wicker or Boyanton in November. Rep. David Baria, D-Bay St. Louis, is a longtime state lawmaker who announced his candidacy first, followed by Rep. Omeria Scott, D-Laurel, another veteran lawmaker in the Mississippi House of Representatives. Scott, a vocal member of the House, is pushing her experience as a lawmaker on the campaign trail.
Baria has raised $120,644, FEC filings showed at press time (this number likely does not reflect the most recent campaign finance filings, but the FEC website can take several days to refresh its numbers). Baria, an attorney by trade, has focused his campaign on change in Washington D.C. including equal pay and transparency. The unlikely challenger, Howard Sherman, has raised more in campaign finances than Baria, with $628,215 in contributions. A large part ($500,000) of that total is from loans from Sherman himself, but he has netted well over $100,000 in campaign donations, mainly from donors who pay his campaign through ActBlue, making them anonymous on FEC campaign finance filings.
Sherman, a venture capitalist and investor, is married to Meridian-native actress Sela Ward and has focused his campaign on job creation and using his private sector. The Clarion-Ledger reported that Sherman donated to Roger Wicker in previous years, prompting questions about his Democratic affiliation, which he has since defended.
Jensen Bohren, who is running a grassroots progressive campaign, has almost $2,000 in campaign finances, FEC filings show. He is running on legalizing marijuana, Medicare-for-all and major election reforms. (Baria recently came out in support of legalizing medical marijuana.)
Jerone Garland, a Kosciusko native who is running on criminal-justice reform, has raised $600 in campaign funds, FEC records show. Victor Maurice as well as Scott do not have any campaign-finance reports filed with the FEC.
JFP Candidate HQ
Don't see your candidate featured? It's probably online! The Jackson Free Press asked each political candidate—including districts outside the Jackson metro area—to complete a five-question survey about their platforms. Read them online at jacksonfreepress.com/2018elections or jfp.ms/2018elections.
How To Vote
-Primary Elections are on Tuesday, June 5
-Polls are open from 7 a.m. to 7 p.m.
-Find your polling place at www.sos.ms.gov/pollingplace
-You must be registered to vote (see if you are at sos.ms.gov/vote)
-Bring your photo ID with you (driver's license, state or federal government ID card, U.S. passport, firearms license, student photo ID from public Mississippi college, military ID, tribal photo ID card or Mississippi voter ID)
-If you forget your ID or are not in the poll book, you can vote by affidavit ballot
-If you have trouble voting, call the election hotline (1-800-829-6786), voter ID line (1-844-678-6837), attorney general's office (601-359-3680) or the Mississippi Protection & Advocacy Office (1-800-772-4057)
Source: Y'all Vote, Secretary of State