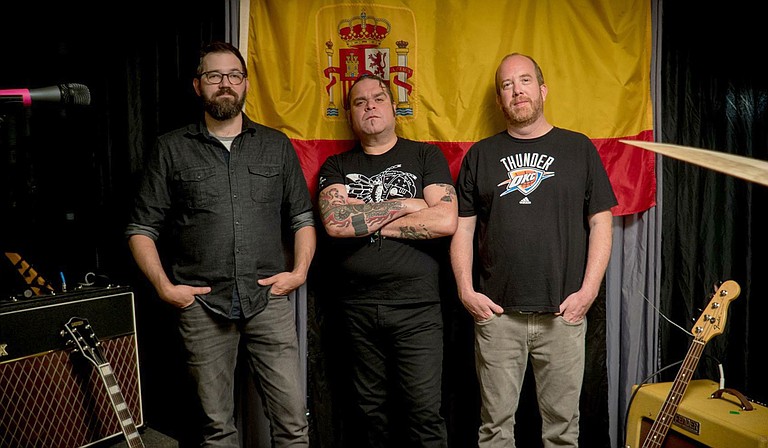 It's a simple mathematic principle: Three comes after two. It doesn't exactly tell you when, though. For Spacewolf, the "when" was about five years later.
While the Jackson post-grunge trio has been active since releasing its second album, "II," in July 2013, fans had to wait half a decade for the band's latest record, "King of Nowhere," which came out May 1. Vocalist and guitarist Drew McKercher says they can chalk the delay up to daily life.
"I guess we've just all been busy," he says with a laugh. "We've had stuff going on. We've had most of the songs written for two or three years. There are a couple that we wrote last year when we were recording. But most of it's been written for quite a while. It was just finding the time to get it recorded."
However, what listeners hear on "King of Nowhere" is not the band's first attempt at recording the material. McKercher, bassist Don Hawkins and drummer Murph Caicedo began tracking the album in a studio about two years ago, but ultimately decided that the sound wasn't heading in the right direction. In July 2017, they decided to start fresh in their midtown practice space and handle the engineering and mixing themselves.
"When you walk into a studio, you're paying to be there, and nerves are just going to come out," McKercher says. "It's hard to get comfortable, for me, in a studio environment unless I just have thousands of dollars and tons of time in a studio to really burrow in and wait to loosen up, basically.
"Having the luxury of doing it ourselves, we were able to spread it out, take our time and do things the way that we wanted to do them. We also had the ability, if we halfway recorded a song and it sucks, we can say, 'Ah, let's just scrap it and start over.' We weren't losing money or anything. There's a lot of freedom in doing it yourself."
With them taking the reins, McKercher says they were able to make the album they wanted, aiming for a simplified sound in comparison to "II" and spending more time on the project. The trio took most of 2017 off from playing live to focus on recording and give listeners some space before hearing the recorded versions of the songs.
"King of Nowhere" may be Spacewolf's most simplified album thus far, but it is also the most personal entry for McKercher, who wrote the songs during a period of transition—launching his new company, Ghostnote Creative, going through a divorce and parenting his two sons through all of it. The result is a different feel from Spacewolf's previous music, he says, but that's not to say that the album is particularly gloomy.
"They're different types of songs than we've recorded in the past, and we were really conscious of that during the recording process," McKercher says. "... Most of the songs were written on an acoustic guitar at home, and I'd kind of bring them in and say, 'What can we do with this?' And Murph, our drummer, is a master arranger, so we consciously took songs that could have been real emo, acoustic songs and turned them—made lemonade out of lemons, you know what I mean? We polished 'em up, made them more fun and put our Spacewolf spin on them."
With fans now finding "King of Nowhere," Spacewolf has been busy creating more content to promote the new album, with a video-game-inspired animated short for the single "Coast Ghost" currently available and a live-action video for "Wolf III" coming within the next month. The band members want the album reach a wider audience, McKercher says, but for them, the point is not popularity but having fun while making music they're proud of.
"We're not expecting to sell, you know, 100,000 copies of the record or anything," he says. "I mean, really, we make art for ourselves and posterity, you know. It's always good when you make a record, and in a few years, you just appreciate that you took the time to do that. It's the same thing with making videos and any of that kind of stuff. It feels good to do things. If people listen to the record and like it, that's awesome. If no one ever listens to the record and it's just us three, we're still cool with that. It's no big deal either way. We just have fun with the process, and we're writing number four right now."
The "King of Nowhere" album release show is at 8 p.m., Saturday, May 26, at Martin's Restaurant & Bar (214 S. State St.). Kicking and DJ Young Venom also perform. Doors open at 7 p.m. The album is also available for download and streaming on iTunes, Amazon, Spotify and most other digital retailers. For more information, find Spacewolf on Facebook, Instagram and Bandcamp.