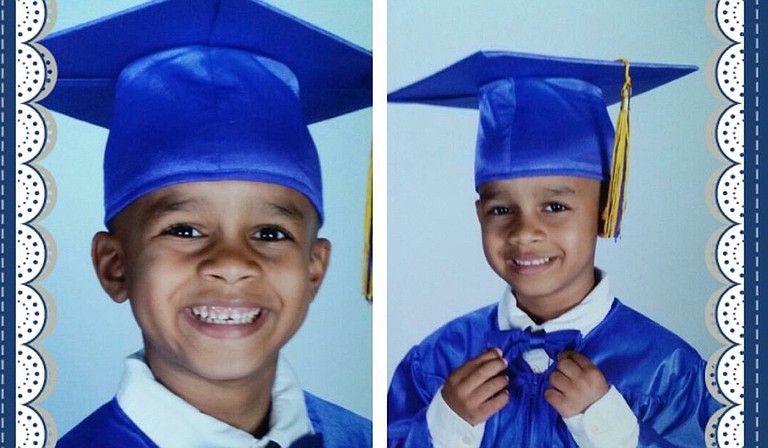 JACKSON — On a sweltering Friday evening, orange cones blocked off Meadow Lane as the neighborhood came together on May 18 for a commemorative graduation and block party for Kingston Frazier, the 6-year-old boy who was kidnapped and murdered precisely a year from the date of that gathering.
In the quaint, manicured neighborhood with no sidewalks, classic house music that black people play at cookouts and family reunions echoed out from tall speakers in the front lawn. The sun still felt like it was at its afternoon peak when the block party began at 5 p.m., but the lights in the front lawn indicated that the event had only gotten started. Kids and teenagers helped move green coolers filled with ice and beverages across the sloped driveway, as others pulled up to the home of Lynn Winston, Kingston's grandmother. She said she was surprised, but glad to see the television station's trucks and other media there because they will keep her grandson's story alive.
"It's the first-year anniversary, so we're all sad, I'm sad, the family's sad," Winston told the Jackson Free Press. "But, at the same time, this is in Kingston's honor. Kingston would be grinning from ear to ear that this is in celebration of his life."
'Go Ahead and Take It'
On May 18, 2017, Kingston's mother, Ebony Archie, pulled up in front of a local Kroger on I-55 at around 1 a.m. to get some party supplies for Kingston's graduation the next day. She left the car running as her son slept in the backseat. While she was in the store, another car drove up and a man got out and pulled away in her Toyota Camry.
Officials believe Byron McBride drove off in the silver Toyota first while Dwan Wakefield and D'Allen Washington operated a dark-colored Honda Civic waiting nearby. An amber alert went out, and less than a half-day later, police found the car in a ditch in Gluckstadt.
During a hearing in June 2017, officials testified to the details of their investigation in front of Madison County's Judge Bruce McKinley who decided that all three young men should face a grand jury.
Agent Rusty Clark said Wakefield told him that McBride called him while he and Washington sat at a Shell gas station, acknowledging that a child was in the back seat of the vehicle. McBride then told Wakefield that he was "going to off the kid." Wakefield said he told McBride to just "drop the kid off somewhere."
McBride told officials in his original statement that he was not involved. In a later statement, he said Wakefield told him in the Kroger parking lot about Archie's car: "Man, you got this. It's right there. Go ahead and take it." McBride confessed to Clark in his third statement that he, in fact, shot the 6-year-old.
The three young men are in various stages of the criminal-justice system. McBride is facing the most serious charge—capital murder—a crime punishable by death in Mississippi. He was indicted in November 2017, and awaits a mental evaluation before being tried or sentenced.
Brian Buckley, Assistant District Attorney in Madison County, told the JFP that Washington already entered a guilty plea to being an accessory after the fact of kidnapping and had agreed to cooperate against the two other teens. Washington had been out on bond for a separate armed robbery during the Kingston incident to which he also pled guilty. Buckley confirmed that Washington is in jail, "not going anywhere," and is up for sentencing on Sept. 24.
Wakefield went through youth court initially, but he was certified as an adult and indicted in February. He is currently out on $275,000 bond with an ankle monitor.
Buckley said that Wakefield's charges include three counts of accessory after the fact for murder, kidnapping and auto theft.
Forgiveness Pending
Ebony Archie had been relatively silent until the one-year anniversary of that fateful night, but she said she would definitely be at the upcoming trials.
At a press conference at local radio station 94.3 FM on May 18, Archie sat in a cloth armchair next to a portrait of Kingston in an ornate gold frame. Her hair sleek in a bun, eyes watering, Archie took questions from reporters
"I would just like to thank everybody for the support and prayers also," she said. "This has just been a terrible year for me." Archie said that the last 365 days have been "very empty" for her, with some days brighter than others, but for the most part, just empty,.
"I miss words, his words," she said. "'I love you mom.'... Sometimes I still hear it in my mind."
William Frazier, Kingston's dad, sat next to Archie in an identical chair on the other side of Frazier's photo. Despite being the more vocal parent in recent months, he sipped a drink when reporters asked him questions.
"Whatever she said," Frazier said, deferring to Archie. "I really ain't got no talk for the news, to be honest. Y'all don't say what I say anyway, so let's just leave it at that."
Archie, after a long pause, said she can forgive the young men allegedly involved in the murder of her son.
"That's God's job to forgive. I won't. I promise you," Frazier mumbled.
Read more stories at jfp.ms/kingstonfrazier.