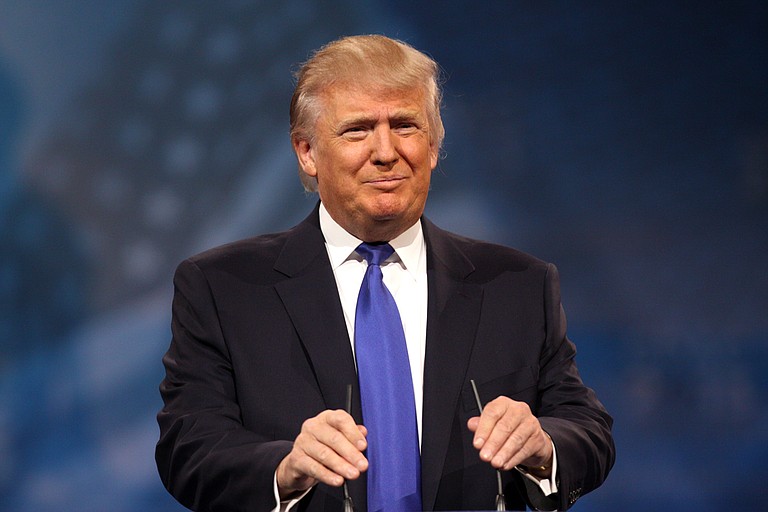 NEW YORK (AP) — President Donald Trump revealed in his financial disclosure that he reimbursed personal attorney Michael Cohen as much as $250,000 for unspecified "expenses," with no mention of a $130,000 payment to porn actress Stormy Daniels to keep quiet about a sexual tryst she said they had.
The head of the nation's ethics office on Wednesday questioned why Trump didn't include this in his previous year's sworn disclosure and passed along his concerns to federal prosecutors.
"I am providing both reports to you because you may find the disclosure relevant to any inquiry you may be pursuing," David Apol, acting director of the Office of Government Ethics, wrote to Deputy Attorney General Rod Rosenstein.
Apol wrote that he considers Trump's payment to Cohen to be a repayment on a loan and that it was required to be included in Trump's June 2017 disclosure.
But Trump attorney Rudy Giuliani told Fox News Channel's Laura Ingraham that he didn't think the repayment "had to be disclosed at all because I think it was an expenditure that he reimbursed."
He also the president was "fully aware" of his decision to reveal the fact that Trump had reimbursed Cohen in a previous Fox News appearance and "endorsed the strategy."
"We wouldn't do it without him," Giuliani said on "The Ingraham Angle." ''He's the client, after all, and has tremendous judgment about things like this. And I think it — that the OGE, the Office of Government Ethics, basically agreed with us that it had been fully disclosed."
"The fact is that that president disclosed everything that he could disclose. He can't disclose more than he knows. And we're very comfortable with it," he added.
But ethics experts say that if that payment was knowingly and willfully left out, Trump could be in violation of federal ethics laws.
"This is a big deal and unprecedented. No president has been previously subject to any referral by (Office of Government Ethics) to DOJ as a result of having failed to report an item on their public financial disclosure report," said Virginia Canter, a former ethics official in the Clinton and Obama White Houses who is now with the watchdog group Citizens for Responsibility and Ethics in Washington.
How Trump dealt with the Daniels hush money in his disclosure has been closely watched, particularly after Giuliani gave interviews earlier this month saying the president had reimbursed Cohen in a series of payments after the campaign was over. Trump and Giuliani have clashed over what the president knew and when he knew it.
In a footnote in tiny type on Page 45 of his 92-page disclosure, Trump said he reimbursed Cohen for "expenses" ranging from $100,001 to $250,000. The report said the president did not have to disclose the payment but was doing so "in the interest of transparency."
While the disclosure didn't specify the purpose of the payment, Cohen has said he paid $130,000 to Daniels in the weeks before the 2016 presidential election to keep her from going public about her allegations that she had sex with the married Trump in 2006.
Daniels' lawyer, Michael Avenatti, tweeted, "Mr. Trump's disclosure today conclusively proves that the American people were deceived."
The tweet continued: "This was NOT an accident and it was not isolated. Cover-ups should always matter."
The Trump Organization referred questions about the disclosure report to the president's lawyer Sheri Dillon of Morgan, Lewis & Bockius. Dillon didn't immediately respond to a request for comment.
The Cohen footnote appears in a report giving the first extended look at Trump's revenue from his properties since he became president. In all, Trump's vast array of assets — hotels, resorts, books, licensing deals and other business ventures — generated revenue last year of at least $453 million. The report estimated the holdings are worth at least $1.4 billion.
His Washington, D.C., hotel near the Oval Office, a magnet for diplomats and lobbyists, took in $40 million. His Doral golf course and resort in Miami took in $75 million. His Mar-a-Lago resort in Palm Beach, Florida, received $25 million, and his golf club in Bedminster, New Jersey, generated $15 million.
Some of the 12-month figures for his properties are down from his previous report, but that earlier report covered about 16 months and so it is not directly comparable.
The figures are before expenses and so give no indication of how much profit the president made off the properties.
Trump has at least $315 million in debt, about the same as he reported a year ago. One of his biggest lenders is Ladder Capital, which has lent more than $100 million. Trump owes Deutsch Bank as much as $175 million.
The debt figures are given in broad ranges in the report and capped at $50 million, so it's unclear just how much Trump actually owes. The president's tax returns would give a clear picture, but Trump has broken with tradition by refusing to make them public.
When Trump took office, he refused to fully divest from his global business, another break with presidential tradition. Instead, he put his assets in a trust controlled by his two adult sons and a senior executive. Trump can take back control of the trust at any time, and he's allowed to withdraw cash from it as he pleases.
His report shows that Trump received $64,840 from the Screen Actors Guild pension fund. Trump has appeared in several movies, including "Home Alone 2" and "Zoolander."
For operating New York's Wollman Rink in Central Park, the president took in $9.3 million.
Though it was published three decades ago, Trump's "The Art of The Deal" last year generated as much as $1 million.