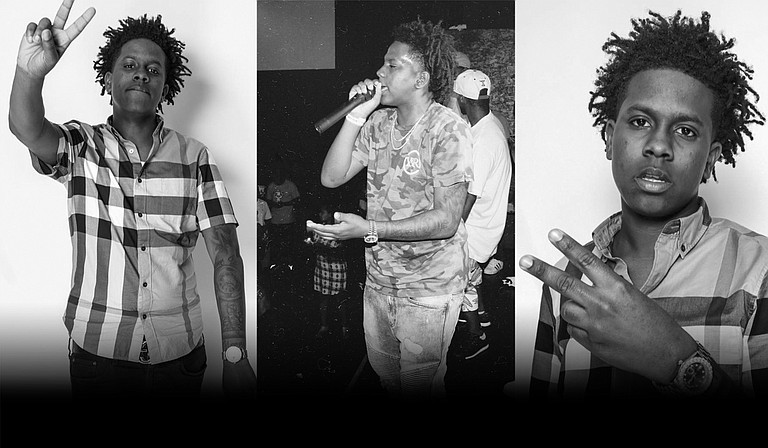 Rising hip-hop artist Lonnie "Lil Lonnie" Taylor, 22, was driving around his hometown of Jackson with a woman in the passenger's seat around 10 p.m. on April 29. Suddenly, someone fired into his car striking him with bullets, and he crashed into a home near the Medgar Evers Historic District. Taylor was dead on the scene.
The Jackson Police Department tweeted about a fatal shooting on Montebello Drive at 10:44 p.m. on April 29, and within hours the message had been retweeted hundreds of times, with floods of comments underneath expressing grief, begging for the violence in the capital city to stop and making use of the hashtag #LongLiveLilLonnie, among crying emojis and prayer hands.
Taylor grew up as the youngest of five children in the Virden Addition, then went on to Callaway High School and stayed in Jackson to further his education at Hinds Community College before transferring to Jackson State University to major in mass communications. He had amassed enough credits to be a senior at the time of his death, although JSU said he has not been enrolled since spring 2017.
While managing college coursework, he had been building up quite a portfolio of music as he collaborated with other well-known hip-hop artists like K Camp, Boosie Badazz (formerly known as Lil Boosie) and singer Bryson Tiller. People far beyond Jackson were taking note of his talent ever since his viral hit "Colors" from 2015. JPD still has not identified a motive in Taylor's death, but a lot of people in the city are chalking it up to jealousy, including Taylor's older brother.
"My heart is so cold right now!" Damasio Taylor wrote on Facebook the afternoon after Taylor had been shot. "F—cking jealous ass cowards took my lil brothers life!"
This killing didn't make sense to a lot of people. In an effort to bring about collective healing and perhaps some understanding, Taylor's community pulled together on May 3 at a park in his neighborhood to host a candlelight vigil—so long as people supplied their own personal candles. The park swelled at dusk with people who had come out to pay their respects until gunshots rang out, causing hundreds to run in various directions.
It appears that nobody was injured physically, but the grieving community remains damaged.
"Man I've been through a lot in my life but never would I feel so ashamed I am to say I'm from Jackson, Mississippi," Damasio wrote on Facebook the night after the vigil. "All my Lil Brother talked about was making Jackson a better place and (helping) others on the way. If you ever listen to his music you would hear the Pain and Passion he had for music and the city we call HOME! He didn't move to Atlanta or Go Hollywood. He remained Humble and never felt like he was a star. But thats (sic) how he was raised. He didn't rob, steal or kill to get his money. He earned it! Like every man should! My community came together for peace and closure and still ignorance tried to prevail!"
At the end of this post, Damasio asked for those he does not know not to bother him, but to please continue to pray for the city. He could not be reached for comment.
A Murderous April
The Taylor family is not the only grieving family in Jackson as of late. April 2018 has been the deadliest month of the year so far, with 12 homicides of people between the ages of 19 and 61 years old. JPD has arrested suspects in five of those cases to date. Taylor became Jackson's 32nd homicide of the year, and there have been seven more—almost four every week—since Taylor took his last breath.
On the first day of April, JPD found 22-year-old Monterris Henry in the backyard of a residence on Clinton Park Drive suffering from multiple gunshot wounds that proved to be fatal. The next day brought two murders, one on Clifton Street that left 24-year-old Eric Hawkins dead and 20-year-old Wendell Gaddis charged with murder. JPD identified 22-year-old Jedarius Raquan Robinson as the second suspect in that killing.
In the second case, JPD found 61-year-old Syrenthia Harris, a victim of an apparent burglary on Raymond Road with no signs of forced entry, lying on her floor with multiple stab wounds. One month later, police charged 21-year-old Joshua Roynellis Hannah with murder.
Responding to a shots-fired call, JPD found a 45-year-old man named Ketra Johnson in a driveway shot to death on April 6. On April 15 lawn keepers found the body of 60-year-old Montegue Kennedy near University Plaza on Woodrow Wilson. The next day, JPD found the body of 30-year-old Traci Clark on Hanging Moss Creek and Woodway Drive near Manhattan Road.
The seventh homicide of the month and 29th of the year resulted from an altercation between two women at Fuel Time on Bullard Street when 27-year-old Brittany Hilliard-Ransom allegedly shot 26-year-old April Spell in the head and killed her. JPD found a 19-year-old named Willie Clark lying unresponsive on the ground after being shot in the chest on University Boulevard on April 18.
Then nine days passed before 36-year-old Damian Z. Harris died at an area hospital. On April 27, JPD found Harris lying at the intersection of Colonial Drive and Terry Road suffering from at least one gunshot to the stomach. Police said Harris had been walking down the street with another unidentified man when he fired shots at Harris before fleeing south down Terry Road.
Two days later, Lonnie Taylor was one of three homicide victims in a 24-hour span.
On April 30, JPD reported that a mother and daughter were victims of a early-morning burglary that turned fatal. Just after 4:30 a.m. that day, officers got a call about an in-progress burglary. On the scene they found the front door of the Williams residence forced open. Jaalyn Williams, 24, ran out of the house after getting shot in the face; she survived the shooting. However, her mother, Evvie Williams, 57, also was shot and ran to a neighbor's home where she died. The suspect is an unknown, heavyset black man, and there have not been any arrests.
The final murder of April stemmed from a disagreement between cousins. JPD found 20-year-old Justin Harper lying in his front lawn suffering from multiple gunshot wounds on April 30 around 5 p.m. Harper later died, and his cousin, T'Quarius Jones, 18, was charged with his murder.
Jackson is well on pace to surpass last year's homicide count of 64 total for all of 2017 with 39 total homicides as of May 11, 2018. When Interim Police Chief Anthony Moore called a press conference at JPD headquarters on May 2, there had been 34 homicides to date in the City this year. Moore said JPD had counted a dozen more homicides between January and April 30 compared to the same timeframe in 2017.
By comparison, as of May 14 there have been 55 homicides in Washington, D.C., a city with a population over five times that of Jackson's. New Orleans has seen 66 murders as of May 14, and that city is three times more populous than Jackson.
With a handful of officers behind him, Moore had specifically called for a press gaggle to address four homicides, including Taylor's, that happened at the end of April.
Moore characterized the acts as "disturbing" and "very troubling," and promised justice.
"I just want to say that these are senseless, vicious crimes that should not have taken place," Moore said. "The public needs to know that these perpetrators, these thugs, are going to be brought to justice, no matter how long it takes for us to do so."
Based on Moore's numbers, just over a quarter of the homicides up to May 2 had been domestic-related or involved some type of argument, and approximately 12 percent involved robbery. In the remaining cases that make up over 60 percent of the homicides to that date, JPD did not know the motives. However, Moore did speculate on what he believes to be contributing factors, and some of them could rest on JPD's shoulders.
"[P]eople need to learn how to settle their differences without using violence, without using guns, without using knives—any type of weapon," Moore said.
"I believe some of these disputes are behavioral problems and people need to learn how to address these, people need to have conflict resolution."
Moore wanted the public to know that his department was "aggressively" investigating the homicides, but with the JPD trying to recruit a new class to address its dwindling numbers, he said it was "hard to say" whether or not low-officer numbers contributed to this spike in crime.
"I mean we could have thousands of officers out here," Moore said, "(but) I think sometimes when people have their minds made up that they have conflict and they want to have disagreements, things like this happen. But, again, we don't make that as an excuse. It's our job to get out here and make sure that we provide the citizens with the utmost protection that we can here in the City of Jackson."
At the time of the press conference, Moore estimated the department hovered around 345 officers, considering some resignations and retirements. There are also a handful of JPD officers out on administrative leave following three deadly officer-involved shootings this year—which also get rolled into the homicide count even though they do not get investigated the same way other homicides like Lonnie Taylor's will be.
'We Dimmed Our Own Star'
Taylor, who often performed and shot videos in the City of Jackson, did one final de facto tour through his hometown before being lowered into the ground. Taylor started off on May 4 at Westhaven Funeral Home in west Jackson, clear on the other side of town from where he had been shot. People filled the large parking lots in the front and rear to pay their respects. Visitors could not see Taylor, as he was not put out for public viewing, but they could sign a guestbook that rested next to an easel supporting a giant photo of Taylor in what appears to be a Los Angeles Lakers basketball jersey.
Security was tight with a handful of officers from the Hinds County Sheriff's Department sprinkled throughout the parking lot and standing post at the door to the funeral home as at least three other viewings took place.
The next morning, at around 10:40 a.m., the 50-car funeral procession following the hearse that held Taylor brought traffic in north Jackson to a halt just before the service was set to begin. It seemed like the whole City was riding behind that hearse.
Everything was gray on the day Taylor was laid to rest. The sky was overexposed and cloudy the morning of his funeral, as rain fell in sheets for hours.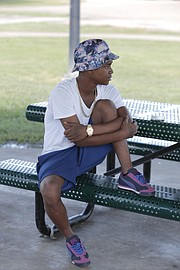 A full archive of the JFP's "Preventing Violence" series, supported by grants from the Solutions Journalism Network. Photo of Zeakyy Harrington by Imani Khayyam.
People either scurried to the awning outside the church entrance or avoided puddles as they marched underneath umbrellas up to the church. The carpet inside of Word and Worship Church was a gray tweed-like material that matched the cushioned-backed chairs and pews that nearly 500 people sat in to pay respects to the young talent on May 5.
Outfitted in an assortment of tailored suits, some too big, 6-inch heels paired with fitted dresses, and belted jeans with T-shirts bearing the invocation for Lonnie "Lil Lonnie" Taylor to "R.I.H."—or Rest in Heaven—the funeral attendees faced the altar where Taylor lay in a shiny white casket with gold trimming on the handles and borders.
Next to the casket were flower arrangements in red and black and other less vibrant colors spelling out the name of Taylor's mixtape series, "TKWGO" or "They Know What's Going On" and "SHR" for ShackHouse Records, a recording company Taylor's older brother started.
Mayor Chokwe Antar Lumumba sat on the front row and read a scripture from the Book of John in which Jesus comforted his disciples, assuring them that there would be place in Heaven for them. 
 A woman on behalf of the Taylor family expressed their gratitude and gratefulness for the love they felt during their time of bereavement.
"Whether near or far, the comfort in knowing that we are not alone means a lot," she said.
A series of pastors and religious leaders went up to the podium to give remarks between songs from the choir.
"I know hearts are heavy, minds are confused, but the God that we serve is still and strong....," said pastor Melvin Collins of St. Matthews Missionary Baptist Church. "... A life taken too soon, a young man just starting out his journey full of hopes and dreams, chasing his beautiful dreams. ... A very bright young man, very intelligent. ...Terrific in the studio while he was profound in the classroom—he is gone, but he is not forgotten."
Pastor Jeffery Stallworth, who presides over Word and Worship, encouraged those in pain to seek counseling to help with healing because wounds do not always show up right away. For a non-traditional benediction, he asked the audience to stand and applaud for Taylor's life as the pallbearers entered to retrieve the iridescent casket.
"Recognize his life right now!" Stallworth shouted, putting a staccato-like emphasis on his words.
As applause echoed off the walls and people cheered, the pallbearers returned the casket to the hearse. Lasting under an hour, the ceremony was quick and impactful—much like Taylor's life.
The rain had finally let up, but the sky remained gloomy as people returned to their cars. People gathered and exchanged hugs and pleasantries, while the members of the immediate family pulled off to pay their final respects to Taylor at a cemetery up the highway.
Terun Moore, a family friend of the Taylors, reflected on the ceremony before heading to his car.
"It's sad for the city, man, you know?" he said. "It's like a star was shining bright right over here, and we dimmed our own star, you know what I'm saying? It doesn't make sense to me. It's a sad occasion."
Not too long after Moore walked off, two people in the line of cars waiting to pull out of the parking lot started arguing. As it escalated, people poked their heads out of their cars, and some ran over to get a better idea of what was going on. One man sat in the driver's seat with his door open, and another man stood over him yelling and apparently pulled out a gun. Police officers broke up the altercation before anything escalated beyond that.
"Are you covered?" a woman standing under the carport at the front of the church asked a man dressed in all black shortly after police settled the dispute. She was asking if the man was armed. He pulled his blazer back to reveal a handgun resting in a holster. The two smiled.
"Always," he replied. The man was a retired JPD officer who spent 31 years with the force and declined to give his name. He said he does not know how the community is supposed to move forward and heal amidst the violence.
"If I had the definitive answer to it, then I could patent it and be a millionaire because it's happening in a lot of major cities, inner cities," the retired officer told the Jackson Free Press. "It happens a lot when you have cities where there are not a lot of opportunities for people. It just seems that it's a recurring theme."
'I Had a Vision'
Taylor's music videos leave no question that he made an effort to represent Jackson in his music. The music video for his song "Make a Way" opens with Taylor narrating his views about the City as images of an Interstate 55 highway sign, intersections throughout north Jackson and the quintessential single-story rancher homes throughout the City flash across the screen.
"I come from a small city—north Jackson to be exact," Taylor says in "Make a Way."
"Don't too many people make it out where I'm from, see, Jackson it's like every major city: it's infested with drugs, different sides divided by territories and acts of retaliation.
"I lost my mom at an early age, so I grew up in a single-father home in one of the worst neighborhoods in the City. And we ain't have much, but I knew I wanted better for myself and my family. I went and put in overtime to hustling, to putting in money for studio time, to grinding, getting paid to do shows from Gulfport to Milwaukee. I didn't have much, but I had a vision."
Some of Taylor's videos have millions of views like his 2015 hit "Colors" with 8.4 million and "Right Now" with 1.4 million. In both of those songs, he talks about staying focused on making money without falling victim to distractions like girls or jealous Jacksonians.
In the song "Right Now," Taylor says, "I gotta make this sh—t here straight right now. I know they don't wanna see a young n—gga make it out. I know what time it is, and it's mine right now."
During an introductory skit before the "No Friends" music video in which he gets set up and later arrested, Taylor says: "They say it's always a n—gga you know, a n—gga you grew up with. A friend who in the end becomes your enemy—you kind of can see it coming sometimes..."
As he is being escorted from a home in handcuffs, 
Taylor croons out the lyrics, "Them n—ggas hate me when they see that I'm the man. ... My daddy told me, son, you don't got no friends—no friends in the dirty game."
Violence is prevalent in several of Taylor's lyrics and videos, as are quintessential Jackson scenes, perhaps drawing the connection between two things Taylor has said are interwoven in his experience here. Two years ago, Taylor told the JFP that he grew up around gang violence, but that he tried to balance positive aspects in his music with the reality of what he faced growing up.
"I talk about street stuff because I am from the 'hood, but at the same time, most of my music is more motivational," Taylor told the Jackson Free Press then. "When you are coming from the 'hood, I want you to know (there are) better things to do, better ways to be."
Now, without the 22-year-old rapper to offer a beam of hope that it is possible to escape the grips of inner-city Jackson, many feel lost.
'His Mind and His Hustle'
Outside Jackson City Hall on May 1, two days after Taylor was killed, two to three dozen people arrived outside the government building, some across the street from it, others shyly hanging back near the sidewalk.
City hall employees came to the door, pressing their foreheads against the glass window, peering out in confusion. People had gotten word to gather in front of the building that afternoon at 1 p.m. in honor of Lil Lonnie, but nobody emerged as the organizer.
Mayor Lumumba walked by and told reporters that someone asked for a podium, and that's why the City's official mobile dais stood at the base of the stairs. Lumumba went out to shake hands with some of the young people before he made some remarks, beginning with a moment of silence for Lil Lonnie and all the individuals who had lost their lives in the past days, months and year in Jackson.
"I'd like to express my gratitude for each and everyone of you young people being here today to address the issue of violence in our city," the mayor said following the brief silence. He talked about the need for collective effort to address crime, and the inability for the City to "out-police" crime, as he often says.
"I want to make it clear how proud I am of each and every one of you that you would show your face today in order to express your concern about the violence going on in Jackson," he said. "So I ask that you leave from this gathering even more on the issue of crime because you can hold people accountable much more than a police force, much more than the City itself can hold people accountable."
Lumumba told the crowd to demand that people have sanctity and respect for life, and emphasized the importance of recognizing that young people in Jackson suffer from problems like Post Traumatic Stress Disorder.
When the mayor left for another engagement, a City worker wheeled the podium away.
In a way, the press conference without a leader served as a larger representation of a City lost for next steps in how to recover from losing Taylor, as well as the violent homicides that took place in the time after he passed.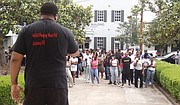 Lee Vance III, son of former police chief Lee Vance, owns Josephine's Kitchen not far from where Taylor's funeral was held. He spoke after the mayor using a microphone attached to the local radio station 97.7's speakers they had set up in the grass outside.
"It's about the City as whole, man, and us being tired of not being safe in our own City," Vance said. "You can't celebrate nowhere without looking over your shoulder. You can't even buy yourself nice things before folks getting jealous. Jealousy is a real, real, real disease." He added that he believes that Jackson is strong enough to come together.
Robert Walker, a radio personality who goes by "Mista Maine" on 97.7, said that he did one of the first interviews with Taylor.
"He was so young, but his mind and his hustle about himself, his motivation about himself was unmatched," Walker told the Jackson Free Press. "That's why a lot of people seen that and got behind him, and a lot of kids got behind him especially from where he's coming from. Coming up like that having an education, he pretty much defeated all the odds of being a black child, and it showed."
Walker admired that Taylor did not "cheat the grind," and acted as an example to kids who think that things come easy and fast. He said he found out via Instagram and text messages that Taylor had passed and, as he scrolled, he said it sunk in just how young he was, Walker said.
Then Walker reflected on the damage Taylor's death did for Jackson's young people.
"Knowing how many kids he touched ... what are they going to feel like? Who are they going to look up to now? What other artists out there are doing it the way he's doing it, the right way? It's kind of like a lost hope for the kids. They're looking lost more than anybody right now because that was their hometown hero died, got killed and taken away from (them)."

Email city reporter Ko Bragg at [email protected] and read about violence causes and potential solutions at 
jfp.ms/preventingviolence. Twitter: @keaux_.