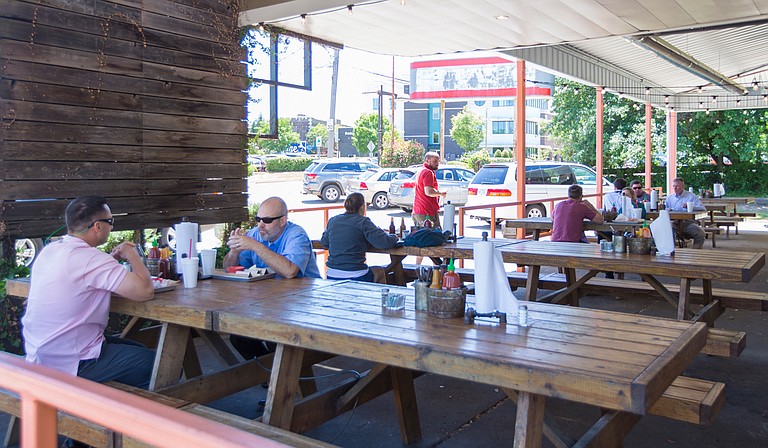 This month, the Food Network selected the fried bologna sandwich at The Pig & Pint (3139 N. State St.) as the best breakfast sandwich in Mississippi as part of a feature showcasing the dish in all 50 states.
The Pig & Pint makes the sandwich with thick-cut, made-in-house smoked bologna topped with an over-easy fried egg, American cheese, comeback dressing and bread-and-butter pickles on a brioche bun.
Food Network's feature isn't the only honor the restaurant has received this year. The Pig & Pint also won the Best Barbecue and Best Pub Quiz categories in the Best of Jackson awards.
The restaurant is open Monday through Saturday from 11 a.m. to 9 p.m. View the full best breakfast sandwiches list here. For more information, call 601-724-2359 or visit pigandpint.com.
Mississippi Arts + Entertainment Experience Opens
The Mississippi Arts + Entertainment Experience (2155 Front St., Meridian), an art museum that highlights artists in the Magnolia State, opened to the public with a ribbon cutting ceremony on April 28. The MAX is a two-story, 60,000-square-foot space that features interactive audio and video stories on influential Mississippi artists.
The museum divides its exhibits into categories such as Land, Home, Community, Global Community, Church and People + Places. The facility also houses the Mississippi Arts + Entertainment Hall of Fame, a gift shop, an outdoor stage, a broadcasting studio and an art studio.
The Walk of Fame, a Mississippi-focused version of the famous installation in Hollywood, also goes to the MAX from its starting point at Mississippi State University's Riley Center. The walk has stars honoring Mississippi legends such as Elvis Presley, Jimmie Rodgers, B.B. King, William Faulkner, Morgan Freeman, Walter Inglis Anderson, Hartley Peavey and Sela Ward.
The Mississippi Arts + Entertainment Experience is open Tuesday through Saturday from 9 a.m. to 5 p.m. and Sunday from 11 a.m. to 5 p.m. Tickets are $14 for adults, $12 for students, senior and active military, $8 for children ages 6 to 17, and free for children ages 5 and under. For more information, call 601-581-1550 or visit msarts.org.
Facebook Bringing Community Boost Program to Jackson
In honor of National Small Business Week, Facebook announced on May 3 that Jackson would be one of 30 cities nationwide where the company will host its Community Boost program.
The initiative, which already held events in Houston, Albuquerque, N.M., and St. Louis in March and April, provides in-person training on digital skills for people in need of work, entrepreneurs looking to start a new venture, and local businesses and nonprofits looking to make better use of the Internet. Facebook representatives will visit Jackson Sept. 18-19.
The social-media platform has invested more than $1 billion since 2011 to support small businesses and entrepreneurs through programs such as Community Boost, Boost Your Business, a free online learning hub called Blueprint, and a digital marketing curriculum. Learn more about Community Boost here or here.
Facebook recently faced public scrutiny for its part in a data scandal with Cambridge Analytica, a now-defunct political consulting company that obtained data from about 50 million Facebook users without their consent. The firm then used that data to create psychological analyses and target individuals to affect the course of political campaigns.