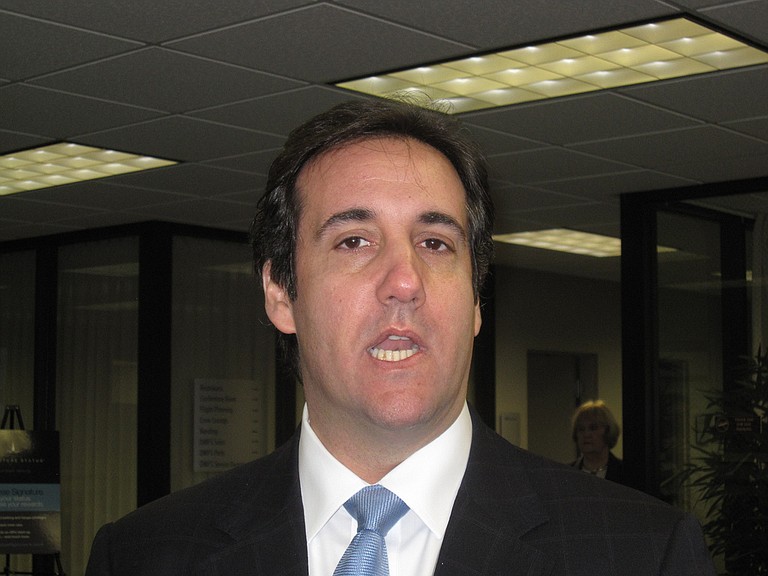 WASHINGTON (AP) — Stormy Daniels' lawyer says he has information showing that President Donald Trump's longtime personal attorney received $500,000 from a company associated with a Russian billionaire within months of paying hush money to the porn star who claims a long-ago affair with Trump.
Lawyer Michael Avenatti also said hundreds of thousands of dollars streamed into Trump attorney Michael Cohen's account from companies, including pharmaceutical giant Novartis, AT&T and Korea Aerospace, with U.S. government business interests. Those three companies have confirmed the connection.
Avenatti isn't disclosing the source of his information or releasing documentation. But in a seven-page memo, Avenatti details what he says were wire transfers into and out of the account Cohen used to pay Daniels $130,000 in October 2016 to stay silent about her alleged tryst with Trump in 2006. He denies having an affair with Daniels, whose real name is Stephanie Clifford.
Financial documents reviewed Tuesday by The Associated Press appeared to back up Avenatti's report.
The memo says Viktor Vekselberg, a Russian billionaire, and his cousin "routed" eight payments totaling approximately $500,000 to Cohen's company, Essential Consultants, between January and August 2017. The reason for the payments was not immediately known.
Avenatti's memo says the deposits into the account controlled by Cohen were made by Columbus Nova, an American investment company headed by Vekselberg's cousin, Andrew Intrater, and affiliated with the Renova Group, which Vekselberg controls.
Andrey Shtorkh, a spokesman for Vekselberg and the Renova Group, said in a statement that "neither Victor Vekselberg nor Renova has ever had any contractual relationship" with Cohen or Essential Consultants.
He said questions about a relationship between Columbus Nova and Cohen would have to be answered by Intrater "because Columbus Nova is a company owned and managed by him."
Columbus Nova's lawyer, Richard Owens, said in a statement the company is "solely owned and controlled by Americans." He said that after Trump's inauguration in January 2017, the company hired Cohen as a business consultant "regarding potential sources of capital and potential investments in real estate and other ventures," but that it had nothing to do with Vekselberg.
"Neither Viktor Vekselberg nor anyone else, other than Columbus Nova's owners, were involved in the decision to hire Cohen or provided funding for his engagement," he said.
Cohen and his lawyer did not immediately respond to requests for comment. Cohen is under investigation by federal prosecutors in New York, but hasn't been charged.
At the time of the payments, there was an FBI counterintelligence investigation, which special counsel Robert Mueller took over last May, into Russian election interference and any possible coordination with Trump associates.
Vekselberg was targeted for U.S. sanctions by the Trump administration last month. He built his fortune, currently estimated by Forbes at $14.6 billion, by investing in the aluminum and oil industries. More recently, he has expanded his assets to include industrial equipment and high technology.
Eric Althoff, a spokesman for Novartis, a multinational pharmaceutical company, said it entered into a one-year agreement with Essential Consultants in February 2017 to focus on health care policy. He said Novartis was contacted that November by lawyers from Mueller's office regarding the company's agreement with Essential Consultants, which expired this year.
"Novartis cooperated fully with the special counsel's office and provided all the information requested," Althoff said. "Novartis considers this matter closed as to itself and is not aware of any outstanding questions regarding the agreement."
AT&T said in a statement that Essential Consultants was one of several firms it "engaged in early 2017 to provide insights into understanding the new administration."
Avenatti alleged that the company made four $50,000 payments to Cohen totaling $200,000 in late 2017 and early 2018.
AT&T said Cohen's company "did no legal or lobbying work for us, and the contract ended in December 2017." Cohen is not a registered lobbyist, according to public records.
Such a confidential relationship would not violate federal lobbying laws if Cohen did not seek to influence Trump on the companies' behalf. But hiring the president's personal attorney for advice on how to woo Trump would be highly unusual, especially given that Cohen was never formally involved in the campaign or Trump's administration.
Making the arrangement even stranger, the blue chip companies' payments to Cohen were routed to Essential Consultants, the company Cohen used to buy Daniels' silence about her alleged affair with Trump.
Trump's Justice Department has sued to block AT&T from an $85 billion merger with Time Warner, saying it would hurt competition and consumers would have to pay more to watch their favorite shows.
Korea Aerospace, which is alleged to have paid Cohen $150,000 in November 2017, confirmed it paid Cohen's company for a business deal.
A company spokesman in Seoul, who declined to be named citing office rules, said Korea Aerospace Industries had a contract with Essential Consultants for legal advice on accounting standards. The payment was made under a "legal" deal between the two, said the spokesperson, who refused to answer questions about the size or dates of any payments.
The Avenatti memo alleges the company paid Cohen $399,920 in late 2017 and early 2018 in four payments — each amounting to $99,980.
Trump had dinner with Novartis' soon-to-be CEO Vasant Narasimhan, along with other European executives, at the World Economic Forum in Davos shortly after the date of the final payment.
Larry Noble, senior director of the Campaign Legal Center, said there's nothing technically wrong with companies like Novartis and AT&T hiring people like Cohen to provide insight into the president's thinking. But he said the arrangement described by Avenatti "certainly doesn't look good."
"Why would you go to the president's private fixer?" he asked. "He's not known for policy and he's not in the administration. You're going to someone who can get you access and tell you about the person of the president. That's unusual."