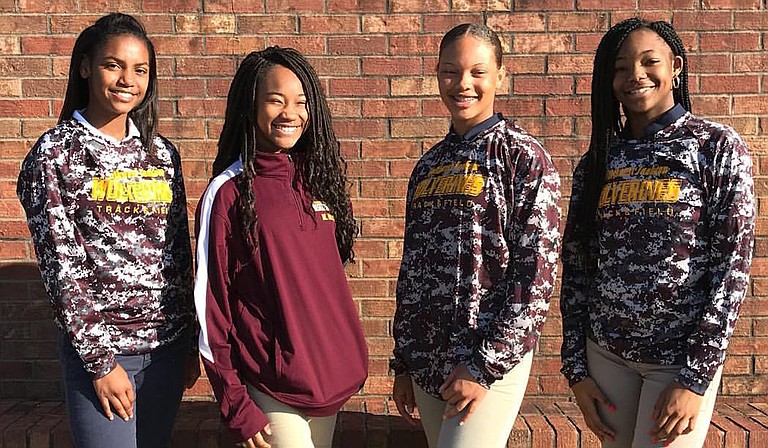 Mississippi track-and-field athletes have been no strangers to success at every level of the sport. Our state has produced several greats, including Ralph Boston, Calvin Smith, Roy Cochran and Willye White, who all medaled at various Olympic games during their careers.
In recent years, women track-and-field athletes from Mississippi have shone at the Olympics. Brittney Reese, Bianca Knight and Tori Bowie have taken home medals the last two times the games took place.
Those results give plenty of hope that more Mississippi stars will take the spotlight in the next few years, and the girls track team at Northwest Jackson IB Middle School has been evidence of that.
Northwest's girls team took home the 2018 Jackson Public School Middle School Track and Field Championship on April 11, winning the trophy and setting records along the way.
The Wolverines' 4x100 girls relay team, which consists of Mylani Galbreath, Jada Cavett, McKinley Washington and Raylin Dixon, won the event in 51.11 seconds. That blistering time crushed the previous state middle-school record of 52.26 seconds and just nipped the previous national record of 51.16 seconds.
"Our coach, Juan Smith, told us the time we needed to break the state record," Dixon, who ran the fourth leg, or anchor leg, told the Jackson Free Press. "All four of us put our minds to breaking the state record this year."
The 14-year-old eighth-grader says she and her teammates learned that they set a new state record at the meet, and the next day, Smith told them that they also now own the national record.
"I felt good at the meet and knew we ran a good time," Dixon says. "We were surprised that we had set the national record as well."
Dixon and her team also won the 4x200 relay at the Jackson Public Schools Middle School Track and Field Championship, and she sprinted to second place in the 200-meter, though teammate Galbreath defeated her.
When she isn't setting records on the track, Dixon plays forward for the Northwest soccer team. She is a member of the International Futbol Club of Mississippi as a forward and defense for the IFC 02/03 Girls Grey. She is also a member of the National Junior Honor Society.
She says that she spends the majority of her free time studying and working in her favorite subject, math, but also enjoys volunteering at Stewpot Community Services, serving food and working with the children's program.
Next year, Dixon will attend Brandon High School as a freshman and start looking toward attending college.
"I hope, wherever I decide to go, I can continue as an athlete," she says.