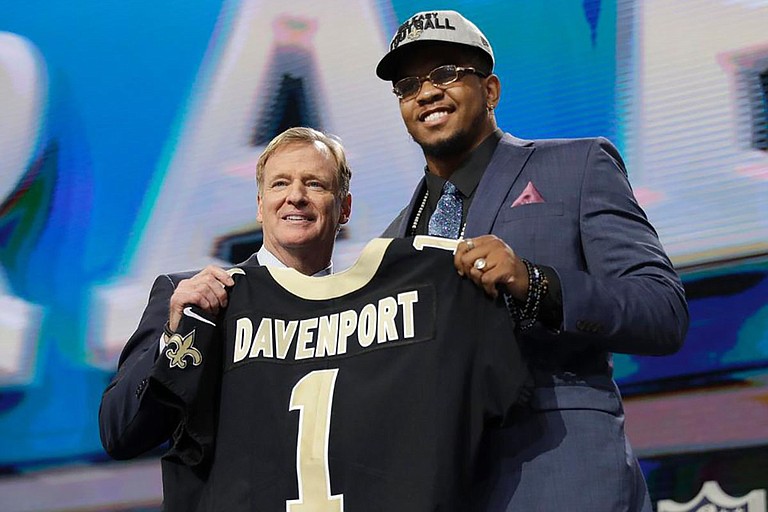 Time will tell if the New Orleans Saints made a good or bad trade in the 2018 NFL Draft. The Saints jumped up 13 spots in the first round when it made a trade with the Green Bay Packers.
The team moved from the 27th pick to the 14th pick so it could draft University of Texas-San Antonio defensive end Marcus Davenport. New Orleans gave the Packers the 27th pick in the first round and the 147th pick in the fifth round in the 2018 NFL Draft, and also the Saints' first-round pick of the 2019 draft.
Davenport was a three-sport star at Stevens High School in San Antonio, Texas, as he excelled in football, basketball, and track and field. As a senior, he recorded 73 tackles, 10 tackles for a loss, six sacks and six pass breakups.
Besides UTSA, University of Nevada-Las Vegas, University of Texas-El Paso and the University of New Mexico were the only FBS teams to offer Davenport a scholarship, with the lack of interest from bigger schools stemming from his small weight at 198 pounds.
Since Davenport left high school near 240 pounds, other FBS schools did not spend much time recruiting him. The defensive end decided to stay at home and play for a school that didn't play a football game until 2011.
College-football stardom didn't come early for Davenport. As a freshman he played in 11 games, making only 14 tackles and three sacks, and missed the season finale against the University of North Texas.
As a sophomore in 2015, things started to change. He played in 11 games, though he missed the one against Colorado State University, but still recorded 49 tackles, 30 solo tackles, 7.5 tackles for a loss, four sacks, four quarterback hurries, three pass breakups and two forced fumbles. His play earned him Honorable Mention All-Conference USA honors.
Davenport continued to improve as a junior in 2016, as he earned Second Team All-CUSA honors while racking up 68 tackles, 31 solo tackles, 10 tackles for a loss, eight quarterback hurries, 6.5 sacks, and a forced fumble while making 12 starts and playing in all 13 games. He gained national attention with his career-best 11 tackles, 1.5 tackles for a loss and a forced fumble against Texas A&M University.
Heading into his senior season, Davenport had bulked up to 255 pounds as he started to fill out his 6-foot, 6-inch frame. He had his best season as a senior with the Roadrunners when he recorded 55 tackles, 17.5 tackles for a loss, 8.5 sacks, eight quarterback hurries, four pass breakups, three forced fumbles and a fumble returned for a touchdown.
Davenport was named C-USA Defensive Player of the Year and left the school as all-time leader in tackles for a loss (38), sacks (22) and quarterback hurries (21). He was the first UTSA player ever to be invited to the Reese's Senior Bowl.
While there, the future first-round pick struggled in practice against other top college players. Game day was completely different, as he sacked future top pick Baker Mayfield on the first series of the game. Later he forced University of Nebraska quarterback Tanner Lee, drafted by the Jacksonville Jaguars, to throw an interception and found time to return a fumble for a touchdown.
Davenport became just the second Roadrunner to be invited to the NFL Combine, where he dazzled in the workouts and had bulked up to 264 pounds. He posted 22 reps on the 225 bench press, 1.63 on the 10-yard split and 4.58 in the 40-yard dash. Those numbers compare favorably to former first overall pick Jadeveon Clowney.
When the Saints selected Davenport, the franchise made him just the second player drafted from UTSA, with David Morgan II begin the first player in school history to be drafted. The Saints hope that Davenport becomes a force along side star Cam Jordan.
New Orleans' selection of Davenport led many to downgrade the Saints draft, believing the team gave up too much for a raw pass rusher. But if he is the missing piece to another Super Bowl title, then the Saints got a steal on draft day.
The team made six other selections, taking University of Central Florida wide receiver Tre'quan Smith with the 91st pick in the third round, Florida State University offensive tackle Rick Leonard with the 127th pick in the fourth round, University of Wisconsin safety Natrell Jamerson with the 164th pick in the fifth round, Boston College cornerback Kamrin Moore with the 189th pick in the sixth round, Louisiana Tech University running back Boston Scott with the 201st pick in the sixth round, and Louisiana State University center Will Clapp with the 245th pick in the seventh round.
More like this story