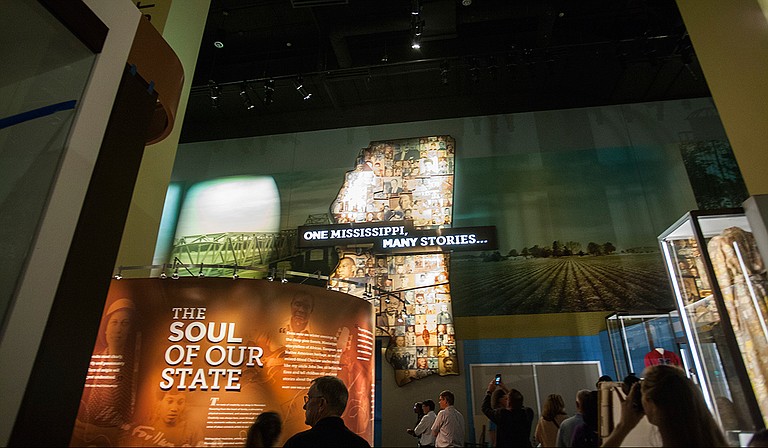 JACKSON — It was amazing that the birthday sheet cake did not melt this morning during a ceremony on the plaza outside the Mississippi Civil Rights Museum and Museum of Mississippi History. Entergy Mississippi Inc. is celebrating its 95th anniversary with a company donation of $25,000 to the pair of museums that will make admission free for the first 95 attendees every day in May.
"We're celebrating 95 years of history—we have been in existence for almost half of our state's life. So, while we celebrate that history, what better place to celebrate than at these two wonderful treasures?" Haley Fisackerly, president and CEO of Entergy Mississippi, told the Jackson Free Press.
In 2014, Entergy donated $1 million to the 2 Mississippi Museums project while it was still in its fundraising stage. Fisackerly said it is important for his company to keep promoting the museum and to help people who might not otherwise be able to afford entry fees.
"We've done a lot of things to help support free access," Fisackerly told the JFP. "It's so important that we learn from history. There's an old saying that goes if you don't learn from history, you're apt to repeat it. So we've got to get out and tell these stories—the good and the bad—and let people understand it, and learn from it, and grow from it."
During Fisackerly's remarks, he listed examples of how Entergy and electricity have been responsible for quite literally powering historic moments in the state's history: a fan cooling off Muddy Waters as he learned guitar in the Mississippi Delta; stadium lights for Walter Payton as he launched a hall-of-fame career; an air-conditioned auditorium where Medgar Evers organized boycotts; and a desk light for Eudora Welty.
Katie Blount, director of the Mississippi Department of Archives and History, said that on average, 1,500 people visit the two museums every day, with 135,000 visitors since it opened in December 2017. Blount said donors that sponsor free days help them hit those numbers. In a statement, she said that the museums have had no stronger partner than Fisackerly and Entergy.
"Bringing people into the two museums is the most important thing we can do now since we opened, and into the future," Blount told the JFP. "We are very grateful to Entergy for helping us do that. ... I know that people will appreciate that, and I know there will be people who come who may not have been able to otherwise. That is a wonderful gift to the people of Mississippi."
Email city reporter Ko Bragg [email protected] and follow her on twitter @keaux_.
CORRECTION: A previous version of this story characterized Haley Fisackerly as the president and CEO of Entergy, when holds that title for the Mississippi entity.