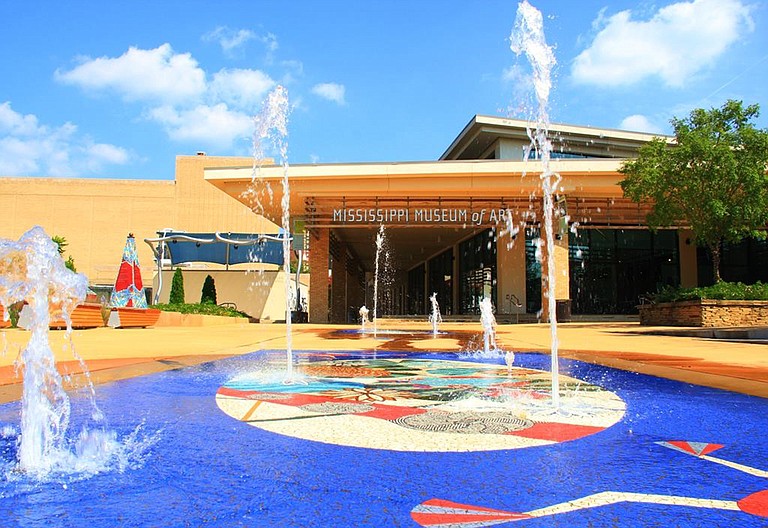 This week, the Mississippi Museum of Art this week announced nine new contemporary-art acquisitions that it is adding to its collection as part of its Center for Art & Public Exchange initiative that it launched with the W.K. Kellogg Foundation in November 2017. CAPE aims to use art, exhibitions and programs to spark conversations about contemporary issues such as race and gender equity in Mississippi.
Four of the acquisitions—Benny Andrews' "Mississippi River Bank," Jeffrey Gibson's "Sharecropper," McArthur Binion's "DNA: Black Painting: IV" and Noah Saterstrom's "Road to Shubuta"—are on view now through July 8 this year as part of the museum's bicentennial exhibit, "Picturing Mississippi, 1817-2017: Land of Plenty, Pain, and Promise."
Hank Willis Thomas' "Flying Geese" is also on view through July 8 in The William B. and Isabel R. McCarty Foundation Gallery. Thomas' display includes a visitor engagement space where museum staff will teach visitors how to use Thomas' techniques to reframe reproductions of photography from the museum's collection.
For more information, call the Mississippi Museum of Art at 601-960-1515, or visit museumcape.org or msmuseumart.org.
Cultivation Food Hall at The District at Eastover
Last week, The District at Eastover announced the first four vendors for its Cultivation Food Hall, which will open this summer. A food hall is a large section of a retail site such as a department store that is dedicated to selling artisanal and boutique-style foods. Eastover Market is a joint development with New Orleans-based St. Roch Market, which opened in 2014.
The four vendors are Fete au Fete StrEATery, Local Honey, Poké Stop and Whisk, a crêperie by La Brioche. The food hall will include four other vendors by the time it opens, as well as a cocktail bar.
Fete au Fete StrEATery will serve southern comfort food such as muffulettas, shrimp and grits with house-made sausage and poached eggs, crawfish poutine and more. New Orleans native Micah Martello, who operates a restaurant called King Creole in St. Roch Market, is the owner of both Fete au Fete and Local Honey. Local Honey will serve dishes such as salads, steel cut oats, quinoa bowls, smoothies and avocado toast.
California native Rachel Phuong Le owns Poké Stop, a sushi restaurant that will allow guests to customize a sushi roll in a bowl.
Whisk, a crêperie by La Brioche, will serve savory crêpes for breakfast, lunch and dinner, featuring wraps made with gluten-free buckwheat flour and filled with ingredients such as ham and Gruyere, prosciutto with figs, arugula and balsamic vinegar, and more. Whisk will also serve fruit-filled sweet crêpes with toppings such as La Brioche's own artisanal gelato, and a selection of the patisserie's most popular desserts.
Cultivation Food Hall is an 8,000-square-foot space on the ground floor of the BankPlus Building. The food hall will have both indoor and outdoor seating, and a dedicated event space. For more information, visit cultivationfoodhall.com.
Ribbon Cutting for Si Senhor Restaurant
Mexican restaurant Si Senhor (6376 Ridgewood Ct. Dr.) held a ribbon cutting on Monday, April 16.
Si Senhor offers weekly specials from Sunday to Thursday, including $7 beer pitchers on Sunday, $9.95 char-grilled steak or chicken fajitas on Monday, 99-cent beef or chicken tacos on Tuesday, $2.49 well drinks on Wednesday, and bucket specials of five domestic beers for $10 or five imported beers for $15. The restaurant also has two-for-one margaritas for $6.99, draft beers for $1.99 and 16-inch Mexican, cheese, Hawaiian or pepperoni pizzas for $9.95 Sunday through Thursday.
For more information, call 769-208-8092 or visit Si Senhor's Facebook page.