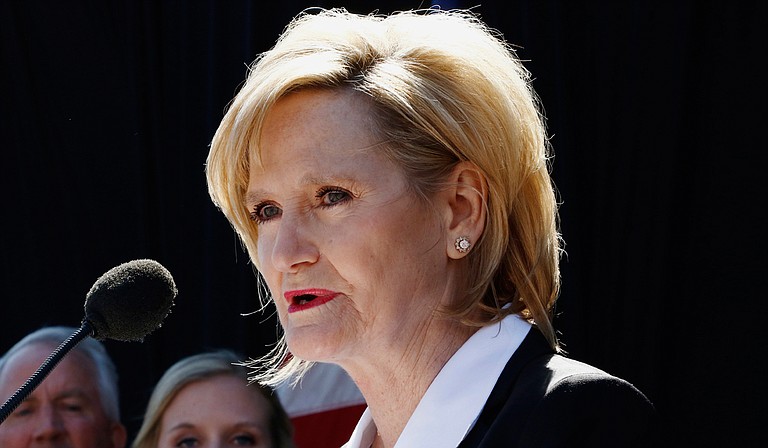 JACKSON — Gov. Phil Bryant made history on Wednesday, March 21, when he named Cindy Hyde-Smith to take Sen. Thad Cochran's seat, which he will vacate on April 1. Mississippi has never sent a woman to Congress.
Bryant's choice did not come without raised eyebrows and silence from the White House, however. President Donald Trump, who was quick to tweet his support of Sen. Roger Wicker after popular Tea Party challenger Sen. Chris McDaniel announced he was running against him—before McDaniel switched races to run for Cochran's seat—has been silent on the matter thus far.
Politico reported that the White House opposes the nomination, saying that officials believe Hyde-Smith's history of party-switching from the Democratic Party to the GOP weakens her odds against McDaniel in a special election in November. She switched parties in 2010 when she was a Mississippi senator.
Some conservative Republicans are also wary of Bryant's choice, and in an editorial, the Madison Journal called on willing and qualified candidates to run against Hyde-Smith.
"What a legacy for Gov. Bryant if Hyde-Smith loses—presuming she runs. Maybe there is some grand plan?" the newspaper wrote. "In the absence of one, we have one: Calling all willing and qualified candidates! The GOP needs you. Mississippi needs you! American needs you in November! Our Republic hangs in the balance." James Prince III is the president and publisher of the Journal, as well as the Neshoba Democrat in Philadelphia, Miss.
Lucien Smith, chairman of the Mississippi GOP, released a statement on Wednesday in support of Hyde-Smith, and the governor defended his choice that day.
"You know, Ronald Reagan once left the Democratic Party and became a Republican, so I'm not concerned about that at all. If you look at the Mississippi Legislature, I think probably in the last eight to 10 years, about 70 Democrats have switched parties. I thought we celebrated that," he said Wednesday, March 23, at the University of Mississippi Medical Center, where a new building was named in Bryant's honor.
"She's got a conservative record throughout her life. I'm very proud of her. I think she's going to make an excellent United States senator, and we are making history today," Bryant continued.
The governor declined to elaborate on any conversations he had with the White House about appointing people. He said that while going through the selection process, he had to find someone who was willing to move to Washington, D.C., and is prepared to leave his or her home.
"[S]ome said, 'I just cannot do that.' I couldn't move to Washington. I was one of them. I was one that a lot of people were encouraging to take that job, and circumstances in my life right now would not allow me to do that," he said.
The special election to replace Cochran is unique. While candidates can run with party affiliations, they will not be listed as "R" or "D" on the ballot. Also, there is no primary election for Cochran's seat, unlike the rest of the congressional elections this year.
So far, McDaniel, who said he was switching races after Cochran's retirement announcement, began the party-switching rhetoric against Hyde-Smith as soon as Bryant nominated her on Wednesday.
"Before Commissioner Hyde-Smith was elected to lead the department of Agriculture, her only legislative experience was that of a Democrat. She ran as a Democrat. She served as a Democrat. She voted like a Democrat. Although her reputation in Jackson was that of a moderate Democrat, the last thing the state of Mississippi needs in Washington is another moderate Democrat," McDaniel said in a statement on his campaign website.
Hyde-Smith placed third in polling data from National Republican Senatorial Committee, Politico reported, behind McDaniel and probable Democratic candidate Mike Espy.
Candidates who wish to run for Cochran's seat will have to qualify for the election at a date Bryant will set after April 1.
Email state reporter Arielle Dreher at [email protected].