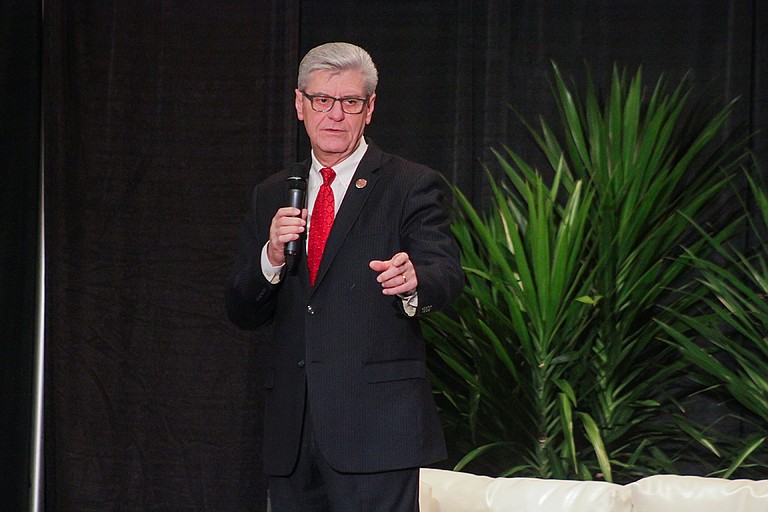 JACKSON, Miss. (AP) — Mississippi's Republican governor said Thursday that his decision about appointing a new U.S. senator won't be influenced by Senate Majority Leader Mitch McConnell or other GOP leaders in Washington, but he believes his appointee will receive campaign help from the president and vice president.
"This decision will be mine and mine alone. No one from the outside, no one from 'the swamp' or outside world or Mars or Jupiter is going to come here and try to tell me," Gov. Phil Bryant told reporters at the state Capitol. "I'm going to make this decision for what I think is the best and highest purpose for the people of the state of Mississippi."
Republicans are trying to maintain their slim Senate majority, including both seats in strongly conservative Mississippi.
"I think it would be very likely that the president would support whomever is selected here in Mississippi — and the vice president," Bryant said.
The governor also said definitively that he won't appoint state lawmaker Chris McDaniel to succeed longtime Sen. Thad Cochran, 80, who's resigning April 1 because of poor health.
"He is not on the list," Bryant said when asked if McDaniel is among those he is considering.
Bryant said he expects to appoint a senator before April 1 so the person can start campaigning. He had previously said he would make the appointment in early to mid-April.
McDaniel narrowly lost to Cochran in an ugly 2014 Republican primary. In a separate interview Thursday at the Mississippi Capitol, McDaniel said he believes McConnell is trying to influence Bryant's selection of someone to temporarily fill Cochran's seat until a special election is held in November.
"The people of our state recognize that Washington's broken. They recognize there's this disconnect between Washington and the people of our state," McDaniel said. "And so, to see Mitch McConnell down here, bringing the swamp to Mississippi, cutting deals and schemes — for goodness' sakes, even the timing of Sen. Cochran's resignation was timed specifically so I would not jump in that race."
March 1 was Mississippi candidates' deadline to qualify for a regularly scheduled Senate race in which Republican Roger Wicker is seeking re-election. McDaniel announced Feb. 28 that he would challenge Wicker, and Cochran announced March 5 that he intends to leave the Senate.
McDaniel announced Wednesday that he's dropping out of the June 5 primary against Wicker and jumping into the special election to fill the final two years of Cochran's term.
The special election for Cochran's seat will have at least three candidates — whomever Bryant appoints to temporarily fil the job; McDaniel; and Mike Espy, a Democrat who served as President Bill Clinton's first secretary of agriculture. The qualifying deadline is not yet set.
Candidates appear without party labels on Mississippi special election ballots, but they usually tell voters their political affiliation.
McDaniel said Thursday that Republicans should unite behind him, but he stopped short of saying whether he would support Wicker.
"The better question is if Roger Wicker is going to endorse me. If he does, we can talk," McDaniel said. "I doubt that is going to happen."
McDaniel's campaign sent a fundraising email Thursday saying he was running against "McConnell puppet Roger Wicker." He said he didn't know why that was sent after he announced he wouldn't challenge Wicker.