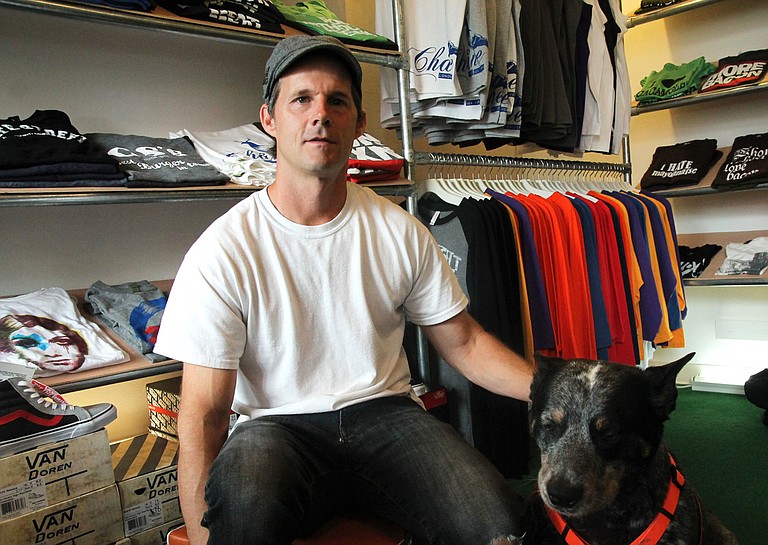 Ron Chane, owner of Swell-O-Phonic, Studio Chane and The Wonder Lab, is celebrating the 20th anniversary of Swell's opening with a series of events all week leading up to Saturday, March 17.
Throughout the week, the store will have a sidewalk sale featuring shoes, pants, T-shirts and more for $5 to $25. On Wednesday, March 14, Swell will also host "First Dibs," in which customers can pay a $100 buy-in to receive a $100 gift card and 40 percent off all items in the store for card-buyers after 6 p.m. Customers can purchase the card now through Wednesday at 5 p.m.
Swell-O-Phonic (2906 N. State St.) will also hold giveaways for buttons, drink koozies, T-shirts and other merchandise all week, with more events and deals to be announced. For more information, call 601-981-3547 or visit the store's Facebook page.
Spring Market at Mississippi Trade Mart
The Mississippi Trade Mart (1200 Mississippi St.) will host the eighth annual Spring Market from March 23 to March 25. The event will feature 125 merchants from around the country offering boutique-style merchandise including jewelry, art, clothing, accessories, home decor and more.
Spring Market also features a variety of events, including "Market Madness," where attendees will receive 10 percent off purchases from select vendors from 9 a.m. to noon on Friday, March 23. On Friday night from 5 p.m. to 8 p.m., "Cupcakes & Cocktails" will feature complimentary drinks and a cupcake, as well as a souvenir Spring Market wine glass. There will also be a silent auction that evening from 5 p.m. to 7 p.m. featuring donated items from the merchants, with proceeds benefitting Community Animal Rescue and Adoption.
"Muffins & Mimosas" will be on Saturday, March 24, from 9 a.m. to noon, and attendees will receive a free muffin and mimosas in a souvenir cup. On Sunday, March 25, there will be a second "Market Madness" event from 2 p.m. to 5 p.m. Visitors can also bring their children for photos with the Easter Bunny from 1 p.m. to 4 p.m.
The event will also feature catfish and chicken for sale from Penn's Restaurant at the Spring Market Cafe, door prizes and free photo booths on all three days.
Spring Market is March 23 from 9 a.m. to 8 p.m., March 24 from 9 a.m. to 6 p.m. and Sunday from 11 a.m. to 5 p.m. General admission is $10 for a one-day pass or $15 for a three-day pass. Admission to "Cupcakes & Cocktails" and "Muffins & Mimosas" is $20 per event. There is no cover charge for children ages 12 and under. For more information, visit themarketshows.com.
Fair Commission Breaks Ground on New Mississippi Trade Mart
The Mississippi Fair Commission held a groundbreaking ceremony for the new Mississippi Trade Mart on Thursday, March 8. The state Legislature authorized $30 million to build the new Trade Mart and to make improvements to the Mississippi Fairgrounds.
Jackson architectural firm Wier Boerner Allin Architecture designed the new Trade Mart building, and Jackson-based Fountain Construction is the general contractor.
Cindy Hyde-Smith, the state commissioner of agriculture and commerce, announced the building project in November 2017. The new 105,000-square-foot facility will be attached to the east side of the Mississippi Coliseum and replace the current Trade Mart, which was constructed in 1975.
Hyde-Smith said in January 2017 that the building was outmoded, had a flat roof that leaked and would need to be demolished. The current Mississippi Trade Mart will remain in operation until the new facility is completed in late 2019 to early 2020.