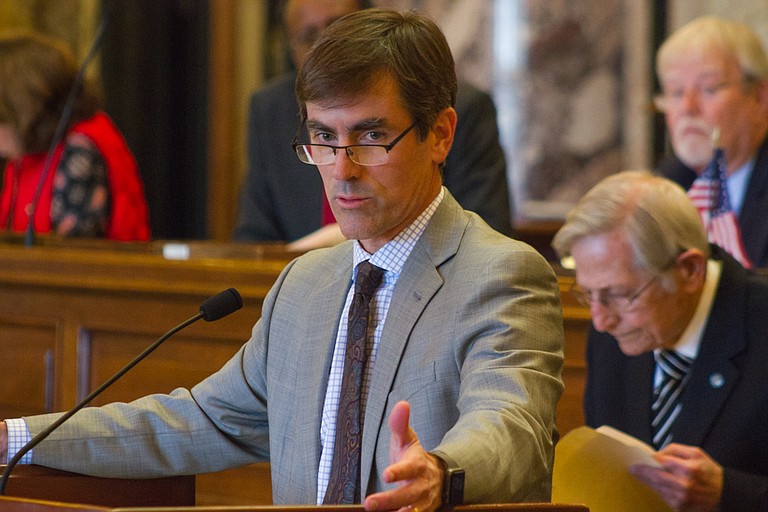 JACKSON — Schools, colleges and universities around Mississippi could create school-safety programs, designating certain licensed firearm owners who complete approved training courses to carry a concealed gun for the explicit purpose of resisting violent intruders on campus.
Sen. Briggs Hopson, R-Vicksburg, introduced the Senate amendment to the House gun bill, which creates the "Mississippi School Safety Act." Public and private schools, colleges and universities throughout the state can create safety programs that enable teachers or staff members with enhanced concealed-carry licenses to take an annual training course, including a psychological screening.
Schools would have to share the identities of safety-program members with local law enforcement—but otherwise the identities of those people in the program would be kept confidential. The program is similar to the state's "Church Protection Act" that lawmakers passed in 2016.
In Senate debate Wednesday, Hopson emphasized that the program is voluntary, noting that any school staff member with an enhanced concealed-carry license is allowed to have a weapon on them in schools currently.
"Right now, they could be authorized to have weapons, so you're not putting any more weapons in schools than you did a week or a year ago," Hopson told the Senate. "... You are codifying the authority for them to opt-in to a school safety program. ... I look at this as making our schools a lot safer, and you're protecting from a situation you had ... in Parkland."
Several senators raised concerns about allowing guns in schools, despite it being a part of state law currently for Mississippians with enhanced concealed-carry licenses. Sen. Barbara Blackmon, D-Canton, asked how teachers or staff members in schools with pistols or revolvers would help in a situation like the one in Parkland, Fla., where the shooter used an assault-style AR-15 to kill 17 of his former classmates at Marjory Stoneman Douglas High School.
"That's like bringing a knife to a gunfight with those weapons," Blackmon said Wednesday.
The initial intent of House Bill 1083, which passed the House by a vote of 80-29, was to allow Mississippians with enhanced-carry licenses to stop state agencies or entities from violating their enhanced concealed-carry rights.
The original bill caused an outcry from higher-education institutions throughout the state. More than 300 educators at 16 colleges and universities in Mississippi signed a petition opposing the bill. Many universities have "no firearms" policies at stadiums and on their campuses. Current enhanced-carry state law allows those with the license to have a gun on school grounds and technically at sporting events, however.
"All across higher education, teachers are training students in critical thinking, intellectually and emotionally rigorous engagement, and problem-solving skills,"the letter says. "For the student, these activities aren't always easy or comfortable, nor should they be. Sometimes students become frustrated. Sometimes they even get angry. If the student is—or might be—carrying a gun, the dynamic shifts dramatically."
The educators wrote that a classroom with a gun is very different from one without one. "A classroom with a gun ceases to be an environment where teachers or students can feel safe engaging in the sorts of stimulating and challenging discussions that are the hallmarks of higher education," the setter stated. "This is not an education that will prepare our young adults to boldly take their places in the world."
The Senate kept the House language but also tightened Mississippi's enhanced concealed-carry law, preventing residents with the license from carrying weapons into "any school, college or professional athletic event not related to firearms," as long as law enforcement is present at each publicly accessible entrance. Senators passed changes to HB 1083 on Wednesday by a vote of 27-18.
The change to enhance-carry laws in the Senate's version will likely send the bill to conference, especially after Rep. Andy Gipson, R-Braxton, posted that he opposes the change on his Facebook page this morning.
"The Senate amendment would impose a new carry prohibition at any school or college athletic event under certain circumstances," Gipson wrote on his Facebook page today. "Mississippi citizens and voters, for the last seven years, have gone through the time, effort, and trouble of gaining instructor certified concealed carry training to enhance their concealed carry options. These law abiding citizens have done nothing to deserve rolling back their concealed carry rights. Bottom line: a new restriction of existing concealed carry rights is something I just cannot support. I doubt that surprises anybody."
Email state reporter Arielle Dreher at [email protected].