JACKSON — The local community supports both Jackson Public Schools and the teachers in a stronger way than in many communities, a poll of 500 local residents in January found.
LJR Custom Strategies conducted the telephone survey of Jacksonians about their knowledge and impressions of the public schools, Jennifer Johnson of LJR said last week. More than 60 percent could identify something positive about the district and 27 percent about the teachers—which is high.
"I've been doing similar polling New Orleans, Baton Rouge and Indianapolis about the public schools. In all of those cities, teachers tend to shoulder a lot of the blame, so to see a full quarter of respondents here say that they are one of the best things about the schools, is a very notable change," Johnson explained about the survey.
JPS is and will be under the microscope for the next year as the Better Together Commission continues its work soliciting community input and feedback on how to make the school system better.
Simultaneously, the Insight Education Group is researching and developing a needs analysis of the district, including a review of classroom and curriculum management and a look into the administration and financial state of JPS.
The commission has started the public participation process, and consultants explained the results of polling and 
listening sessions at the group's meeting last week.
The LJR poll found that 82 percent of respondents said they care a great deal about what is happening inside the schools in Jackson.
The commission hosted several listening sessions last year in all seven city wards, and Jason Thompson, with the Fahrenheit Creative Group, said the data from those sessions were very similar to Johnson's findings.
"The concern we heard most is (the need for) professional development and support for teachers," Thompson told the commission last week.
JPS, like districts in much of the state, is suffering a teacher shortage, and is struggling with the accreditation standard requiring it to have fully licensed staff in place.
Both polls and the listening sessions revealed that Jacksonians have concerns about discipline in schools as well. Thompson said community members question how students are being disciplined as well as how discipline practices affect teachers' ability to manage classrooms.
The Better Together Commission has authorized the Insight Education Group to begin its work in JPS, while a Colorado-based firm will start an ambitious canvassing effort across Jackson. Black Diamond Outreach will hire local people part-time and full-time to conduct door-to-door surveys, with an ambitious goal of knocking on 60,000 household doors. He said there will a follow-up survey and attention to making sure that families of the more than 4,000 homeless students in the district are included in the survey.
"We want to be able to make sure that the needs of those families are represented," Thompson told the commission last week.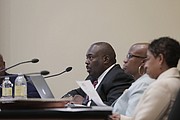 JFP's stories about the state takeover of the Jackson Public Schools district
Insight Education Group will begin its work in JPS this month. The consultants plan to visit three elementary schools, three middle schools and three high schools over the course of their time in the district, as well as conduct listening sessions with various stakeholder groups, including teachers. They are expected to release their report in November.
Michael Moody, one of Insight's co-founders, said his group will first look at classroom effectiveness. The group plans to take the findings of the Mississippi Department of Education's investigative audit report as well as the Council of Great City Schools' report into consideration as well. An important piece of Insight's work is ensuring the district has the tools to act on whatever problems and solutions Insight finds and recommends.
"In our experience, implementation is always where it falls apart," Moody told the Jackson Free Press.
Kathleen England, an Insight consultant, called into the Better Together Commission meeting last week. She said the report will cover five main areas: communication and assessment; special education and struggling students; general education; central office staff; and financial analysis and review.
The final report will also include ways for JPS to implement no-cost, low-cost and high-cost strategies to address the district's needs. Insight consultants will give weekly reports and updates to commissioners, who will meet monthly on the last Thursday of each month at the Margaret Walker Alexander Library from 4:15 p.m. to 5:45 p.m. The next meeting is scheduled for March 29.
Moody said JPS will likely not improve overnight and said meaningful change will take time.
"[In] districts that grow student achievement and maintain it, you don't see the spike, you see steady gains," he said.
Email state reporter Arielle Dreher at [email protected]. Read more at jfp.ms/jpstakeover.