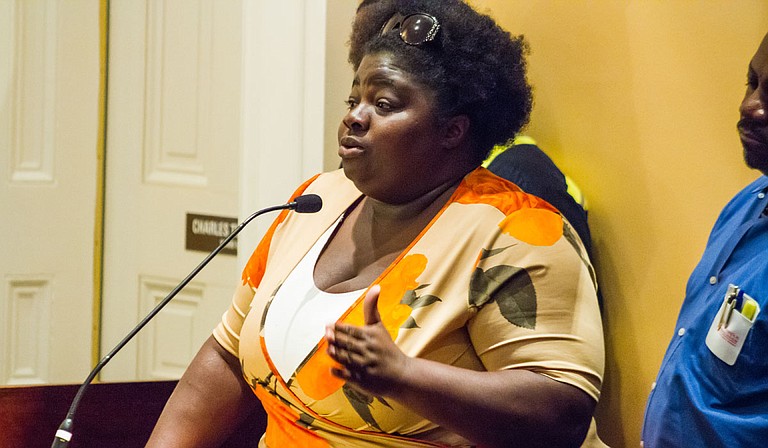 JACKSON — Lee Edward Bonner, 37, died after a Jackson police officer shot him on Feb. 21 in west Jackson. His family says it was "an overkill," while the City released scant information painting Bonner as the instigator of a shoot-out during a drug investigation gone awry.
"We're not saying he was right. We're not saying he was perfect, but we want justice, and we want to find out what happened by legal standards," Tetrina Blalock, Bonner's cousin, told Jackson City Council on Feb. 27. They also do not know who shot him, yet.
JPD spokesman Sgt. Roderick Holmes said two detectives in plain clothes were conducting a narcotics investigation, and started chasing Bonner and another man they may not have ever found. Police said Bonner displayed a weapon and fired at police, and officers returned fire. Bonner later died of injuries sustained in the altercation.
All the public can know for sure is that the two officers involved in Bonner's shooting are on paid leave pending investigation, which the mayor said the Mississippi Bureau of Investigations will assist, however, an interview after press time with MBI revealed that the bureau did not handle this case. Despite repeated requests, JPD has not released names of officers in the Bonner shooting or any linked to the other six officer-involved shootings since Mayor Chokwe A. Lumumba took office in July 2017.
Interim Police Chief Anthony Moore, whom the mayor called a man of few words when he took over the position in January, has been true to that description. He has offered little information during press conferences and public meetings as to JPD's use-of-force policy or investigation status, saying only that the department will not release identities of officers who shot civilians in order to protect the cops' safety.
At a government affairs committee meeting at City Hall on Tuesday, Moore brought hard copies of the use-of-force policy. Asked for a copy, a city clerk told the Jackson Free Press to file a public-records request and then a copy would be uploaded to the record system. The JFP had filed the records request the day before, and still did not receive the policy by press time for this article. It is now attached to the story.
Document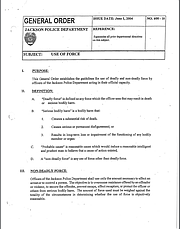 Improving policing has been a national conversation since a Ferguson, Mo., police officer killed Michael Brown in August 2014. Citizens and government entities have demanded more transparency from police departments, including the use of body cameras.
However, even when wearing cameras, officers can lie or departments refuse to release the videos, and studies and reports point to their questionable effectiveness. Either way, Moore said JPD cannot afford body cameras.
Vagueness paired with local leaders hinting that Jackson is not one of those cities with the policing issues of yonder mean families like those of Bonner and concerned citizens are left both unaware and potentially unsafe due to the lack of transparency about police shootings.
Policing the Police
Blalock, Bonner's cousin, was one of four people to take the microphone at a crowded Feb. 27 city council meeting to air out concerns about Jackson's policing. She spoke for the Bonner family with clear demands: an independent investigation and autopsy.
"Who is to police the police?" she asked in chambers, alluding to a conundrum many communities face as they try to penetrate many departments' codes of silence and protection for officers.
BuzzFeed News published an investigation titled "Blue Lies Matter" in January 2017 after reviewing 62 incidents of video footage nationally since 2008, with more than 60 percent taking place since 2014. All contradicted an officer's statement in a police report or testimony. The report says that although police are often considered to be the "most reliable narrators in a courtroom," video footage erodes that "bedrock of the justice system" and proves that officers lie "with increasing frequency."
"Cameras prove cops lie, and there are more cameras out in the world today than ever before," BuzzFeed reporter Albert Samaha wrote in the article. "...Officers lie in high-profile cases and little-known cases, and lie by fabrication, omission and exaggeration."
The nation saw broader demand for body cameras following the Michael Brown shooting as an unbiased intermediary to reveal the facts of a case. A 2017 report on body-worn cameras points to the benefit of transparency, but also a potential slippery slope.
"(C)ameras could be used to intensify disproportionate surveillance and enforcement in heavily policed communities of color," The Leadership Conference on Civil and Human Rights & Upturn report reads. "Without carefully crafted policy safeguards in place, there is a real risk that these new devices could become instruments of injustice, rather than tools for accountability."
Many of Jackson's officer-involved cases would be considered "little-known cases" broadly speaking, but even locals know little details about them. Without the funds for body-cam videos, things are even less open here.
Jackson residents have no way of knowing pivotal information about officer-involved shootings in a timely fashion, including which ones have been involved in multiple incidents or even how long these officers have been employed.
Holmes, JPD's spokesman, told the Jackson Free Press last week that there have been five officer-involved shootings since July 2017, but this newspaper has counted seven from JPD's Twitter feed and media reports. The mayor said he has not decided his position on identifying cops involved in shootings, yet.
Meantime, Chief Moore is choosing to hide the identities over public transparency. Both Holmes and Moore confirmed that they will not name officers who shoot civilians until a decision comes back from a grand jury—a process that could take a year or more given backlog in the district attorney's office.
It is a relatively new JPD policy, as Moore told the Council on Feb. 27, that an officer is not to return to duty if a suspect dies during an officer-involved shooting until a grand jury clears them. Prior to Moore, officers were returning to duty pending a psychological investigation, Moore said.
In 2015, the U.S. Department of Justice advised police departments to release names of officers involved in critical events, including shootings, within 72 hours of the incident. Some cities release them as soon as 48 hours after the shooting. The DOJ report said that departments can take steps to ensure officer safety during those brief delays.
'Overkill Is Overkill'
At the council podium, Blalock fired off two landmark Supreme Court decisions from the 1980s about use-of-force: Tennessee v. Garner and Graham v. Connor. The former involved an unarmed 15-year-old boy named Edward Garner whom a police officer shot with a hollow-tip bullet in the back of the head to keep him from escaping over a fence.
Garner was a suspect in a nearby house robbery, and he later died. The Supreme Court in 1985 decided that deadly force to prevent an unarmed fleeing felon's escape was unconstitutional.
Dethorne Graham was having an insulin reaction at home in 1984 and a friend took him to the store to get orange juice to fix it. An officer nearby named M.S. Connor thought Graham seemed suspicious for quickly entering and leaving the store, and pulled Graham and his friend over. Graham's foot was broken during the traffic stop among other injuries, although the officer determined that Graham had not committed a crime.
In Graham v. Connor, the Supreme Court unanimously ruled in 1989 that Graham's claims had to be evaluated under the Fourth Amendment's "objective reasonableness" through an officer on the scene, rather than a generalized "excessive force standard." Lower courts had accepted that good-faith efforts can measure the degree of force.
"If it fell into those two standards, I will accept that—that's the law," Blalock told the city council.
"But, overkill is overkill. I don't know what's on the books as far as what Jackson Police Department is to do (with a suspect), but it wasn't a violent situation. If (the officer) was shooting him, why was (Bonner's) leg not an option?"
In terms of an intermediary use-of-force, Moore told the council that not every officer has a Taser nor are they all Taser-certified, although he did characterize them as an option for when suspects resist or are aggressive. The chief said JPD officers do not use a Taser on suspects that are running away because they could fall.
On Nov. 15, 2017, JPD shot an unidentified black man in the leg when he was running away from police and allegedly pointed a black object at officers, after which they heard a shot.
The mayor has suggested that Jackson does not mirror other instances of officer-involved shootings around the nation. During a press conference on Feb. 26 to announce that JPD will no longer release mugshots of people police shoot, Lumumba acknowledged the complexities communities of color have always had with law enforcement.
With Jackson's majority-black police force, Lumumba said, the national trends around violence do not reflect what happens here—implying that our demographics make our city immune to over-policing as occurred in Ferguson, Mo., for instance.
The information JPD keeps in the shadows might suggest otherwise.
Email city reporter Ko Bragg at ko@jacksonfree
press.com. Read more at jfp.ms/preventingviolence.
NOTE: A previous version of this story stated that MBI was investigating the Bonner case, as the mayor stated at a council meeting in February. A later interview, linked here, with MBI revealed that the department did not handle the Bonner case