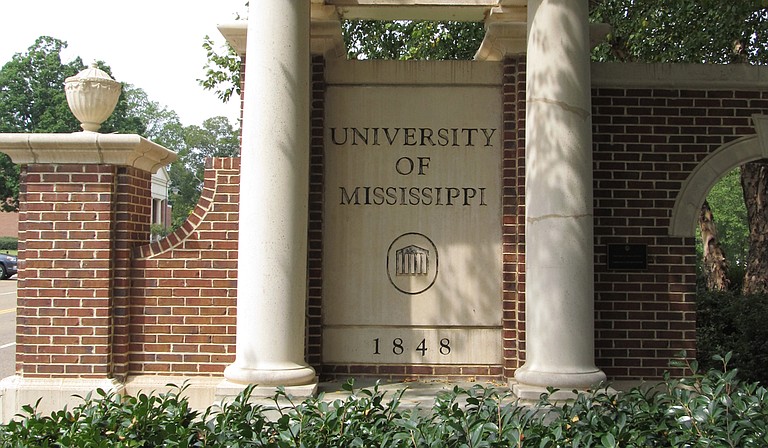 JACKSON, Miss. (AP) — The University of Mississippi is acknowledging its historical connections to slave labor, slave owners and officials who set policies that stripped African-Americans of voting rights after the Civil War.
The university on Friday unveiled six plaques on its main campus in Oxford to provide information about the history of the school that was founded in 1848.
"These plaques are daily reminders of our obligation to learn from the past and commit to an inclusive future," Ole Miss Chancellor Jeffrey Vitter said in a statement.
One plaque says 10 of the university's original buildings were constructed with the labor of enslaved African-Americans. Three of the buildings, including the university's main administrative center, the Lyceum, are still in use. The plaque also says that "a large number of slaves" were used to cut through hills near campus in 1856 and 1857 to make way for a railroad line, and that the slave owners received railroad company stock.
"Slavery was a system underpinned by exploitation and violence, and slaves also suffered beatings and other abuses documented in University records," the plaque says. "The University of Mississippi today honors the legacy of these enslaved individuals and acknowledges the injustices under which they lived and labored."
George Hall, which now houses a speech and hearing center, was named in 1920 for James Zachariah George, who served in the U.S. Senate from Mississippi from 1890 until his death in 1897. A new plaque notes that George served as a delegate to Mississippi's Secession Convention before the Civil War and that as state Democratic Party executive committee chairman in 1875-76, he was responsible for "a program of voter intimidation, violent repression, and riot aimed at returning his state to white Democratic rule."
Mississippi's population is about 38 percent black, and black students made up about 13 percent of the Ole Miss enrollment in 2015, the most recent year for which detailed figures were immediately available.
Vitter's predecessor, Dan Jones, announced in 2014 that the university would provide historical context for Old South symbols as a way to acknowledge its complex history and to make a diverse student body feel more welcome. Race has been a constant theme at Ole Miss for many years. In 1962, the campus that was rocked by violence after court-ordered integration.
In 2016, the school added a plaque to provide information about slavery and the Civil War to a Confederate soldier statue that has been on campus since 1906.
Debate has been taking place in many parts of the U.S. about how to deal with the public display of symbols and monuments tied to slavery and the Confederacy. New Orleans is among the places that have removed Confederate monuments in the past year. Harvard University last year acknowledged its ties to colonial-era slavery, and Yale University rebranded a residential college that had been named for a 19th century U.S. vice president who supported slavery.
All eight of Mississippi's public universities have stopped flying the state flag because it includes the Confederate battle emblem — a red field topped by a blue tilted cross dotted by 13 white stars. Adopted in 1894 and reconfirmed by voters in 2001, it is the last state flag in the nation with the emblem that critics view as racist.