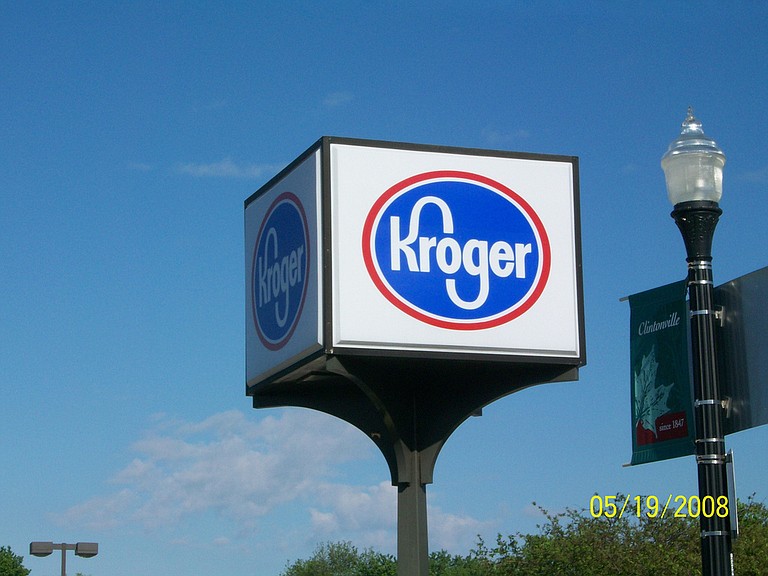 NEW YORK (AP) — Kroger will no longer sell guns to anyone under 21 at the stores it owns, becoming the third major retailer this week to put restrictions in place that are stronger than federal laws.
The nation's largest grocery chain sells guns from 44 of its Fred Meyer stores in the West, but said Thursday that it's become clear that gun retail outlets must go beyond what current U.S. laws requires.
In a company release, Kroger Co. said, "In response to the tragic events in Parkland and elsewhere, we've taken a hard look at our policies and procedures for firearm sales."
The change comes one day after Walmart and Dick's Sporting Goods, both prominent gun sellers, tightened their company policy, and also a day after students returned to Marjory Stoneman Douglas High School in Florida for the first time since a troubled teenager killed 17 people there, mostly children.
Companies like Dick's had already changed gun-sale policies in the wake of the 2012 Sandy Hook Elementary School shooting in Connecticut, but the most recent school shooting in Parkland, Florida, has opened a fissure between a portion of corporate America and organizations like the National Rifle Association.
MetLife, Hertz and Delta Air Lines and other major U.S. corporations have already cut ties with the National Rifle Association, and at some political risk.
The Georgia Senate on Thursday approved a sweeping tax bill that snubs Delta Air Lines Inc., following through on Republican vows to punish the company for ending discounts for NRA members in the wake of the most recent school massacre.
Kroger ended sales of assault-style rifles at Fred Meyer several years ago in Oregon, Washington and Idaho. It will extend that ban to Alaska, where customers could get such guns via special order.
Other gun sellers haven't responded to requests for comment, including Bass Pro Shops, which owns Cabela's. The Outdoor Retail Association hasn't responded to requests for comment, and L.L. Bean didn't respond to a message Thursday.
Following Wednesday's policy shift on gun sales at Dick's Sporting Goods, one industry analysts believes other retailers that devote a small percentage of their business to hunting will probably follow suit.
"The initial response has been from corporate America," said Joseph Feldman, a senior managing director at Telsey Advisory Group.
"It is a risky game but you can't please everyone," Feldman said.
The NRA, which also didn't respond to request for comment Thursday, has pushed back on calls for raising age limits for guns or restricting the sale of assault-style weapons.
Kroger, based in Cincinnati, said it has been tweaking some of its gun departments as it renovates stores due to softer demand from customers.
"We believe these are common sense steps we can take immediately that are in line with our values and our vision," the company said.